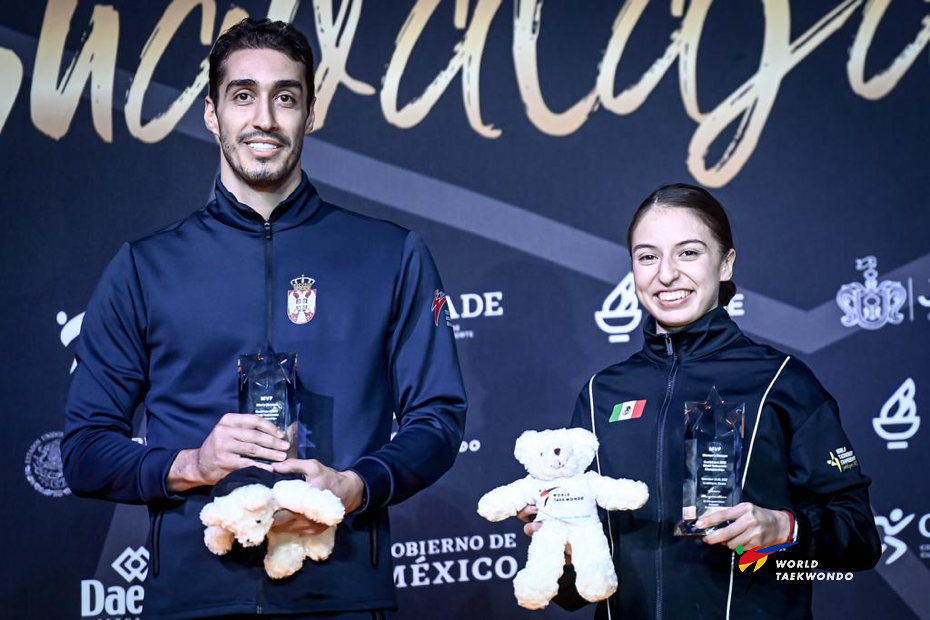 Korea Takes Men's overall title, Mexico Wins Women's Title at 2022 Worlds
GUADALAJARA, Mexico (Nov. 20, 2022) – Seven days of elite-level Taekwondo wrapped up today in Guadalajara, with MVPs named, the medal table collated and two new faces added to WT's key athlete communication channel.
With the final match fought, athletes, coaching staff, referees and volunteers mobbed the field of play for handshakes, back slaps and selfies, while the closing ceremony named the Guadalajara 2022 World Championship MVPs and special awardees.
They were:
Most Valuable Player Men: Mahdi Khodabakhshi (Serbia) M-87kg

Most Valuable Player Women: Daniela Paola Souza (Mexico) W-49kg

Best Male Team Coach: Hye-ri Oh (Korea)

Best Female Team Coach: Alfonso Victoria (Mexico)

Best Male Referee: Mohamed Adel (Egypt)

Best Female Referee: Soo-kyung Park (Korea)

Active Participation Award: Australia

Fighting Spirit Award: Japan
In terms of the championships' overall results, Korea came out top in the Men's category, while the host nation led the Women's category. The Top 5 medal standings of the Guadalajara 2022 World Taekwondo Championships were:
Men. 1. Korea 2. Spain 3. Mexico 4. China. 5 Serbia
Women. 1. Mexico 2. China. 3. Serbia. 4. Croatia. 5. Uzbekistan
With MVPs awarded, a cloud of silver glitter exploded, and a Mariachi band – a musical format native to Guadalajara – struck up. The closing ceremony ended with the World Championships flag being passed from Guadalajara, Mexico, to Baku, Azerbaijan – host of the 2023 event.
In business conducted earlier in the day, Belgium's Jaouad Achab and Brazil's Valeria Santos joined the World Taekwondo Athletes' Committee.
The committee has six members, but with two members' terms having expired, a vote took place on the sidelines of the championships to fill the slots. To ensure the widest possible plebiscite, voting took place at the weigh-ins.
After the votes were counted, the new members were officially welcomed to the committee by WT Secretary General Jeongkang Seo.
"I'll do whatever it takes to bring the athletes' voice to help develop the sport," said Achab. "My only motivation is to deliver."
"I have been on the Brazilian Federation's Athletes' Committee and so now I hope to do more on the World Taekwondo Athletes Committee," added Santos. "I am sure me and Jaouad can do great things together."