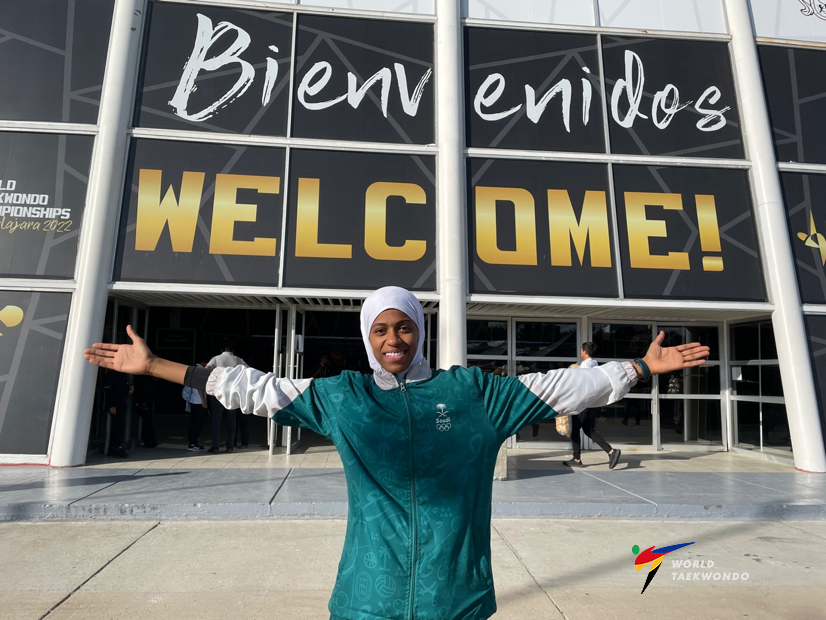 GUADALAJARA, Mexico (Nov. 20, 2022) - Dunya ali m Abutaleb is a fighter.
When she started the sport as a toddler there was a lack of female gyms. Today, training with Team Saudi as its first female player, her sparring partners are all males.
So when she came round from a knockout in the semi-finals of the Guadalajara 2022 World Taekwondo Championships, the first thing she said to her coach was, "Let me back into the fight!"
With the referee having stopped play, that was not possible. Abutaleb, having battled her way through to the finals of W-49kg class at the Centro Acuatico CODE Metropolitano, had to be satisfied with bronze.
Still, that was a major feat: She is the first female athlete from Saudi Arabia to medal at a World Taekwondo Championships. And it followed her achievement in June this year, when she had been the first Saudi woman to medal at an elite-level event, winning bronze at the Asian Taekwondo Championships in Chuncheon, Korea.
The earlier medal electrified Saudi Arabia and ignited a seismic shift in the kingdom for female Taekwondo. That shift is likely to be accelerated further by her World Championships medal.
Abutaleb, now 26, has been in Taekwondo since her tender years.
When she was 12, her brother's coach recognized her hunger for the sport and began teaching her privately at her home.
Her expanding talent could not be kept inside the box forever. The Saudi Arabian Taekwondo Federation recognized her, and in 2016, Abutaleb entered her first competition, the Al Hassan Cup in Jordan. Despite a total lack of competitive experience, she won gold.
But her big break came in this year's Asian Championship where she captured bronze. Her performance in elite-level competition, provided a boost of confidence.
"I wanted to change my medal from Asian Championship to World Championships," she said. That opportunity beckoned in Guadalajara.
On the mats in Centro Acuatico CODE Metropolitano she battled her way through the prelims, into the round of 16, and through to the semis. In the process, she eliminated the category's top seed.
As she advanced through her bouts, a mantra was playing in her head: "I told myself, 'Why are they better than me? Why do they get medals? Why does the world know them? Why not me?'"
However, Taekwondo is a contact sport, and during her second fight, she had suffered a slight injury to her right eye. In her semi-final match against eventual gold medalist Daniela Paola Souza of Mexico, it proved to be a game ender: She did not see the kick that, in her own words, "switched me off."
Still, looking back on it, Abutaleb is philosophical about the incident. "This happens in this game," she said. "You can't control it."
Her coach, however, is not at all disappointed.
"My goal was to do the maximum number of matches, so our target was not a medal, but experience," said Team Saudi Head Coach Kurban Bugdaev. "I thought that in the next championship we would get a medal - but in this one she won. God helped us!"
Beyond the mats, beyond the stadium and beyond the championships, Abutaleb had made big waves back home in Saudi Arabia.
There had already been national moves underway to promote Taekwondo: the kingdom hosted the first Women's Taekwondo Championships in 2021, and is hosting the Grand Prix Final this year in December.
Against this backdrop, Abutaleb's Asian Championship bronze was widely hailed, electrifying the kingdom – most notably, the kingdom's wannabe female athletes.
"After this, they opened clubs and made chances for women," she said. "I am famous in Saudi - they all know me now."
Developments continue apace, with a nationwide Women's Club League set to be formed next year. "A lot of female athletes are contacting me," Kurban said.
Given the rising profile of both Taekwondo and women's Taekwondo in the kingdom, it is no surprise that Abutaleb's medal in Guadalajara captured the attention of sporting royalty.
President of the Saudi Arabian Olympic Committee Prince Abdulaziz bin Turki Al-Faisal Tweeted a message of congratulations. Vice President of the Saudi Arabian Olympic Committee Prince Fahd bin Jalawi bin Abdul Aziz called Abutaleb, as did Saudi Arabian Taekwondo Federation President Shaddad Al Amri.
She anticipates a warm reception when she lands back home.
"People will be very, very happy about this medal," Abutaleb said. "I am the first Saudi woman to take this kind of medal in this game. This is a chance for all women."
Kurban, a Dagestani who resides and coaches in Riyadh, reckons Abutaleb has what it takes to go to the top of the game.
"She has good height, good flexibility, good stamina and she is a fighter inside – that is important," he said. "She follows my exercises and training and she works hard - and sometimes cries."
Her mindset is clear. "I make a challenge for myself: I win over myself and then I win over my opponents," Abutaleb said. "If you trust yourself, you can do anything."
Due to the lack of female sparring partners, Abutaleb is – still – training with and against male athletes. To Kurban, there is an upside.
"When she is kicked hard I say, 'This is to your advantage! This will make you stronger! It will be easier with females!" he said.
Abutaleb now has her gunsights trained upon Paris 2024.
"I am a lawyer but I stopped my job as I want to focus on the Olympics," she said. "Maybe, if I take a medal in the Olympics, then I will return to law."
As someone who is on the cutting edge of Saudi's nascent women's sport movement, Abutaleb talks of inspiring her countrywomen to take up sports and enter leading competitions. But she also has a more personal motivation to win.
"This was the dream of my father, but he died four years ago, so he didn't see me here," she said. "If I get a medal in the Olympics, I will give it to my father and my country."