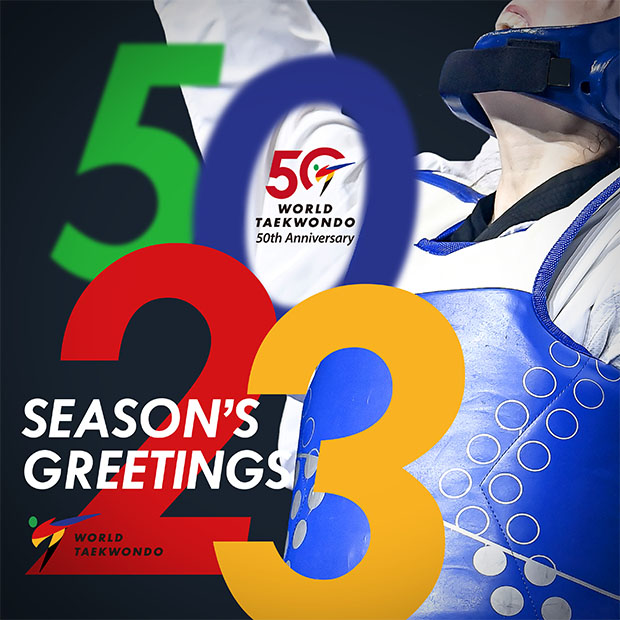 Happy New Year and I wish all Taekwondoin around the world a safe and wonderful 2023!
This year, World Taekwondo will celebrate our Golden Jubilee! From our founding on May 28, 1973, World Taekwondo and Taekwondo as a sport have become a globally recognised brand.
Over the past 50 years, World Taekwondo:

• Has grown its membership base with 212 Member National Associations plus one Refugee Team
• Was included in six consecutive Olympic Games (Sydney 2000, Athens 2004, Beijing 2008, London 2012, Rio 2016, and Tokyo 2020), with Paris 2024 and LA 2028 in the horizons
• Debuted in the Paralympic Games (Tokyo 2020)
• Has organised hundreds of promoted events including 25 World Championships, 13 Junior Championships, 5 Cadet Championships, 12 Poomsae Championships, and 9 Para Taekwondo Championships
• Has been recognised as the leading international federation on humanitarian activities
We created many historic firsts in 2022, including the inaugural World Taekwondo Hall of Fame, Para Taekwondo in the Grand Prix Series, and an electrifying World Taekwondo Demonstration Team's performance at the ANOC Awards.
Taekwondo not only thrilled; we also inspired.
In 2022, World Taekwondo and the Taekwondo Humanitarian Foundation organised the first-ever Hope and Dreams Refugee Taekwondo Championships in Amman, Jordan, with the participation of more than 200 youths and children from the Azraq and Za'atari refugee camps.
With regard to the Olympic Solidarity Scholarship Program for the Paris 2024 Olympic Games, Taekwondo has the second highest number of scholarship holders with eight athletes including two from the Azraq refugee camp.
To celebrate our 50th Founding Anniversary in 2023, the theme is "Peace in Mind, Taekwondo at Heart". In this regard, I ask all Member National Associations to promote the theme and 50th Founding Anniversary logo in your respective events in 2023.
World Taekwondo will organise a special Gala at the World Taekwondo Championships in Baku (Azerbaijan) on May 28th to commemorate the best male and female athletes from each Olympic and Paralympic Games.
During the Gala, we will also honour the founding Member National Associations of World Taekwondo that participated in the inaugural World Championships and General Assembly on May 28, 1973.
World Taekwondo and THF will invite international federations for the inaugural Hope and Dreams Sports Festival for Refugees. I firmly believe that all sports must be inclusive and therefore, World Taekwondo will take the initiative to create a Hope and Dreams Sports Peace Corps comprising the international federations of the Olympic and Paralympic movements.
Most importantly, I wish to thank the Member National Associations and authorities for your support in hosting World Taekwondo events. Your support to develop elite athletes and reach out to the grassroots is the essence of Taekwondo's promotion globally.
I believe that 2023 will truly be a special year as we lay the foundations for World Taekwondo's Centenary. I thank you in advance for your continued support as we carry on in our journey to strive for excellence.
Be safe, healthy and happy in 2023!

Sincerely yours,
Chungwon Choue
President