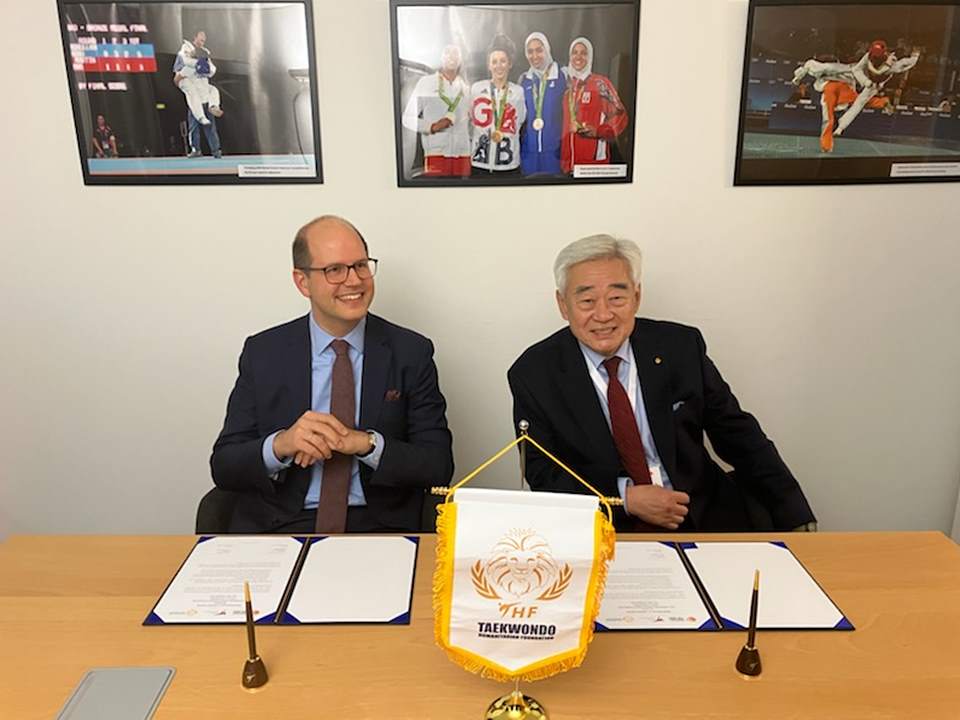 LAUSANNE, Switzerland (Nov 28, 2022) - The Taekwondo Humanitarian Foundation (THF) has signed a Memorandum of Understanding (MoU) with the FIBA Foundation to empower refugees and displaced persons through the practice of basketball and taekwondo.
The MoU was signed during a signing ceremony at the World Taekwondo office in Lausanne, with FIBA Secretary General Andreas Zagklis and THF Chair Chungwon Choue signing the agreement.
As part of the MoU, the FIBA Foundation will support the organisation of THF's 2023 Hope and Dreams Sport Festival which will be held in the Azraq refugee camp in Jordan on March 1st. During the festival, refugees from Azraq and the Zaatari camp will have the opportunity to practice basketball and taekwondo.
THF Chair Chungwon Choue said:
"The THF and FIBA Foundation share many of the same values and we are completely aligned in our vision of using sport to contribute to social change. We all have a responsibility to do what we can to address the refugee crisis and the THF for many years has seen how sport empowers and brings hope and joy to those who need it most. We are excited to collaborate with the FIBA Foundation, exchanging ideas and knowledge for the benefit of refugees and displaced persons around the world."
FIBA Secretary General Andreas Zagklis said:
"THF and the FIBA Foundation have an extensive track record of using sport as a tool to initiate positive change. We are pleased to work alongside the THF in bringing our Basketball For Good projects to new parts of the world and multiplying the impact of our programs through joint activities."