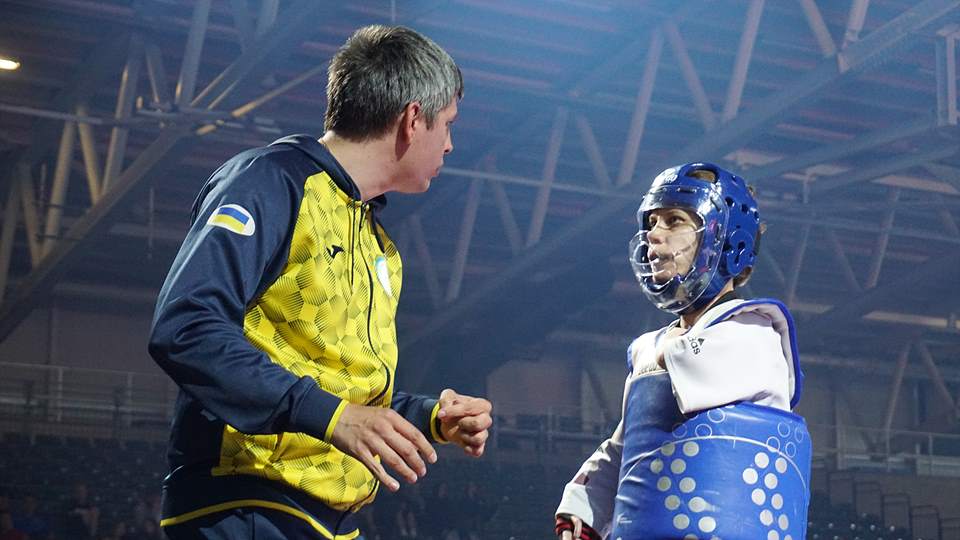 Viktoriia Marchuk with her coach Andriy Starkov
Many of you may know the abbreviation RRT (Rapid Response Team), which is used to respond to medical emergencies.
In Taekwondo, the RRTT is the Rapid Response Taekwondo Team, which are dedicated members of the World Taekwondo family who has the means, skills, connections and leadership to coordinate with the experts on the grounds such as governmental agencies, federations and media to respond effectively to world emergencies and cater for the needs of the affected Taekwondo athletes.
Following the tragic events of Ukraine in February 2022, the Ukrainian team was competing at the 2022 president Cup in Albania, all flights were cancelled and they were not able to go back home.
Thanks to the RRTT who responded swiftly, behind the scenes, and raised funding to help in their safe return, continue Taekwondo training and flee back again to Manchester for the European championships and further continue the journey.
On an organizational level, World Taekwondo provided the flights, Danish Taekwondo (with the lead of the Paralympic Champion Lisa Gjessing) supported their training, British Taekwondo assisted with their last-minute visas and the ETU made it happen.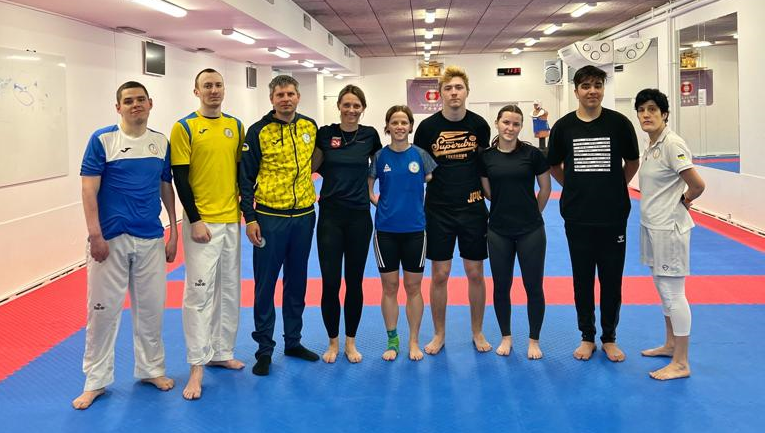 Lisa Gjessing with the Ukrainian team training in Denmark
After taking a dangerous journey from makeshift bomb shelters in Ukraine with more than twenty hours to Denmark, fighting visa and legal issues, they finally arrived at the European Taekwondo Championships in Manchester, May 2022. The Ukrainian team including the team manager Julia Pliskova, Coach Andriy Starkov, and five athletes: Viktoriia Marchuk, Yuliya Lypetska, Orest Pylypiak, Vladyslav Nechai, and Ivaniuk Roman, were rightly considered heroes even before playing or standing at the podium.
The minute they arrived to Manchester, they had to shift their focus from fighting a traumatic battle into fighting their opponents on the mat. They had left their families and remains of their homes to show the world that the Ukrainian flag still flies.
Viktoriia Marchuk standing at the podium winning a silver medal
Viktoriia, Yuliya and Pylypiak made it to the podium winning silver and two bronze medals. Julia, the manager of the Ukrainian team, mentioned how delighted the players were when they arrived at the arena. "We were thrilled to see some of the teams wearing Ukrainian shirts in solidarity with us, and what made it even more special was everyone's happiness when they saw us participating and competing. We were really overwhelmed."
Viktoriia Marchuk with Ukrainian team manager Julia Pliskova
The European Taekwondo Union invited the Ukrainian team to a special dinner to express their respect for their courageous spirit in overcoming tremendous obstacles.
Ukrainian Team receiving Taekwondo for All t-shirts at recognition dinner provided by the ETU
The journey continued to Sofia, Bulgaria (Grand Prix) with the Ukrainian team winning 2 bronze medals (Yuliya Lypetska, Vladyslav Nechai). Thanks to the "RRTT" members for all their support behind the scenes.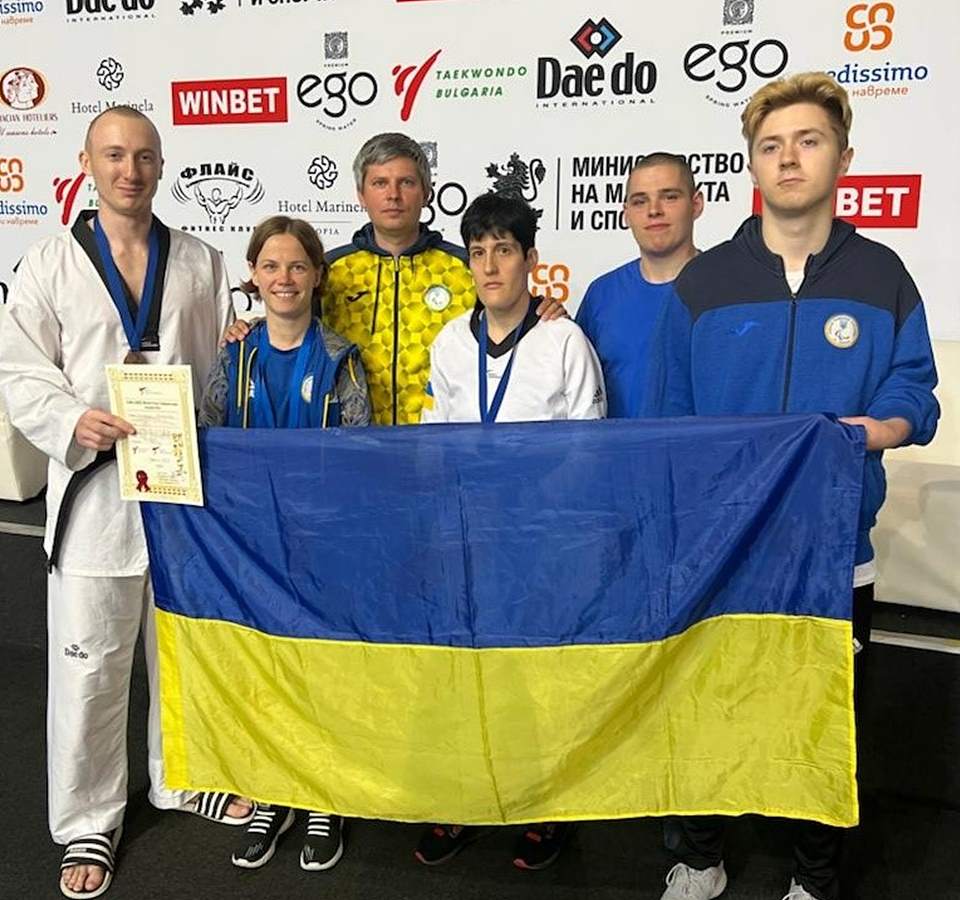 Ukrainian team champions at the Grand Prix (Sofia, Bulgaria)