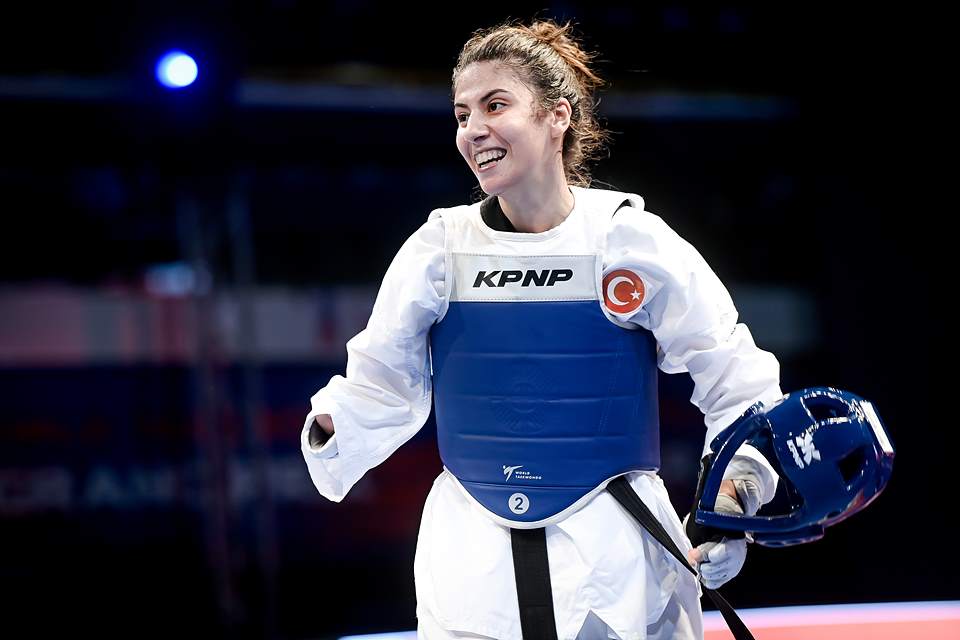 Turkiye won 7 medals, including 3 gold, and top seeds faltered – proving just how competitive Para Taekwondo's newest prestige event has become.
The Para Grand Prix in Paris confirmed one thing – Para Taekwondo is as competitive as ever.
It also showed that nations have some work to do to catch up to Para Taekwondo powerhouse Turkiye.
Turkiye won seven medals from 10 events at Para Taekwondo's biggest stage, including three gold from four finalists. The team was beaming with pride at the post-event awards ceremony.
"We trained all summer", a Turkiye coach told World Taekwondo, "We started months ago. We did everything – to improve their health, their psychology, their technique, their knowledge of opponents. It paid off today."
The Turkiye medal parade started when Mahmut Bozteke came back from an 8-point deficit in the last minutes to top Brazil's Paralympic champion Nathan Torquato in the -63 kg final.
"It wasn't really my plan", Bozteke told World Para Taekwondo about going down on points before coming back. "I felt the pressure [of being behind on points], so after the time out – I just gave it my all."

Teammates Meryem Cavdar and Gamze Gurdal also added golds for Turkiye – Cavdar with her second straight Para GP title, while Gamze edged Brazil's Paralympic bronze medalist Silvana Cardoso to win gold and flip the results from the first Para GP.

Fatih Celik also made his first Para GP final, before falling to Mexico's Paralympic champion Juan Diego Garcia Lopez in the -70 kg final.

"We keep adding points for the world ranking", Garcia Lopez said after his second straight Para GP gold. "Great experience – and so happy to achieve my goals in this competition".
Top Seeds Topped with Terrific Breakout Performances
Not all top seeds were as successful as Garcia Lopez.

Three Paralympic champions fell in the Paris Para GP finals, including Torquato, Denmark's Lisa Gjessing, and Uzbekistan's Guljonoy Naimova.
Still, four fighters managed to retain their Para GP titles, becoming the sport's first two-time winners.
Bozteke and Cavdar won their second titles each, while the USA's Evan Medell and Mexico's Garcia Lopez also stood on top of the Para GP podium for a second time.
Just like at the first event in Sofia, the Paris Para GP saw newcomers win some of the biggest medals of their careers.
Brazil's Ana Carolina Silva de Moura got past Turkey's world champion Secil Er, Great Britain's European champion and Paralympic runner-up Beth Munro, and Denmark's Paralympic champion Gjessing in a riveting walk to her first international title.
"Not winning a medal at the first Para GP hurt. I used this everyday to motivate me" she told World Para Taekwondo afterwards. "I'm so happy right now – I want to call my mom!"
Brazil now has a third Para GP champion after Torquato and Cardoso picked up golds at the first Para GP event.

"If we can find more athletes, we can find more quality at the top of the pyramid", explained Brazil head coach Rodrigo Ferla after Silva de Moura's surprise win. "We had 73 athletes at our nationals last month; more importantly we had 21 new athletes … So, we create a junior national programme for fighters to move into the national team."
Spain's Dalia Moreno sent shockwaves through the Para Taekwondo world by ending the impressive winning streak by Uzbekistan's Naimova. Since her last loss, Naimova had become Paralympic, World, Asian, and Para Grand Prix champion. In a fight she largely controlled, Moreno edged Naimova 6-5.
Uzbekistan's Asad Toshtemirov continued his strong run of form in 2022 by winning his first Para Grand Prix gold. After winning bronze in Sofia, Toshtemirov looked strong in toppling the No. 1 seed from Kazakhstan, Nurlan Dombayev, 9-0 in the final.
Israel's reigning world champion Asaf Yasur added his first Para GP title by beating Azerbaijan's up-and-coming rival Sabir Zeynalov in an explosive -58 kg final.
After losing out on gold at the first Para Grand Prix by a golden point kick, Mongolia's Enkhtuya Khurelbaatar showed she can still compete with the division's best by winning gold in the ultra competitive -47 kg group.
Para Taekwondo's best will return next month when the third leg of the Para Grand Prix series takes place in Manchester, Great Britain.