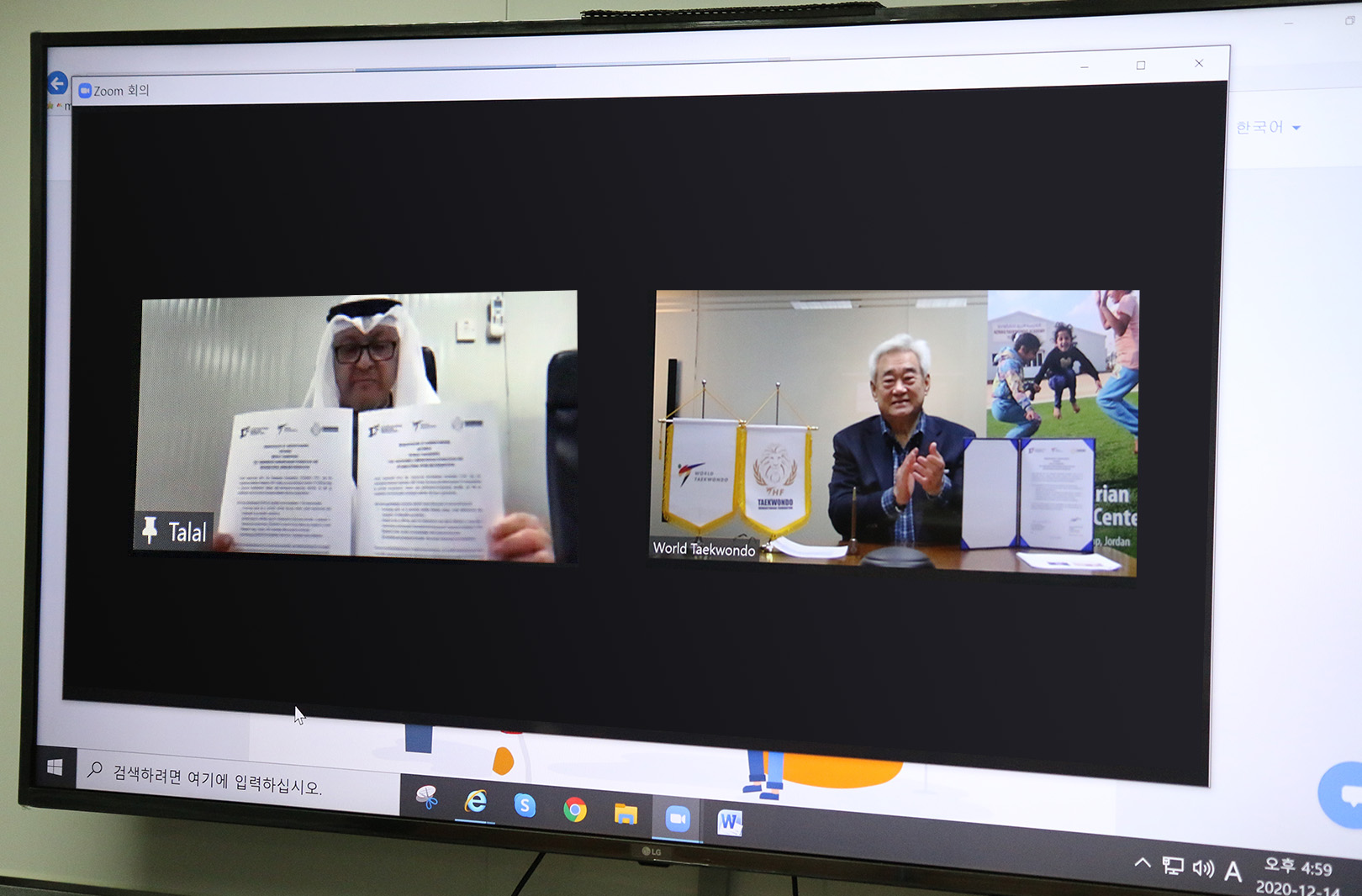 December 14, 2020 – As part the initiatives to advance the global values of peace and development through sport, World Taekwondo (WT), the Taekwondo Humanitarian Foundation (THF) and the International Bowling Federation (IBF) signed a Memorandum of Understanding (MoU) today. WT President and THF Chairman, Dr. Chungwon Choue, and IBF President, H.R.H. Sheikh Talal Mohammad Al-Sabah, committed to the partnership in a virtual MoU signing ceremony.
Under the terms of the MoU, the three organisations committed to developing close cooperation in the following areas:
• Promoting sport as a powerful vehicle towards peace, social development and integration of vulnerable populations;
• Uniting forces in offering sport for development and peace activities, in particular in Taekwondo Humanitarian Foundation's existing Taekwondo Humanitarian Centre in Azraq Refugee Camp, Jordan, and potentially other locations worldwide;
• Exchanging and sharing of expertise, know-how, information and publications.

Through the MoU, refugee children and youth will have opportunities to learn about both sports and participate in recreational activities, where they can learn about the values of teamwork and mutual respect. With the support of IBF Global Partner QubicaAMF a further commitment will be made to the enhancement of a QubicaAMF installed bowling centre in Paris to provide education and employment opportunities to refugees, which would help them to fit into society.
WT President and THF Chairman Dr. Chungwon Choue said:
"It is my pleasure to represent World Taekwondo and the Taekwondo Humanitarian Foundation in signing this partnership with the International Bowling Federation. The three organisations share the same missions of inspiring the most vulnerable and fostering positive social changes."
"In particular, the bowling centre project in Paris is an innovative approach to support the humanitarian efforts in the city. The Mayor of Paris Anne Hidalgo has been a supportive advocate of advancing humanitarian values over the years. The City of Paris is also a THF Ambassador City, having signed a Common Agreement with THF on January 29, 2017. Therefore, I believe that our partnership with the IBF will contribute tremendously to the humanitarian efforts in Paris, and around the world."
IBF President H.R.H. Sheikh Talal Mohammad Al-Sabah said:
"The IBF is proud of entering this partnership with World Taekwondo and with the Taekwondo Humanitarian Foundation. Under the strong and guided leadership of President Choue WT and THF have led the way in driving the global Sports Movement to command the focus of everyone in their support of those in greatest need through humanitarian initiatives with refugees."

"Our mission to connect the world with the greatness of bowling. Connecting further, faster, for all. Tenpin, Ninepin, academy, para, male, female, young, old; whoever you are, wherever you come from, our sport crosses cultures. Truly inclusive, united by a passion for bowling, we bring the world closer together by championing the best of bowling. Guardians of our sport, we aim to show bowling at its best. Removing the complexity and barriers to play, without compromising the integrity of our sport."