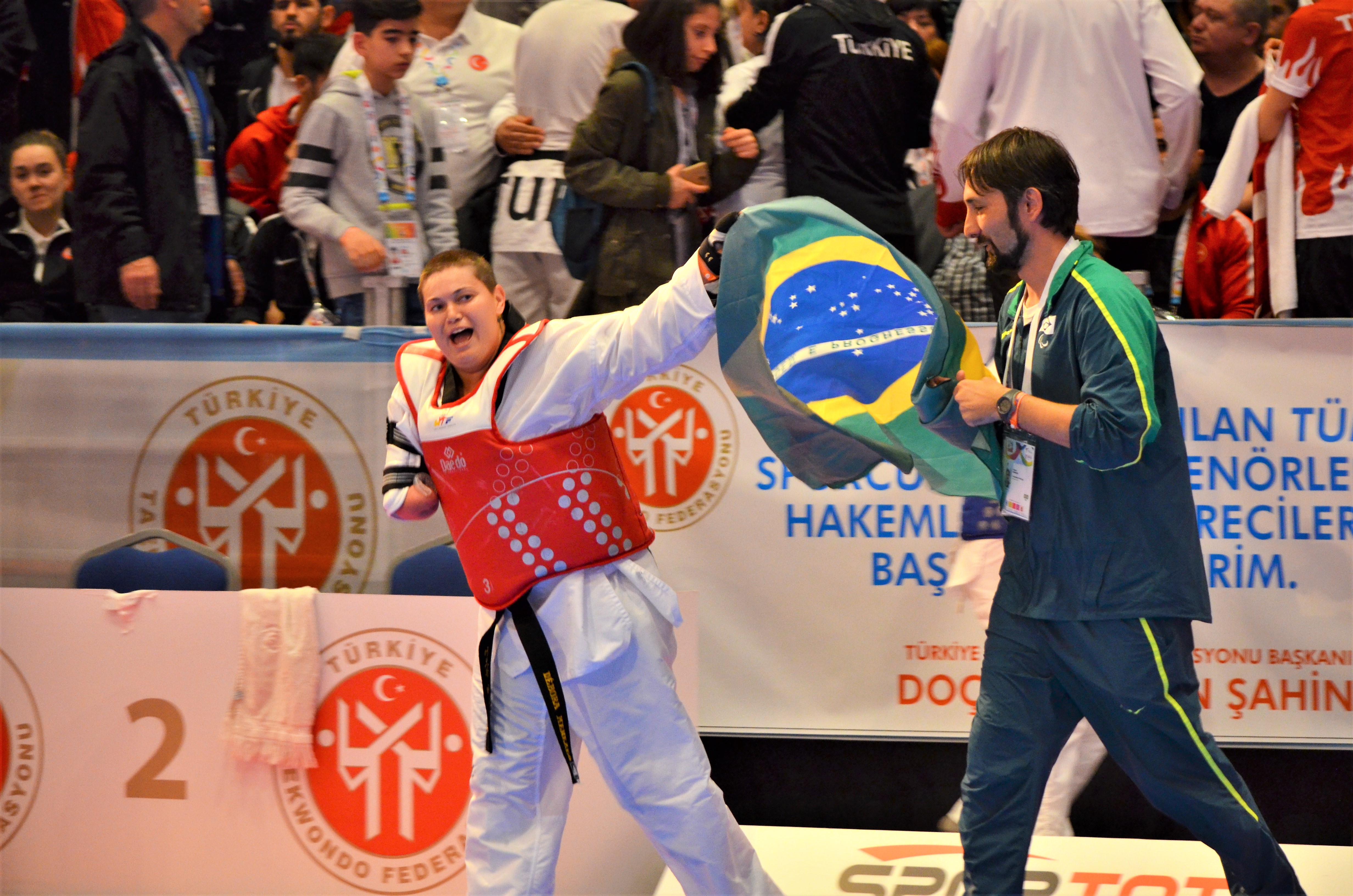 With competitions drawing record numbers of athletes and nations, and fights fiercer than ever in the bid to claim a Paralympic berth, 2019 saw Para taekwondo emerge as the Paralympic movement's most exciting new sport.
Written by IPC Volunteer writer Lee Reaney
Peruvian Paradise – Flagbearer Carranza Wins Parapan Am Gold at Home
Peruvian athlete Leonor Espinosa Carranza stole the show by capturing gold when Para taekwondo made its Parapan Am Games debut in her home country of Peru in August. The incredible win at home capped a memorable tournament for the Peruvian fighter, which began with the honour of carrying the host nation's flag into the opening ceremonies. Her celebration after the win – one of only five from the host nation – became one of the 2019 Parapan Am Games defining images. Confidence abounding following her breakthrough title, she nearly captured European championship gold in her next tournament, before falling in the final minute to Turkey's No. 2-ranked Meryem Betul Cavdar.
Upset Extravaganza – Surprises at World Championships Crown New World Champions
The 2019 Para taekwondo world championships were a display of just how competitive the sport has become since gaining Paralympic status. The world championships saw a rash of unbelievable upsets, stunning disqualifications, and shocking injuries – and that's just from former world champions! Japan provided two of the biggest, with Shoka Ota stunning British world champion Amy Truesdale in a golden point semifinal and Shunsuke Kudo shocking Iran's four-time world champion Mehdi Pourrahnama, who had just one loss to his name beforehand. In their absences, Brazil's Debora Menezes and Mexico's Juan Diego Garcia Lopez claimed their first world crowns. Croatia's former world champion Ivan Mikulic failed to register a point at the tournament, which was won by Britain's Matt Bush – his first world title. Mongolia's world champion Enkhtuya Khurelbaatar was DQ'd in the final, handing Thailand's Khwansuda Phuangkitcha her first world title, while Denmark's Lisa Gjessing missed out on her fifth world crown after withdrawing due to injury, allowing the sport's newest superstar – Yujie Li – to claim the world championship in her first international competition. All in all, athletes from 10 countries won world titles in the 12 Paralympic divisions, with six first-time world champions.
The Rise of China – Li is the Star of China's Para Taekwondo Renaissance
When the 2019 world championships rolled into Antalya, Turkey, China didn't have a single fighter in the Top 10 of any Para taekwondo division. They left the tournament with two world champions, including the dominant Yujie Li. After claiming the world title in her first international tournament, Li went on to win six international medals in 2019, including titles at the Asian championships, Pan-American championships, and Chuncheon Open. Beginning 2019 as an unranked fighter, Li managed to move up to No. 2 in the division in less than a calendar year – and could have finished the year as No. 1 had she been able to top rival Gjessing in the pair's highly-anticipated first fight at the European championship final in October. Already qualified for Tokyo 2020, Li has cemented China's rise on the world stage and will be a favourite when Wuxi, China hosts the next world championships in 2021.
A Star is Born – Mexico's Garcia Lopez Has a 2019 to Remember
It's not like the Para taekwondo world didn't know who Mexico's Juan Diego Garcia Lopez was before 2019, but the talented teenager emerged as one of the sport's biggest names after a sterling year capped by his first world championship title and a Parapan Am Games gold. After a quarterfinal appearance in his first world championships in 2017, Garcia Lopez took advantage of Iran's four-time world champion Mehdi Pourrahnama's shocking world championships exit in 2019 by beating Russia's Magomedzagir Isaldibirov in a bruising final. He then went on to capture titles at the US Open, Mexico Open, and Parapan Am Games to cap an incredible 2019. One of the sport's most thoughtful and strategic fighters, Garcia Lopez nearly completed a perfect year by winning the European championships, before falling to Isaldibirov on a last-second strike. Still, with a world championship, Parapan Am gold, and 2020 Paralympic spot already secured, the future looks bright for the Mexican star.
The Greatest Fight of All-Time – Mongolia's Ganbat and Turkey's Ozcan Show What's in Store for Tokyo 2020
The men's up to 61 kg division will be one of the most competitive at the Tokyo Paralympic Games, and Mongolia's Bolor-Erdene Ganbat and Turkey's Ali Can Ozcan showed that it will also be one of the most spectacular to watch too. In a stunning display of skill, determination, and endurance, the two fighters battled back-and-forth in a "did you see that?" display that had people buzzing that they'd just witnessed the greatest fight in Para taekwondo history. Down by 20 points early in the fight, Ozcan battled back; but every time he came close to gaining the lead, Ganbat wouldn't break. In the end, the fight was stopped by point cap at 40-34, leaving fans wanting more. Not to be outdone, the other semifinal pitted Ozcan's teammate Mahmut Bozteke against Russia's Daniil Sidorov in another stunning display that had both fighters on the ground gasping for air after the fight. In the end, Ganbat beat Sidorov for his fourth world title, but Paralympic fans were the real winners. The men's up to 61 kg division final in Tokyo is sure to become one of the 2020 Paralympic Games marquis events.