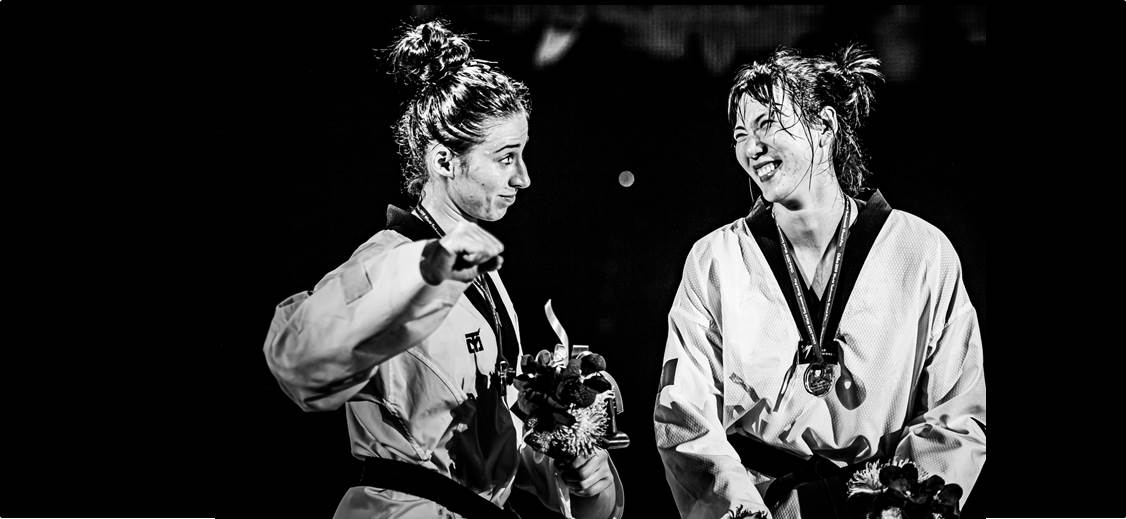 CHIBA, Japan (12 September 2019) - The first day of the World Taekwondo Grand Prix in Chiba, Japan, saw fighters from Turkey, Iran and China capture the golds.
With Olympic qualification points on tap, the tournament, held in the Tokyo suburb which will host the Olympic taekwondo competition next year, promised great things. It delivered – with a last-second reversal of fortune, a high-scoring superfight and a grudge battle between the biggest rivals in the women's division.
Womens -57kg
In the finals, Nada Laraaj of Morocco took on Hatice Kubra Ilgun of Turkey.
Round 1 saw both fighters feeling each other out, but despite brief flurries, neither connected. The first ended 0-0. The Turk looked more dangerous as the second got underway, nearly scoring with a long, head kick but Laraaj, leaning well back, kept out of danger. Round 2 also ended on an empty scoreboard.
In the third, Laaraj landed a body kick for two-points and the Turk was penalized for a low kick, putting the Moroccan 3-0 ahead. Kubra Ilgun sought to launch a big shot but Laraaj controlled the distance with a front leg jab and clinches. The seconds counted down. The score was 3-1 to the Morrocan. A video replay was called with just two seconds remaining – no score.
Had Laaraj won it? Action resumed. The Turk unleashed a long, high round kick at the Moroccan's head. Boom! Connection! The last-second strike gave Kubra Ilgun a 4-3 victory, a gold medal and a superb end to a mediocre bout.
Phannapa Harnsujin of Thailand and Tatiana Kudashova of Russia won bronzes.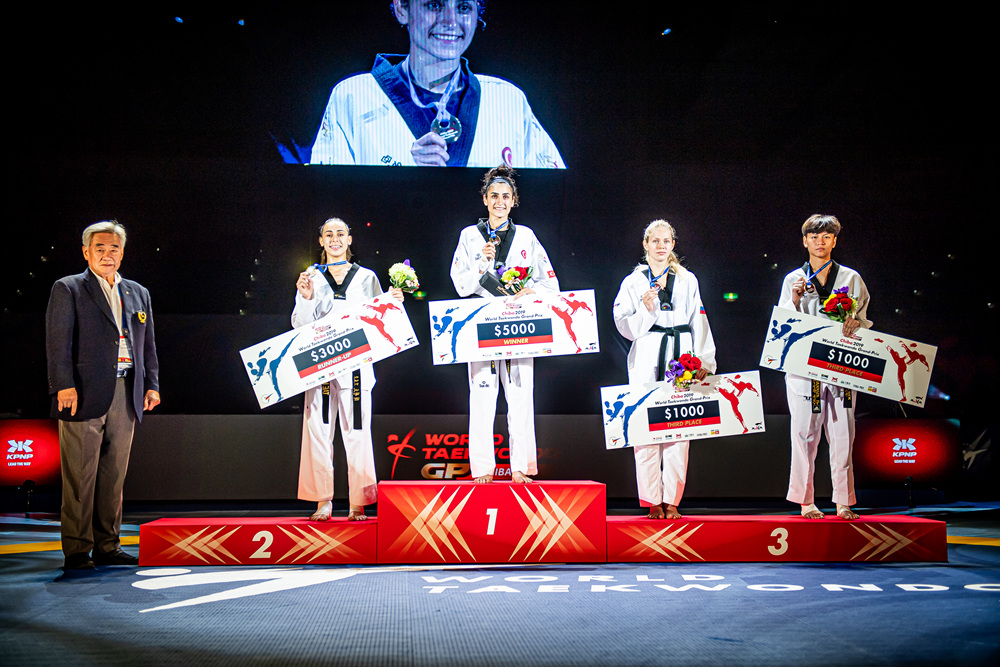 Men's -68kg
Christian McNeish of Team GB took on Iran's Mirhashem Hosseini in the final. The two would give the crowd a truly superb, ultra high-scoring battle.
The Brit scored first with a body kick as the Iranian advanced, sounding his war cry. Then Hosseini landed a head kick on the counter, felling McNeish and going 4-2 up. McNeish landed a head kick but fell, bring the score to 6-6.More head kicks! More falls! More action! Round 1 ended 11-9 to McNeish.
Round 2 saw intense clinch work with both seeking to land close-in head kicks. The Brit took a 13-9 advantage before the Iranian fell after a punch to the jaw. After a video replay, the board was adjusted to 10-13. In intense action, the scores evened at 13-13, then McNeish finished the round 15-14 up.
In the third, both were still alive with energy.Both landed head kicks and the board hit 19-19. Another punch to the face saw the referee flash his red card as Hosseini struggled to rise. The score was 20-19 to the Iranian. With one minute left, Hosseini went into top gear.
In whirlwind combat, Hosseini went to 25-20, then 27-20, then 31-20 thanks to both head kicks and falls by McNeish. With 25 seconds left, the British coach called a video replay. Denied. McNeish was finally looking tired: he tried a flying kick but fell. Result: Gold to Hosseini with a tremendous 36-20 victory.
Korea's Dae-hoon Lee and Evival Pontes of Brazil took home bronzes.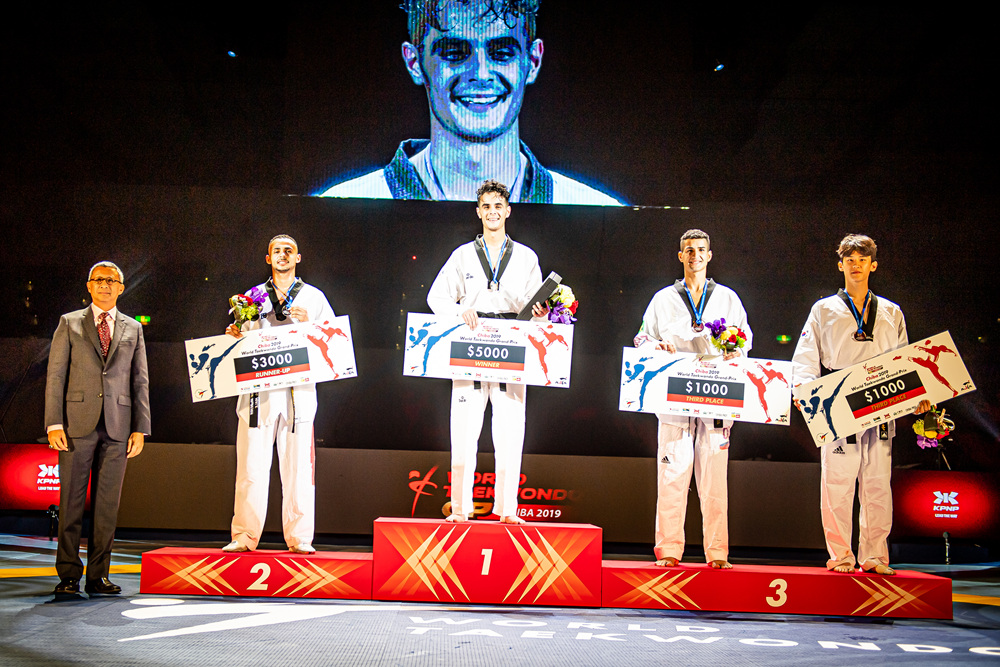 Woman's +67kg
In the final, triple World Champion Bianca "Queen Bee" Walkden of GB, faced Rio Olympic Champion Shuyin "The Beautiful Giraffe" Zheng of China. These two have clashed many times, but at this year's Worlds, Walkden kept her title, setting the scene for a grudge match in Chiba.
Walkden attacked immediately with side kicks, then landed a punch for a one-point lead in a far faster start than her regular pace, then – bang! Another punch from Walkden - and yet another. A body kick raised her score 5-0, where the round ended.
In the second, Zheng was more active, but Walkden did not yield an inch; the second ended 5-1 to the Queen Bee. In the third, Walkden appeared to have a problem with her leg. Zheng attacked and raised her score to two points - then an out-of-nowhere round kick shaved Walden's head guard. Suddenly, it was 5-5. So: Golden round.
Walkden stormed forward with jackhammer sidekicks. Zheng timed her counter – a round kick to the torso – perfectly: two points and the win.
Svetlana Osipova of Uzbekistan and Maria "Fist of Fury" Espinoza of Mexico won bronzes.
To see action from Chiba click here
Action resumes tomorrow at the at the Chiba Port Arena, when the Women's -67kg, Men's -58kg and Men's +80kg categories are contested.