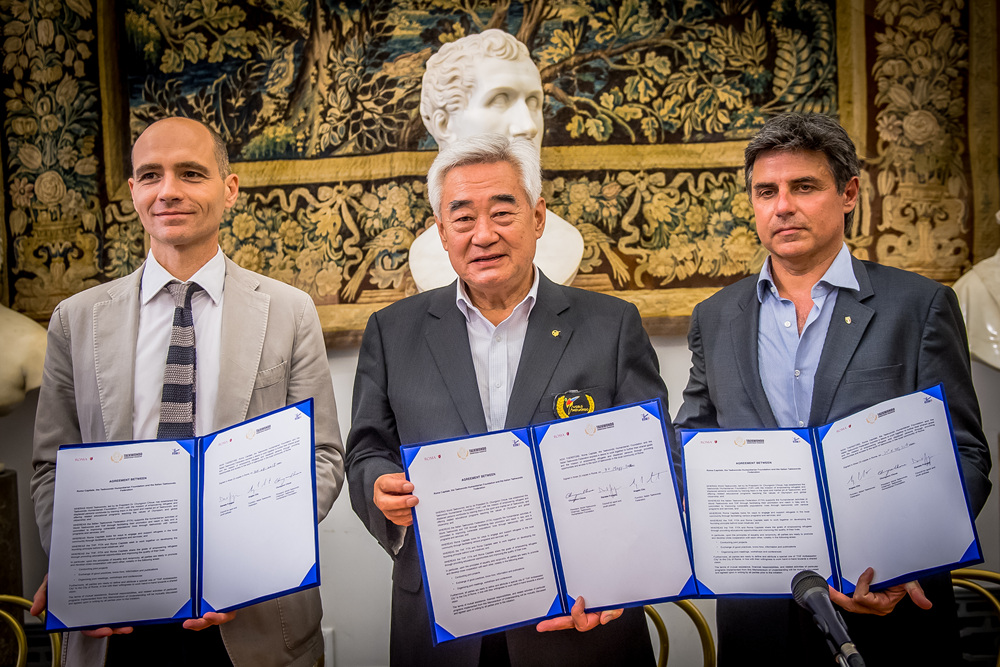 ROME, Italy (May 30, 2018) - The Taekwondo Humanitarian Foundation (THF) today signed an MoU with Roma Capitale and the Italian Taekwondo Federation (FITA) which confirms the three organisations' desire to work together to empower refugees through taekwondo in the local community of Rome.
The MoU was signed by THF President Chungwon Choue, Roma Council of Sport Daniele Frongia and FITA President Angelo Cito during a special signing ceremony at the Roma City Hall. As part of the MoU, the three parties confirmed their readiness to promote and develop close cooperation with each other, notably in:
Conducting joint projects
Exchange of good practices, know-how, information and publications
Organizing joint meetings, workshops and conferences
In recognition of their willingness to work together, the parties are also ready to attribute the special role of "THF Ambassador City" to the City of Rome. During the signing ceremony, all three parties expressed how honored they were to be collaborating together and expressed their commitment to support refugees and displaced persons.
The THF was established under the leadership of President Choue in 2015 with the aim of delivering taekwondo training and education for refugees and thus provide hope and valuable learnings for future life. The THF has since established a number of projects around the world including in Jordan, Nepal, Turkey and Rwanda. Just last month, the THF opened the first ever dedicated taekwondo facility – the Azraq Taekwondo Academy – in the Azraq refugee camp in Jordan. FITA has been a long supporter of the humanitarian activities of World Taekwondo and the THF and collaborated with the THF two years ago in delivering programmes in a refugee camp in Rome. Similarly, the Roma Capitale is looking to engage and support refugees in the local community.
The specific activities established as a result of this MoU and the financial responsibilities will be mutually discussed and agreed by all parties prior to their implementation.