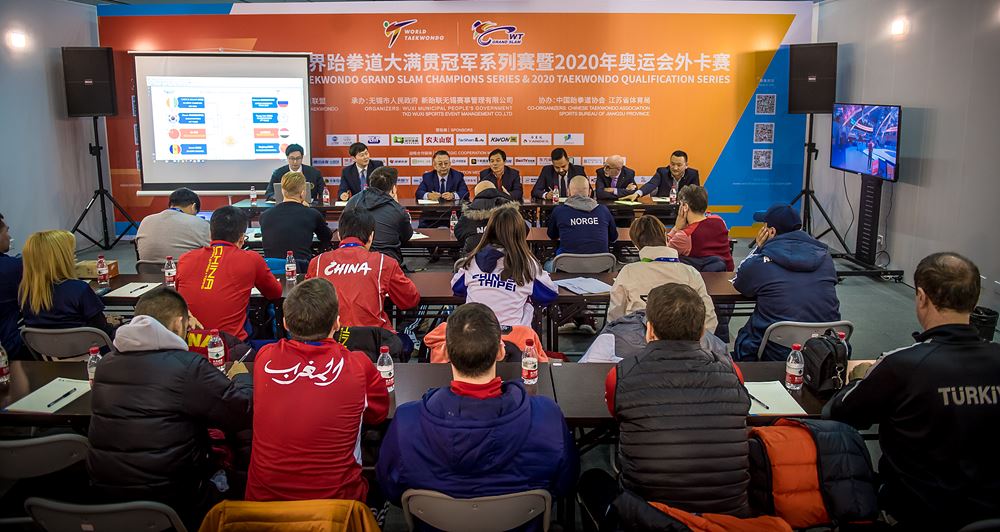 WUXI, China (Dec. 29, 2017) – Taekwondo takes a giant leap forward in terms of its sport presentation and media exposure on Saturday when the first edition of the ultra-elite new Grand Slam Champions Series kicks off in theWuxi Taihu International Expo Center in the city of Wuxi, near Shanghai.
Heads of teams, who gathered for their last huddle with WT technical officials before the new series begins,were briefed on final details, and told that the key concept is to "make a great show," on a "stage for superstars."
The series invites the world's finest players – Olympic, World and Grand Prix champions – to fight for the biggest prize money in the history of taekwondo: USD70,000 for winners, USD20,000 for runners up and USD5,000 for bronze medalist. The venue has been custom-designed for TV, with Hollywood style sound and lighting effects. The event will be broadcast to an expected audience of millions via terrestrial and online TV. Experimental rules are being applied to encourage the most crowd-pleasing techniques - spinning kicks and powerful blows – and to reward offensive play. If successful, the serule changes will be applied to regular taekwondo prior to the 2020 Tokyo Olympics.
"We have had a dream for this type of championships to take taekwondo to the next level, and that means more exposure to TV and other media platforms," said WT Technical Committee Chairman Jin-bang Yang. "We have been in the Olympics for nearly 20 years and made pretty good progress, but we are not at the highest level yet: For the next level of development, we need this type of game."
"The taekwondo calendar is already complicated, so the concept was not one more competition, it was one special competition," explained Grand Slam Technical Delegate Philippe Bouedo. "The venue looks like a TV studio, not a sports venue, and this this will make a difference - we are expecting 5-8 million viewers to watch this online."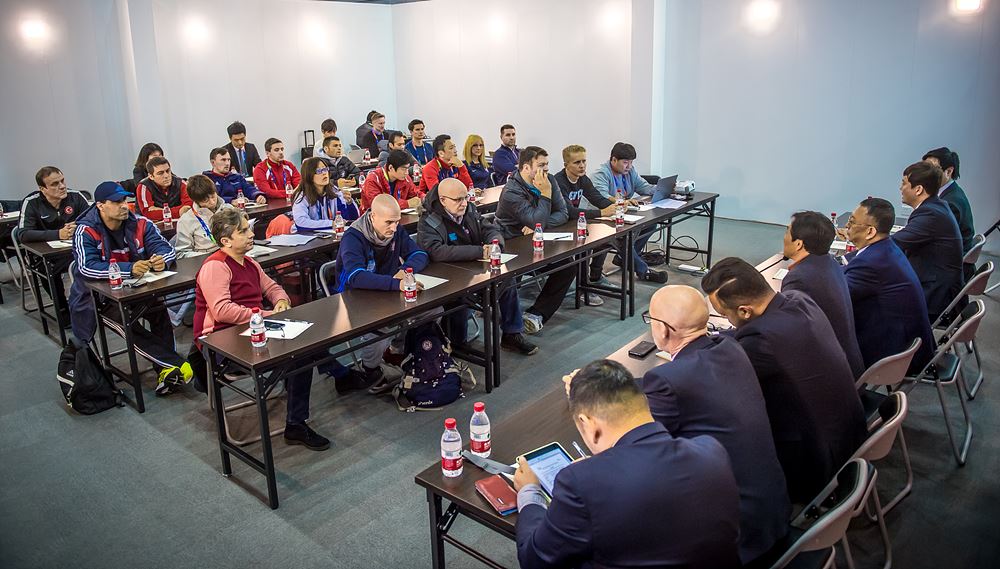 Taekwondo's rules have been tweaked to make bouts as viewer-friendly as possible.Extra points have been added for the most spectacular techniques, so spinning kicks to the torso will gain four points, and to the head, five points. To encourage powerful strikes, fighters who knock down their opponent will be awarded an extra five points, signaled by a standing count from the referee. (A gamjeom, or single-point penalty, will continue to be awarded for falls.)
To penalize defensive play and back-pedaling, any player who sets even one foot outside the matted area will suffer a gamjeom. And the "monkey kick" – ie tapping the opponent's torso protector with the side of the foot in the clinch, a technique that is taught in no taekwondo class – will be disallowed.
Finally, the male bronze medal and final matches will be five, two-minute rounds instead of the usual three two-minute rounds. This will work to the advantage of the best-conditioned players.
Coaches at the event were urged to encourage their athletes to display as much showmanship as possible. "We want emotion – we want our athletes to be creative!" said Bouedo. "We want taekwondo to be a fashionable game," added Organizing Committee President Dejun Sun. "We want superstars on this stage!"
Saturday's inaugural edition of the Grand Slam features the Women's +67kg and the Men's -80kg Olympic weight categories. The remaining six Olympic weight categories will be contested over successive Saturdays. The series concludes on Jan. 27 2018, with a team championships.
Catch it on live-stream by clicking on the link on the World Taekwondo web page. Battle commences at 08:00, China-time.