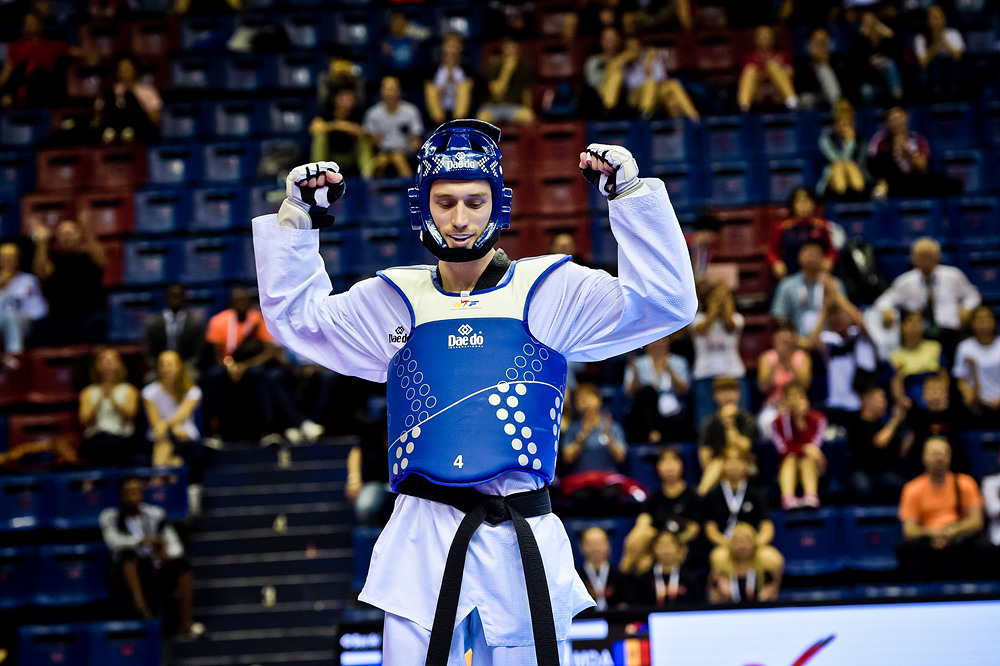 MOSCOW, Russia (August 6, 2017) – For many fighters being drawn against the current world number one in the semi-final and then the world number two in the final of a World Taekwondo Grand Prix would be a daunting prospect. Add to that the pressure of fighting in front of a home crowd and it would be easy to forgive a fighter for being nervous.
But for laser-focused Anton Kotkov, the most important thing was to stay focused on the matter at hand and not be overwhelmed by the occasion.

"I was just concentrating on what I should do in that second," he said less than twenty-four hours after claiming his first ever Grand Prix gold medal by beating Moldova's Aaron Cook in a breath-taking final. "I believed if I did my job I would win."

"Of course there are lots of emotions. I couldn't win a Grand Prix before and had lost in the Grand Prix quarter final. This time I decided to win. No matter who I fought, I decided to get gold."

Taekwondo is undoubtedly a sport of the body and the mind and it is clear that for Kotkov success starts in the mind.

"I believe in success and success will only happen when you believe in it," he said. "I felt that it was my time and it was time to win and this Grand Prix should be my first Grand Prix gold."

This winning mentality, Kotkov says, comes from his coaches who have instilled a winning atmosphere in the Russian team which is clearly bearing fruit as Russia came away with seven medals from June's World Championships. "Everything starts not from exercises but from the mind," Kotkov explains. "When coaches manage to change our minds to victory, our team got stronger."
But even with this deep concentration, Kotkov was not oblivious to the support of the crowd here in Moscow and the contribution they made to his victory.
"I saw all the support of the people. It was very amazing and it gave me more emotions, more energy and I wanted to win for them. Especially in the third round [of the final], when the situation was so tight. Every time I got points I heard the noise. It made me feel very energised."

It wasn't just the result which delighted the Russian crowd but also the way the match was fought. The third round was the round of the competition with both fighters trying exciting and acrobatic techniques.
Kotkov believes this is how taekwondo should be fought and is full of praise for his fellow finalist Cook. "He [Cook] is a great fighter and I like to fight him because he shows really beautiful taekwondo," he said. "I think the real taekwondo should be like this. I like beautiful taekwondo, beautiful kicks, but not so many athletes can show this."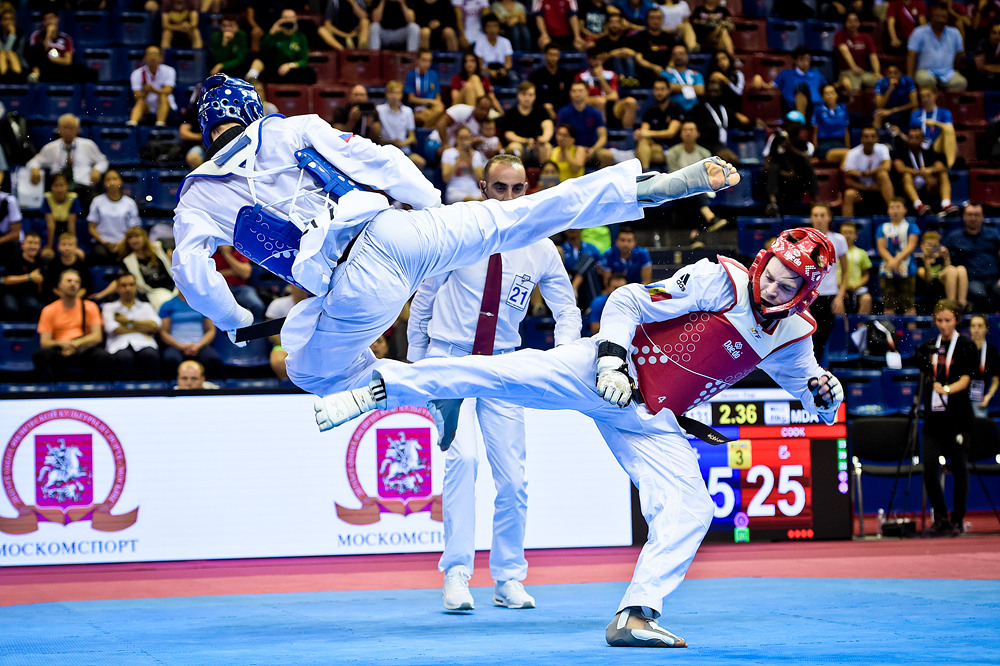 At the start of the year, World Taekwondo introduced a series of rule changes to encourage athletes to fight in a more exciting and dynamic style and penalise overly defensive techniques. For Kotkov, the results of these changes are already clear. "These changes made taekwondo more spectacular," he said. "When I went to the first tournament of the year, the German Open, already with the new rules and all the changes I saw that taekwondo had already changed. I saw that many athletes changed the style of fighting. I saw that these changes will help taekwondo show spectacular fights."

As a newly crowned Grand Prix Series champion, Kotkov's focus moves to the next Grand Prix in Rabat. At the end of year he also greatly looks forward to competing in the new World Taekwondo Grand Prix. But like most of his fellow athletes the end goal is Tokyo 2020. Whereas a few years ago his goal would have just been to qualify for the Games now his aim is not just to qualify but to win gold.
"I believe I am ready to do that," he says. "I am ready to do anything to get gold."

If success starts in the mind then he is already on his way to achieving his ambition.