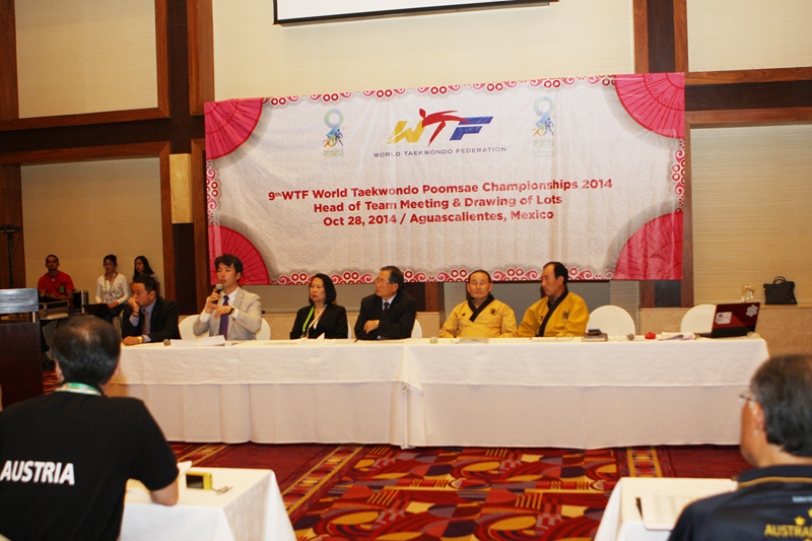 AGUASCALIENTES, Mexico (October 29, 2014) - The Mexican city of Aguascalientes is ready for the 9th World Taekwondo Poomsae Championships.
The annual WTF-promoted poomsae event, which is scheduled for Oct. 30 to Nov. 2, will take place at the Olympic Gymnasium.
A total of 461 poomsae athletes from 46 countries will compete for top honors in 36 categories, including eight for freestyle poomsae. The four-day championships will feature both recognized and freestyle poomsae competitions. One contestant can compete in two divisions.
A total of 50 international poomsae referees will officiate at the championships.
Freestyle poomsae, which was introduced for the first time at the 7th World Taekwondo Poomsae Championships in Tunja, Colombia in 2012, is the performance based on taekwondo techniques with a composition of music and choreography. The duration of the freestyle poomsae contest in the individual, pair and mixed team competitions is from 60 seconds to 70 seconds.
The duration of contest of the recognized poomsae for the individual, pair and team competitions is from 30 seconds to 90 seconds. The break time between the first poomsae and the second poomsae is 30 seconds to 60 seconds.
For the first time ever, the Aguascalientes poomse championships will feature cadet divisions in the recognized poomsae, for athletes aged between 12 and 14, and the under 65 (aged between 61 and 65) and the over 66 (aged over 66) categories.
The freestyle poomsae competition will be held for the first time in two age categories: the under 17 (between 12 and 17) and the over 17 (from 18) divisions.
In the recognized poomsae competition, a cut-off system will be introduced for the preliminaries and semi-final rounds, but the final round will be conducted in a single elimination format for the first time. A random draw will be conducted among the finalists.
On Oct. 28, there was a referee meeting and referee training session at the Marriott Hotel in downtown Aguascalientes. A press conference for the championships was held at the City Hall of Aguascalientes, followed by a taekwondo demonstration by the WTF Taekwondo Demonstration Team in front of the City Hall to draw lots of applause from spectators.
Contestants will compete for 9 gold medals up for grabs on the first day of the competition on Oct. 30. An opening ceremony of the championships is scheduled to take place at 7 p.m.