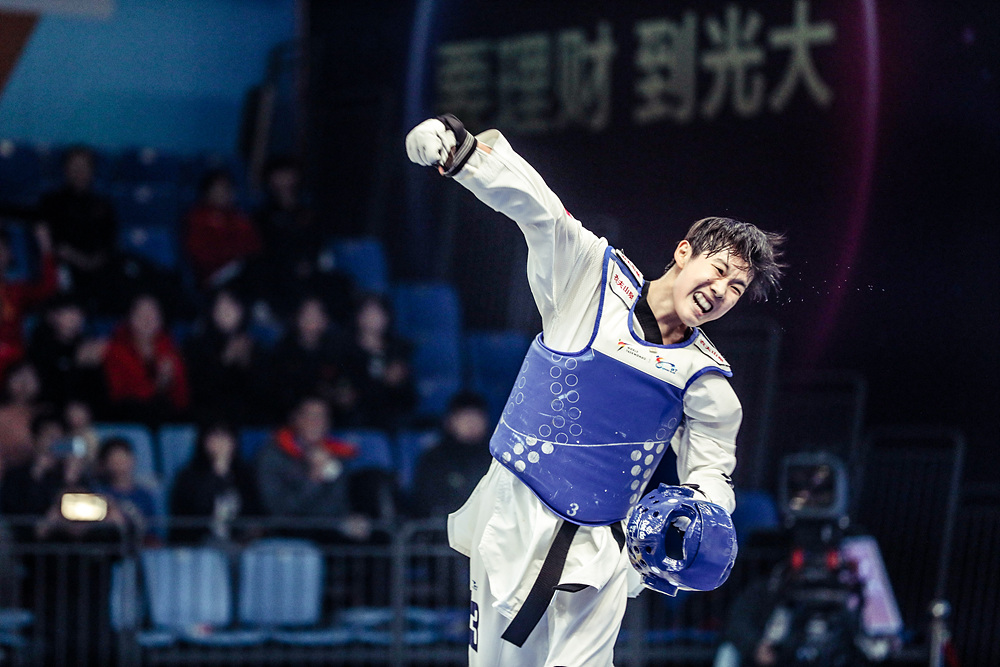 WUXI, China (19 December 2019) - Another thrilling day of action at the World Taekwondo Grand Slam Champions Series in Wuxi, China today saw Thailand and China win their first gold medals while Korea won their second of the competition.
Fans at the state-of-the-art Taihu International Expo Centre were witness to the world's best athletes competing for gold across the W-49kg, W-57kg and M+80kg weight categories.
In the men's +80kg, Korea claimed their second gold medal of the competition, as Kyo-don In overcame Great Britain's Mahama Cho in the final, 2:0. In, who did not lose a round in any of his matches, won gold at the inaugural edition of the Grand Slam in 2017 and was determined to return to the summit after winning silver last year. Despite losing out to In in the final, Cho performed well throughout the day and beat China's Jian Tian 2-0 in the semi-final. Russia's Rafail Aiukaev obtained third place in an extremely close bronze medal match against Tian from China, which ended in 3:2 victory to Aiukaev.
Panipak Wongpattanakit, Thailand's unstoppable taekwondo star, retained her title and secured a gold medal in the W-49kg final as Wongpattanakit beat Wu 2:0. The hosts picked up another medal in a close bronze medal contest, after Ju Zuo from China beat Russia's Elizaveta Ryadninskaya 2:1.
For the final event of the day, last year's W-57kg finalists were matched together once again to compete for top honours. Lijun Zhou from China won a marginal 2:1 victory over Great Britain's Jade Jones to secure the first gold medal for the hosts. Jones had gone into the final in good form having won her previous two matches 2:0 but Zhou proved too strong. In the bronze medal match, China's Zongshi Luo added to the hosts medal table with a 2:1 victory over Ah-reum Lee from Korea, securing the last medal of the day.
The Grand Slam Champions Series concludes tomorrow with athletes from two more weight categories set to compete.