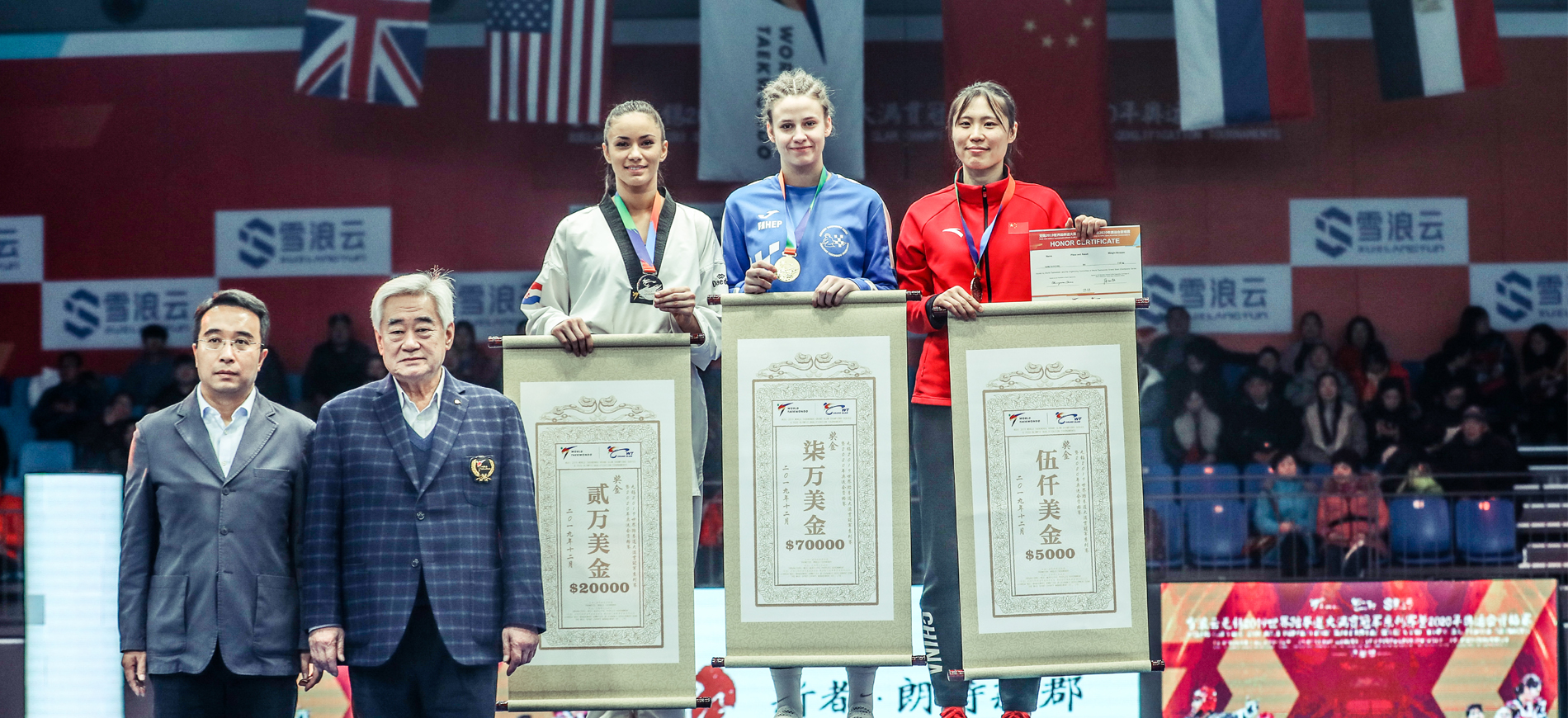 WUXI, China (18 December 2019) - The third edition of the World Taekwondo Grand Slam Champions Series got underway in Wuxi, China today, with Croatia, Korea and Russia sharing the three gold medals on offer.
The opening day saw the world's best athletes compete in the men's -68kg and -80kg and women's -67kg. The competition follows a single-elimination format with matches decided by the best of three two-minute rounds, with the gold and bronze medal matches moving to best of five rounds in the men's competition.
In the men's -68kg it was Dae-hoon Lee who emerged victorious, overcoming home-favourite Shuai Zhao 3:0 in the final. It is the second gold medal Lee has won at the Grand Slam, having won gold at the inaugural edition in 2017. Having won bronze last year, Lee came into this year's tournament keen to return to the top and he put in a dominant display from start to finish, not losing a single round in the final, semifinal or quarterfinal. China's Zhao had overcome Great Britain's Christian McNeish 2:1 in the semi-final to secure his fight against Lee. McNeish faced Zhao's compatriot, Wenye Lin, who had lost to Lee in the second of the semi-finals, in the bronze medal match. In what was the closest match of the weight category, it was Lin who secured bronze winning 3:2.
Russia's Maksim Khramtcov won gold in the -80kg for the second year in a row, beating Hwan Namgoong from Korea in the final. Namgoong fought well but Khramtcov was too strong and won in straight rounds, 3:0. Khramtcov had not fared as well in the semi-final, as he lost a round to Ukraine's Nikita Rafalovich, but still came out victorious, 2:1. In the second of the semi-finals Namgoong beat Milad Beigi Harchegani from Azerbaijan 2:1. Rafalovich won bronze against Beigi Harchegani, 3:1, in the third-place match.
In the women's -67kg it was Matea Jelic who won her first ever Grand Slam gold medal as she saw off the challenge from fellow Croatian, Doris Pole in the final. Jelic continued the good form she showed in the earlier rounds of the tournament by winning the final 2:0 – the same score she beat China's Mengyu Zhang in the semi-final. The second semi-final was another Croatia vs China match up with Pole taking on Yunfei Guo. Pole won the match 2:1. In the all China bronze medal match it was Guo who took third place with a score of 1:0.
The Grand Slam Champions Series continues over the next two days with athletes from five more weight categories set to compete.
The Grand Slam was launched in 2017 to bring together the very best athletes from around the world and showcase their talents through digital and technological innovations.