Trio of Super-Tight Matches all Decided in Final Seconds
CHIBA, Japan (14 September 2019) – The second day of the Chiba Grand Prix saw Korea win two of the golds on offer and France the third after three tight final matches that were all decided in the last round.
Men's -58kg
The final of the category presented two of the top players from two of the top teams in the game: Jun Jang of Korea versus Armin Hadipour Seighalani of Iran.
Round 1 started slowly, with neither player committing - then the Iranian landed to the body for two points. He then started head hunting and landed a wickedly fast head shot to go 5-0 up. Yet more trouble followed for Jang as he tumbled, losing another point. Finally, Jang connected to the body for two points with a relaxed-looking kick. Now he had found the range, he followed with another. Round 1 ended 6-4 to Hadipour Seighalani.
The second got underway with some nice play at both the long and close ranges, with the referee letting both men fight it out. Oddly, despite a high kick rate from both fighters, the round ended with minimal change: 7-5 to the Iranian. With just a two point difference, everything hung on the third.
Jang equalized with a long side kick to the torso: 7-7. Then, in a brilliant bit of leg control, Jang landed two arcing head hits – one from each side - with the same leg. The audience gasped; Jang's score soared to 13 points. Then, a long, chopping kick to the Iranian's face raised Jang's score to 16 points - before the Iranian, counterattacking fast, chased him out of the area, raising his own score to nine points. A video replay request by the Iranian's coach was ineffectual, – but Hadipour Seghlanic landed a high kick after play recommenced, and he was on 12 points. As the clock counted down, it was all action, with kicks flying from every angle. It finished 22-14 and gold for Jang, after an action packed end that made up for the lackluster early rounds.
Bronzes went to Adrian Vicente Yunta of Spain and Vito Dell'Aquila of Italy.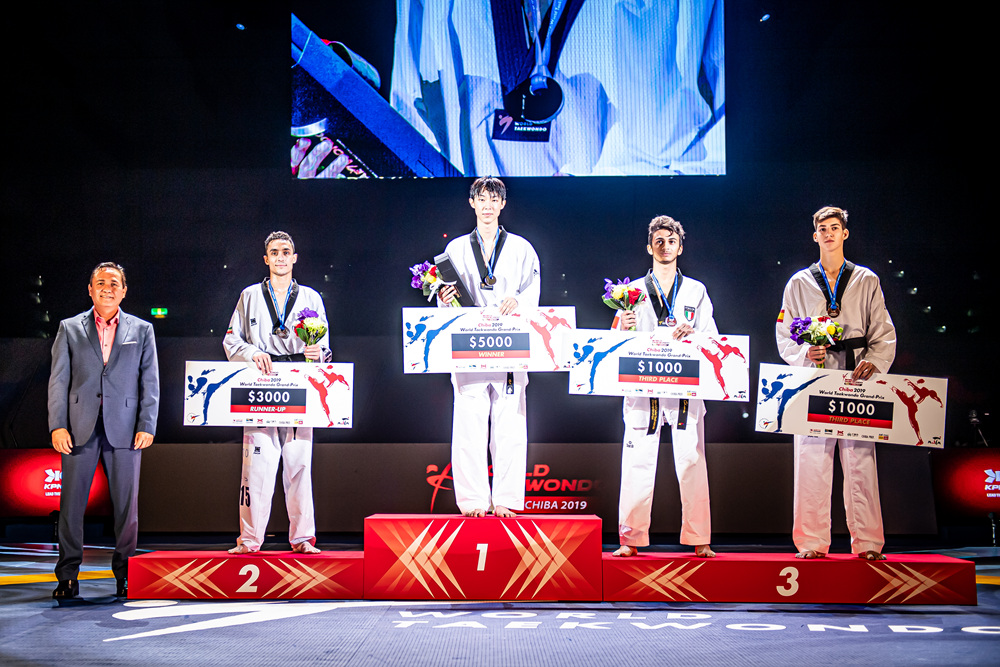 Women's -67kg
Matea Jelic of Croatia took on France's Magda Wiet Henin for the gold.
The Croatian had the height advantage but the French fighter looked faster and landed to the body, going two points up. Jelic dominated the center of the mats and looked dangerous with a high kick, but Round 1 ended 2-0 to Wiet Henin.
The pace slowed in the second as both maneuvered for advantage and probed each others defences. Jelic advanced, forcing the French fighter to dance around the perimeter of the mats. As the round neared its end Jelic landed a spin back kick to the torso. Round 2 ended 4-4. Round 3 would, again, decide everything.
Jelic attacked. Wiet Henin danced, unintimidated; a punch put her ahead by one point. With ten seconds left, the Croatin launched an all-out attack, but despite a head kick that looked like it connected, the board remained at 5-4, granting Wiet Henin her first Grand Prix gold.
Bronzes were won by China's Yunfei Guo and Uzbekistan's Nigora Tursunkulova.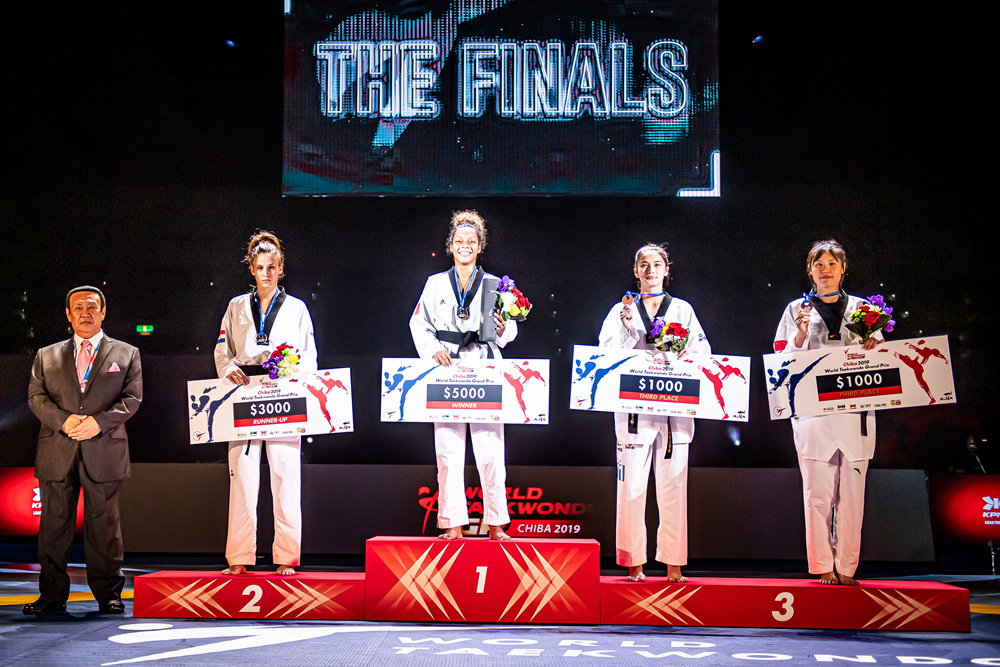 Men's +80kg
Russia's Vladislav Larin took on Kyo-don In of Korea for gold in the heavyweight category.
Larin had the height advantage but In – nicknamed "The Bear" - looked more powerful. Larin opened the scoring to the body almost immediately. In close-range, In equalized with a heavy-looking kick, before losing a point for not fighting. Then Larin fell. Both men were on three points – where the round ended.
Round 2 was a war of nerves, with both players faking and landing glancing kicks, but not scoring. The round ended 3-3. For the third time this evening, all would be decided in the final round.
It started fiercely. Larin probed forward, forcing In back and landing a punch, going 4-3 up. Another punch, and Larin was 5-3. With just over 30 seconds left, In had to attack, but Larin continued jabbing with his front leg. With just seconds left on the clock, In – keeping a cool head – unleashed a heel hook kick that shaved Larin's head – and won him both the fight, and the gold, 6-5, with just seconds left. Masterly last-minute play by In, and a deserved silver for an unlucky Larin.
Radik Isaev of Azerbaijan and Iran's Sajjad Mardani had to be satisfied with bronzes.
To see action from Chiba click here
Tomorrow – the third and final day of the Chiba World Taekwondo Grand Prix - the Women's -49kg and Men's -80kg categories will be contested.