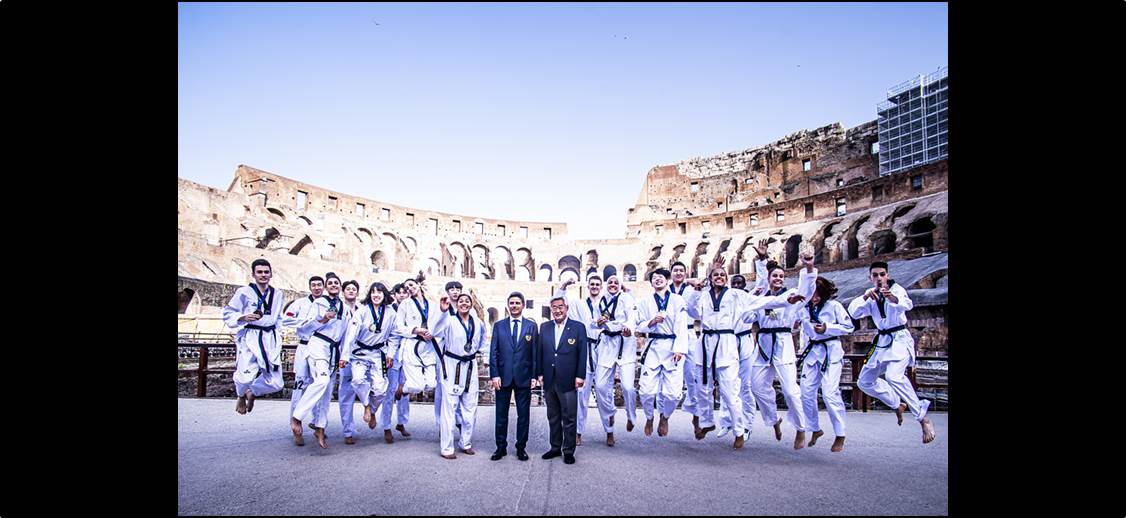 ROME, Italy (June 9, 2019) - World Taekwondo today staged the first-ever medal ceremony of a modern sport inside the ancient Colosseum in Rome.
Medallists from the Roma 2019 World Taekwondo Grand Prix stood proudly with their medals alongside World Taekwondo President Choue inside the nearly 2,000-year-old amphitheatre.
Some of the athletes in attendance included: Jun Jang from Korea, Jesus Tortosa Cabrera from Spain, Matea Jelic from Croatia, Hedaya Malak from Egypt, Shuai Zhao from China, Rusian Zhaparov, Hatice Kubra Ilbun from Mexico, Anastasija Zolotic from USA etc.
It was the first time such an event has been hosted inside the Colosseum and the occasion was marked by a short performance of the World Taekwondo Demonstration Team.
The ceremony was arranged by Italian Taekwondo Federation President and World Taekwondo Council member, Mr. Angelo Cito.
World Taekwondo President Choue said:
"It was very special to have had the opportunity to stage a medal ceremony in the world-famous Colosseum. Standing here you are struck by the history. As you look around you can imagine what the atmosphere must have been like when it was full of tens of thousands of cheering Romans. Over the last three days during the Roma 2019 World Taekwondo Championships we have witnessed first-hand the noise the people of this city can make when supporting athletes. But thankfully our sport is a lot safer than what took place here in the Colosseum nearly 2,000 years ago!"