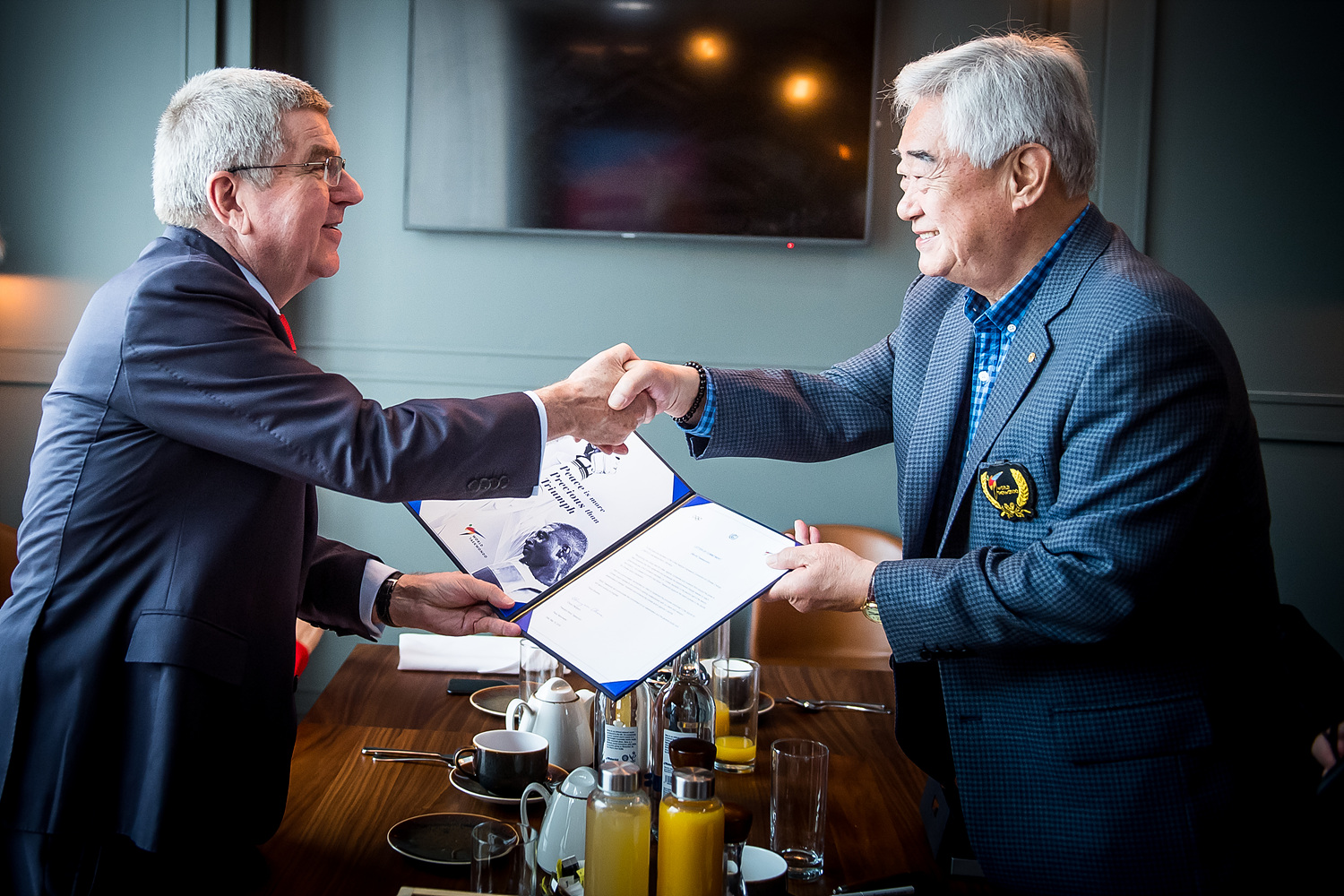 MANCHESTER, UK (May 19, 2019) - World Taekwondo today took another step forward in the implementation of its Sustainability Strategy as World Taekwondo President Chungwon Choue signed a pledge to implement the principles enshrined in the United Nations Framework Convention on Climate Change (UNFCCC) Sports for Climate Action Declaration.
The letter, addressed to the Executive Secretary of the UNFCCC, was signed in the presence of IOC President Thomas Bach on the side-lines of the Manchester 2019 World Taekwondo Championships. In the letter, World Taekwondo commits to working collaboratively with its peers and relevant stakeholders to develop, implement and enhance the climate action agenda in sports.
The signing of the letter forms part of recommendations 5 and 14 of the World Taekwondo Sustainability Strategy which advocate alignment with the IOC Sustainability Strategy and the contribution to the achievement of specific Sustainable Development Goals.
The World Taekwondo Sustainability Strategy consists of a total of 17 recommendations developed to achieve sustainable events and a clear and transparent governance framework. It was presented at the World Taekwondo Conference and subsequently approved by the General Assembly in Manchester. It provides a holistic framework to ensure World Taekwondo, its Continental Unions and Member National Associations (MNAs) are functioning sustainably.
World Taekwondo in implementing the strategy, will expand upon its recommendations that go beyond climate action and also encompass sustainable practices and policies across gender equality, financial compliance, ethics and integrity, events management, marketing and fair and clean sport. This comprehensive strategy draws from international best practice and sets World Taekwondo apart as a federation taking concrete action to address sustainability.
World Taekwondo President Chungwon Choue said:
"World Taekwondo is a global organisation with more than 200 Member National Federations around the world. Climate change is an issue that affects all of us and is something we all have a responsibility to take action against. That is why we have committed to implementing the principles of the Sports for Climate Action Declaration which are aligned with key recommendations of our Sustainability Strategy.
"At World Taekwondo we want to ensure that sustainability is enshrined in everything we do; from minimising our impact on the environment all the way through to implementing sustainable policies in the way our federation is governed and operates. As the governing body of a global sport we have a platform to promote best practice principles to the widest possible audience."
The current Manchester 2019 World Taekwondo Championships is the embodiment of these current sustainable practices and has been organised to minimise its environmental footprint. All hotels are within walking distance of the venue and all equipment is being re-used.