BUENOS AIRES, Argentina (Oct. 9, 2018) - Thailand and Korea got their first taste of taekwondo gold at Buenos Aires 2018 on a thrilling third day of competition.
Thailand's Kanthida Saengsin won gold in the women's -55kg while Korea's Wonhee Cho secured gold in the men's -63kg. Their victories brought an end to Russia's winning streak and demonstrated yet again the strength of taekwondo around the world.
Saengsin met Safia Salih from Morocco in the women's final. Neither fighter landed a point in the first round as both fighters defended well. In the second round, defence continued to outdo attack as Salih finished the round 2-1 up. The final and decisive round saw an increase in the tempo as both fighters pushed for the win. In the end, it was Saengsin who was able to come out on top and win the match 10-6.
Sandy Camila Leite Macedo from Brazil and Fani Tzeli of Greece won the bronze medals.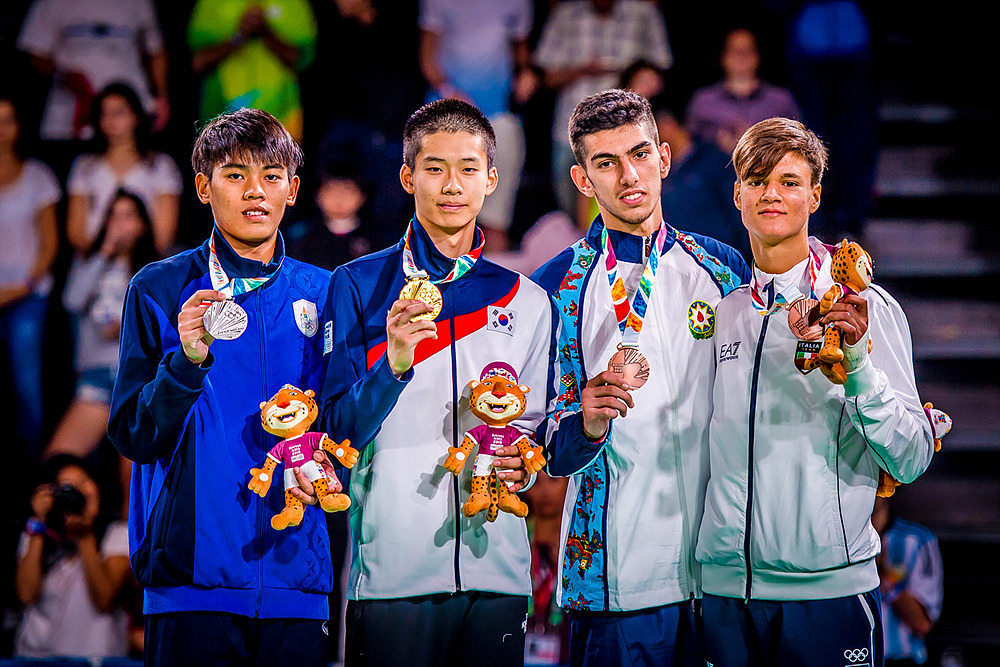 In the men's -63kg, Cho met Thailand's Nareupong Thepsen. The two evenly matched fighters could not be separated after the first round as it finished 3-3. Thepsen edged the second round to take a 9-7 lead into the final round. Cho went on the attack from the onset in the final round and built a convincing lead to win the match 21-16.
Javad Aghayev from Azerbaijan and Italy's Gabriele Caulo won the bronze medals.
For more photos from BA YOG Day 3 click here. (http://www.worldtaekwondo.org/day-3-buenos-aires-2018-youth-olympic-games-2/)