Global sports figure made huge contribution to taekwondo's globalization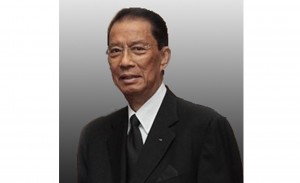 Dr. Nat Indrapana, 80, a former WT vice president and IOC member, passed away on Aug 6, in Thailand.
The Thai national was a Vice President of WT from 1999 to 2009. It was a particularly critical time: The organization was going through an intense period of internal reform as it sought to solidify its credentials as an international Olympic federation. Indrapana chaired the Reform Committee which came up with a set of proposals that massively impacted taekwondo globally.
"Taekwondo is Korea's gift to the world," Indrapana said at the time. "We are moving in the right direction of transforming the WT into a more global, more professional sports federation, in line with the IOC's ongoing reform efforts."
The Reform Committee took shape following the election of current WT President Chungwon Choue, and under his direction, in 2004. Its activities were not limited on any one corner of the organization; the committee's areas of purview included competition format, competition management, refereeing, PR, marketing, anti-doping, headquarters administration, ethics guidelines, finance, international relations and IT.
Some of the changes the committee proposed in 2005, following four months of research under Indrapana and Choue - such as reducing the length of rounds for more action; reducing the matted area for the same reason; the inclusion of a sudden-death round in the case of ties; and the stationing of four corner judges around the field of play – remain hallmarks of taekwondo today, 13 years later.
These changes greatly solidified taekwondo's Olympic status.
"The passing of Dr. Nat Indrapana is a huge loss to all of us in the world taekwondo family and the wider global sports movement; he was a friend of many of us, and his passion and commitment to the sport inspired us all," said Choue. "As Vice President of World Taekwondo for 10 years, he played a key role in the development of taekwondo at a critical time for our sport. His extraordinary contribution to taekwondo and to sport will never be forgotten; he will live with us forever."
In addition to his work for taekwondo, Indraprana held a wide range of high-profile positions within international sports and the Olympic movement. These included deputy secretary general of the National Olympic Committee of Thailand and council member of the Asian Games Federation and of the Olympic Council of Asia.
In a press release, IOC President Thomas Bach called Indrapana "a true gentleman of sport" adding, "we will all miss him greatly." Bach ordered the Olympic flag at the IOC Headquarters to be flown at half-mast for three days to mark Indrapana's passing.
"Our thoughts are with his family and friends at this difficult time," Choue added.