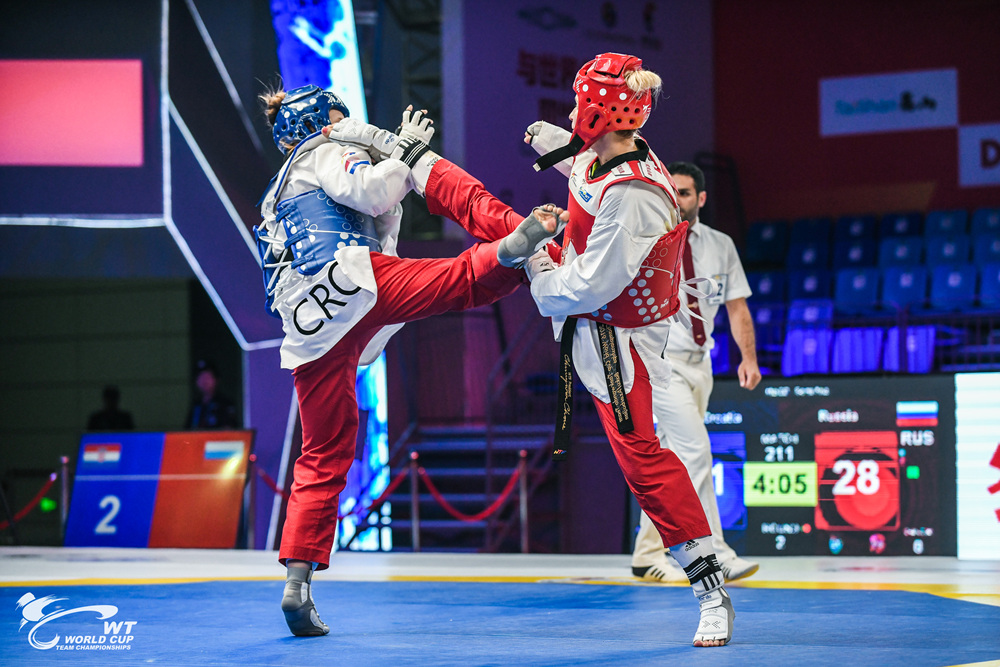 WUXI, China (July 28, 2018) - A breath-taking second day at the World Taekwondo World Cup Team Championships set up a China vs Russia final in the mixed gender category, whilst China's first and second team, Morocco and Korea advanced to the semi-finals in the women's category.
Seven mixed gender teams from China, Cote D'Ivoire, Morocco, Turkey, Croatia, Korea and Russia faced off in an action packed second day. Only China and Russia were left in the running for gold, as they beat opponents Morocco and Croatia in their respective semi-finals. Russia convincingly beat Croatia with a 73-33 victory, whilst China had to take their fight against Morocco to a golden point round to secure their place in the final.
The bronze medal fights will see Morocco face Korea, whilst Cote D'Ivoire face Croatia.

In the women's category, six teams from China, Turkey, Korea, Morocco and Cote D'Ivoire were placed in two groups of three. The two round robin competitions saw China's first team finish top in Group 1 to secure a semi-final against runners up in Group 2, Morocco. The second semi-final will feature Group 2 winners Korea and China's second team, who came second in Group 1.
The group stages were packed with exhilarating match ups, particularly the Korea Vs Morocco fight in Group 2, which was very competitive until the dying moments. Morocco eventually claimed victory by a single point when Nada Laaraj landed a punch to an opponent's trunk in the last three seconds; the fight ended 51-50 in Morocco's favour. The stand out performer from the groups was Korea's Myeong Mi Na, who was undefendable with her aggressive kicks.
The bronze medals will be claimed by the losers of each semi-final.
The remaining fights of both categories will take place on the 29 July, and those who are left in will be aiming to claim the world title and $40,000 in prize money.