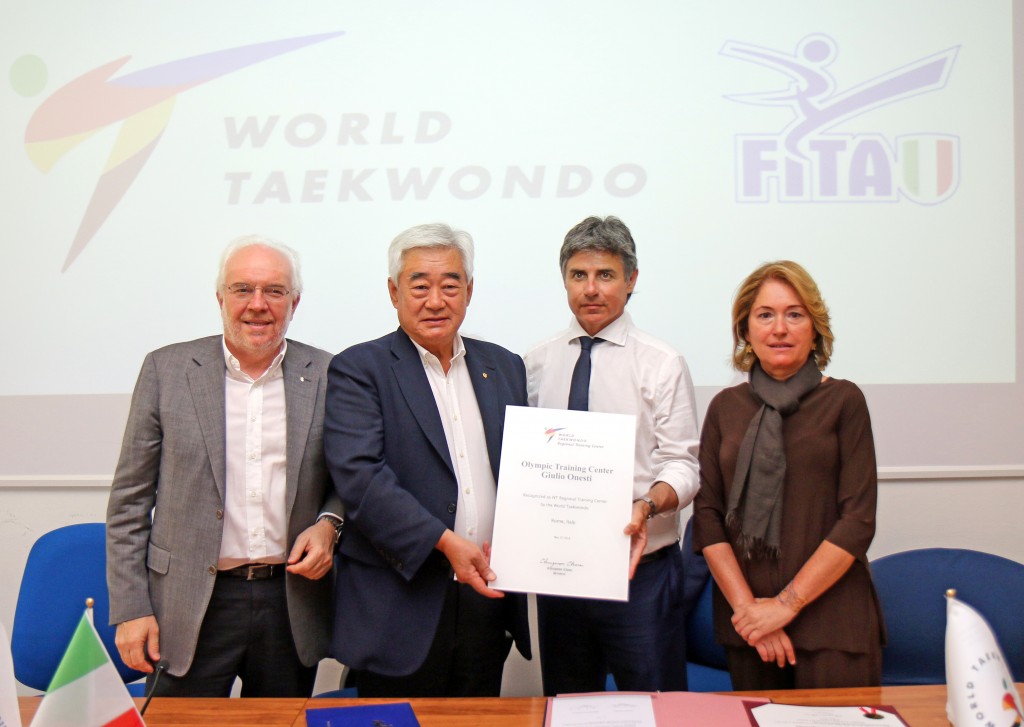 ROME, Italy (June 4, 2018) - World Taekwondo today opened its tenth Regional Training Center, the Olympic Training Center "Giulio Onesti", in Rome to provide Italy with its own specialised national hub for taekwondo development.
A memorandum of understanding was signed by World Taekwondo and Federazione Italiana Taekwondo (FITA) so that there can be a mutual cooperation in research, sports, business and educational activities to ensure the smooth running of the world-class training facility, which will greatly enhance taekwondo development in the country.
The training centre will provide athletes and coaches with expertly designed educational platforms to help them prepare for international taekwondo events.
World Taekwondo President Chungwon Choue and FITA President Angelo Cito were both present at the Giulio Onesti today to officially open the facility. The Opening Ceremony followed a successful debut World Taekwondo Grand Prix in Rome from 1-3 June.
President Choue said:
"I am extremely excited to open World Taekwondo's latest Regional Training Centre in the beautiful city of Rome. We have been very impressed by the passion for taekwondo that we experienced over the last three days, during Rome's first ever Grand Prix. Giulio Onesti will undoubtedly support young, aspiring stars in Italy and provide them with the education and training they need to compete at the highest level in our major competitions. Italy has produced many fine taekwondo stars in the past and we are certain that this new training center will help develop our sport further within the great nation of Italy."
Giulio Onesti covers an area of 25 hectres and contains both indoor and outdoor facilities, including three training courts, six classrooms, as well as accommodation for up to 200 people.
Local schools and clubs will also be allowed to use some of the world-class facilities, to support with grassroots development within Italy.
The other cities to have a opened a Regional Training Center are: Beijing, China; Baku, Azerbaijan; Tashkent, Uzbekistan; Tehran, Iran; Shenzhen, China; Friedrichshafen, Germany; Manchester, Great Britain; Croatia and Muju, Korea.