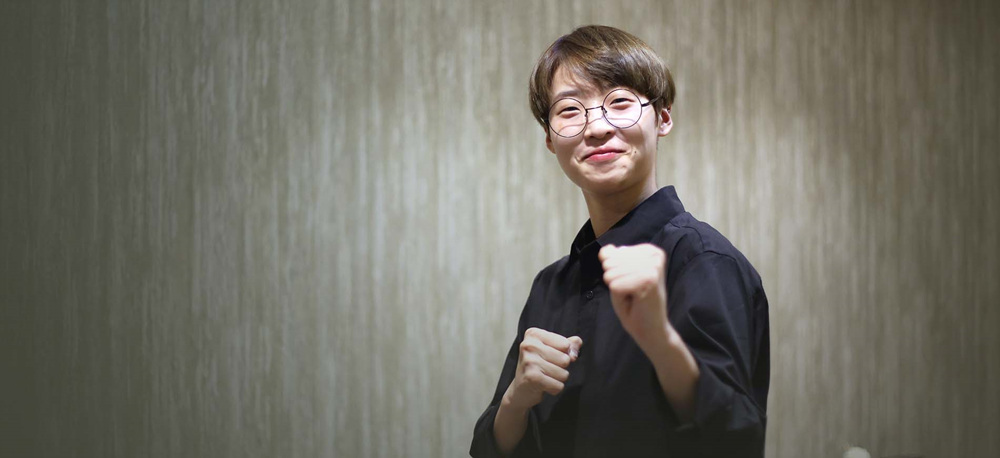 (Dec. 18, 2017) – In competitive taekwondo, it is the fighters from Team Korea who boast the zaniest nicknames. 2017 World Champion Dae-hoon Lee, for example, is "The Quick-eyed Turtle," while 2016 Olympic Champion Hye-ri Oh is simply "The Duck." Even so, few people would expect a world-class combat sport athlete to be dubbed "The Cute Piglet."
Yet, that is, indeed, the nickname of Team Korea's up-and-coming heavyweight, Da-bin Lee.
"I used to be chubbier!" she laughs – though, as an elite-level taekwondo player, she is far from chubby today. And it is easy to see why this baby-faced 23-year-old with the boyish bob, stud earrings and bright personality could be described as "cute." For one thing, she is clearly mommy's little girl. Tattooed on her inner left arm are the words "Mom and Dad." "Dad visits the venues a lot, but Mom not so often, so I miss Mom and she misses me," Lee said. "My Mom is a good mom, but I am not a good daughter!"
Still, Lee's cute side was not in evidence when she strode onto the mats at the 2017 World Taekwondo Grand Prix Final in the Palais de Sports de Treichville stadium in Abidjan, Cote d'Ivoire.
"I did not expect to win a medal," admitted Lee, who had previously only competed in two Grand Prix tournaments. But after she had fought and defeated the 2016 Rio Olympic champion Shuyin "The Beautiful Giraffe" Cheng of China, her confidence soared and her feelings changed. "I really, really wanted to get gold," Lee said.
However, a very formidable figure was standing in the way of Lee's ambition: Bianca "Queen Bee" Walkden of Team GB - possibly the most dominant fighter in the sport today, in any division.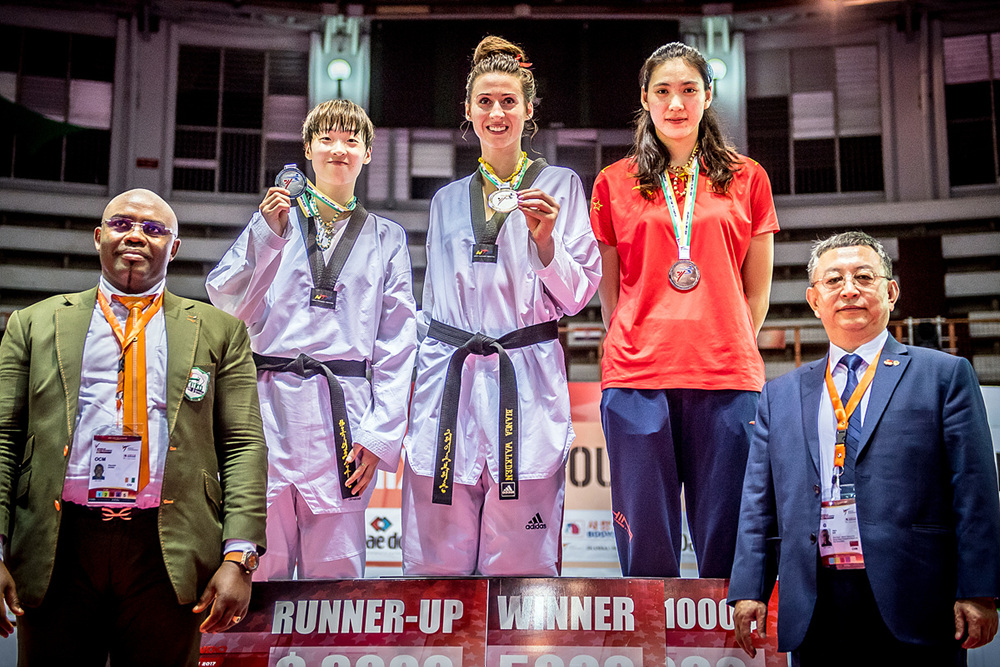 It would be Lee's second time taking on Walkden: the two had previously clashed at the semi-finals of 2017's Grand Prix Series 1 in Moscow. "The first time, I had confidence against Bianca, but I lost faith," Lee said. "So I studied her a lot."
As action got underway in the women's heavyweight final, the Korean player, despite giving away a height advantage to the British girl, scored first blood. But Walkden showed her quality, racking up hits and ending the first 9-3. A grab by Walkden in the second cost her a penalty point, but she maintained her lead against the game Lee, who bought the score up to 7-9 against the Brit. In the third, a short, sharp spinning back kick put Walkden up 11-7 as Lee attacked forward - but then the Korean fell. As combat continued, Walkden used her feet to keep her out of danger, playing a cool game as Lee attacked, trying to close the distance and fight in the short range. In a display of technical skill, tactical nous and mastery of both the long and the close range, Walkden won 16-9 to take the gold - leaving Lee with a well-deserved silver.
"Bianca has very long legs and a very strong right kick, so I wanted to attack into her right-leg kick," Lee said in a post-mortem on the match. "I lost due to that kick - I had to negate that right-leg kick."
This means Lee will need to go back to the drawing board for the 2018 fighting season.
Lee, 23, holds a fourth dan black belt. Currently a senior at Korea National Sports University, she first took up taekwondo when she followed friends into her middle school club. There, she discovered a talent. That talent blossomed, and Lee first qualified for the Korean National Team in 2010. She won gold at the Incheon Asian Games in 2014 - then added to her stash with another top-level gold in Taipei at the 2017 Universiade.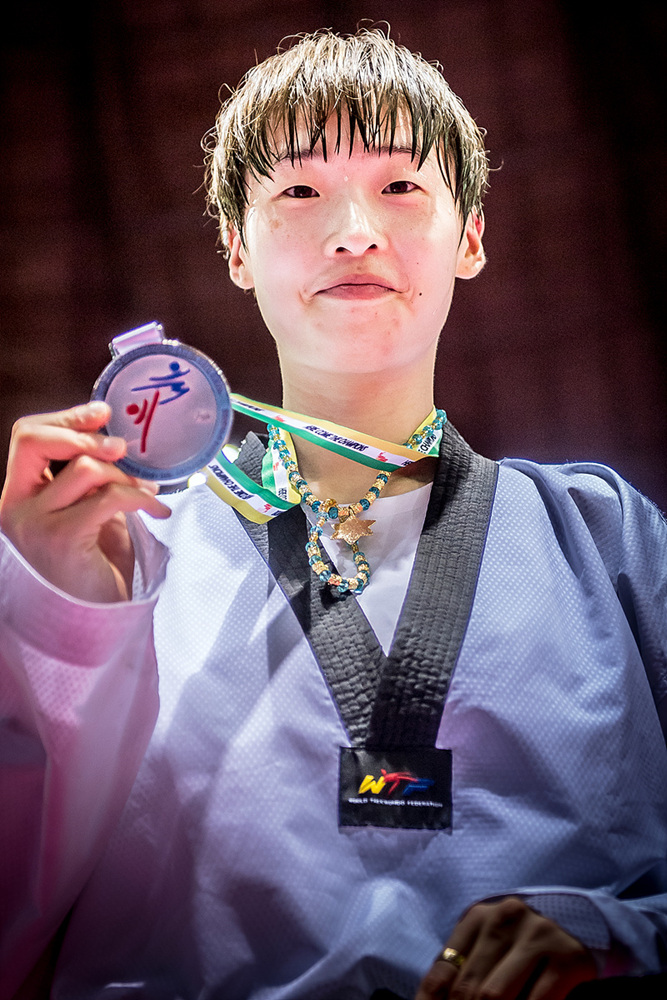 Taekwondo favors long-range, open play at full leg extension, but Lee is one of the shorter fighters in her division, explaining why her favored techniques are up-close and personal. "Against a taller opponent, I get in close and punch, and I like to push, then kick," she said. "At that time, I can get a lot of points."
In physical terms, her advantage is speed. "I am small for this category, so I can move fast: good footwork!" she said, "When I am fighting, I feel like I am flying." As for her inner game, Lee confessed that she follows heart rather than head. "I am more of an emotional fighter," she said. "I try to think, but…!"
Looking to the future – she graduates as a taekwondo major in two years – Lee is looking to join a company-sponsored team in Korea. And of course, she hopes and expects to continue to travel and fight with Team Korea. "Travels with the team are good memories, we always chat in our rooms after the matches with beers," she said. "I am the junior in the team, so all the 'older sisters' in the team take care of me. We are all good mates!"
But fighting at the premier international level means Lee will continue her hate-love relationship with, respectively, the drudgery of fight preparation and the joy of actual fighting.
"I hate preparing for competitions, but I still like the game," she said. "When I walk out into the arena, I feel like I am walking on the moon."
Da-bin Lee: At a Glance
Hobby? "Hanging with friends."
Favorite song? "'Energetic' by 101"
Favorite food? "Grilled pork belly"
Why do you do taekwondo? "Because for me, it is still fun to do."
Motto: "It's all about friendship. I love friends!"