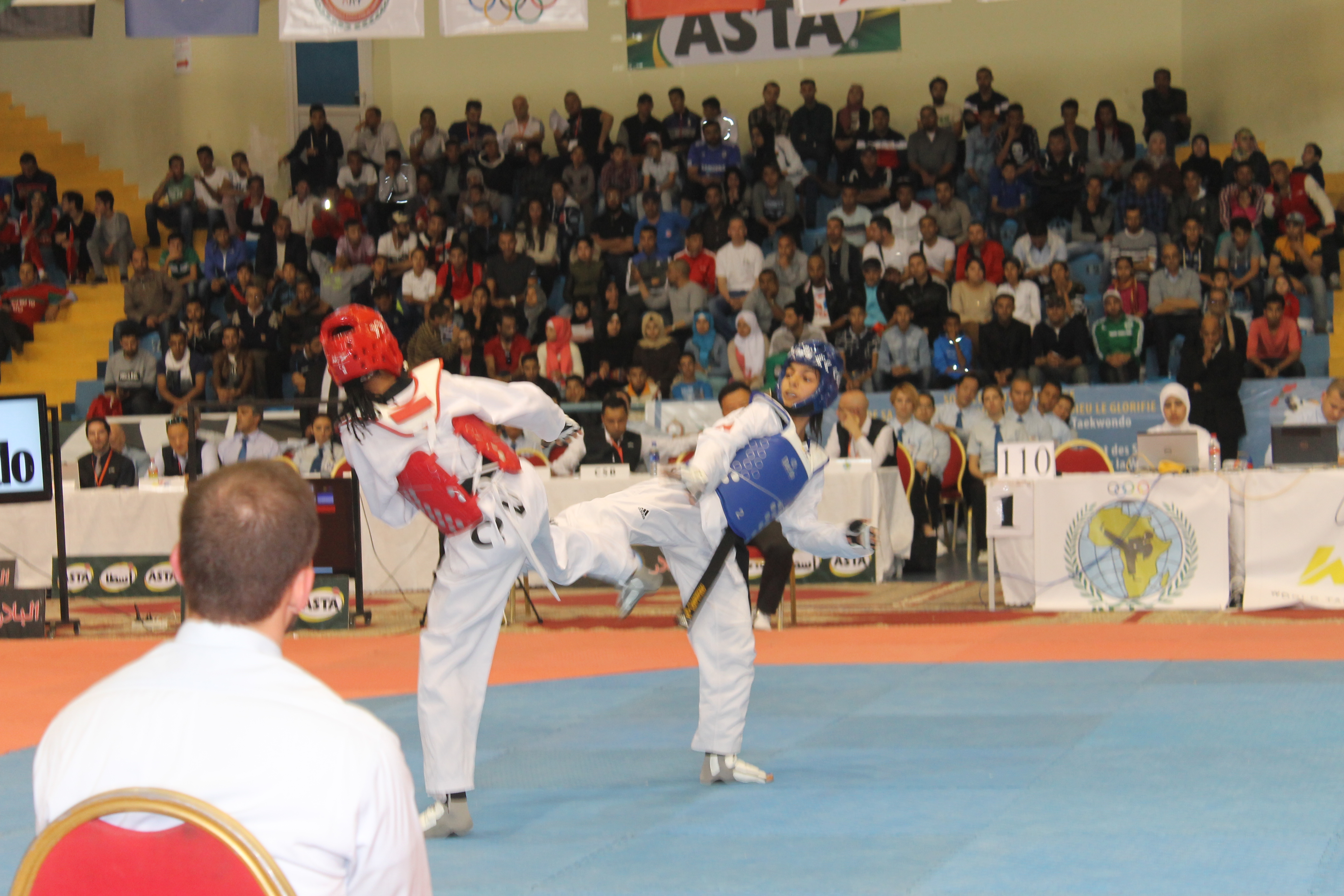 Cape Verde and D. R. Congo secure Olympic taekwondo qualification for the first time
AGADIR CITY, Morocco (February 8, 2016) - A total of 16 African taekwondo athletes from ten countries secured a place at the upcoming Rio 2016 Olympic Games this weekend during the African Qualification Tournament which further reinforced the popularity and competitive strength of taekwondo in Africa.
The tournament was held in Agadir City, Morocco and attracted 84 athletes from 29 countries. The female -49kg category provided the biggest surprise of the weekend with the two available Olympic qualification places being taken by athletes from Cape Verde and D. R. Congo – two countries which have never participated in taekwondo at the Olympic Games before.
Hosts Morocco and Tunisia and came away from Agadir City with three Rio 2016 qualification places each, while Egypt and Cote D`Ivoire both claimed two qualification berths. Libya, Mali, Niger and Senegal all secured one place each.
The full list of athletes that obtained Olympic berths for their countries at the African Qualification Tournament are:
AFRICA
Weight
Rank
Name
NOC
F-49kg
1
KELEKU, ROSA
COD
2
ANDRADE, MARIA
CPV
F-57kg
1
EL MESLAHY, HAKIMA
MAR
2
BEN ALI, RAHMA
TUN
F-67kg
1
GBAGBI, RUTH
CIV
2
ELSAWALHY, SEHAM
EGY
F+67kg
1
KONE, MAMINA
CIV
2
DISLAM, WIAM
MAR
M-58kg
1
HAJJAMI, OMAR
MAR
2
SHRIHA, YOUSEF
LBA
M-68kg
1
ZAKI, GHOFRAN
EGY
2
DIEYE, BALLA
SEN
M-80kg
1
OUESLATI, OUSSAMA
TUN
2
COULIBALY, ISMAEL
MLI
M+80kg
1
TRABELSI, YASSINE
TUN
2
ISSOUFOU, ABDOUL
NIG
Speaking after the African Qualification Tournament, WTF President Chungwon Choue said:
"The African Qualification Tournament was a fantastic event and really demonstrated just how strong taekwondo is in Africa. We were delighted to see Cape Verde and D. R. Congo secure a qualification place for an Olympic Games for the first time as it shows that our efforts to develop and expand the sport globally are paying off.
"With more than 40 countries having already secured qualification places at Rio 2016, this year's Olympic Games is set to be a fantastic event for taekwondo and build on the great success of London 2012. There are few other sports which can boast such strong and diverse participation and I am sure in Rio this year our exceptional athletes will showcase all the drama and excitement of our global sport."
The dates and locations of the remaining Continental Qualifications Tournaments are:
Oceania Qualification Tournament for Rio 2016 Olympic Games
Port Moresby, Papua New Guinea, February 27
PanAm Qualification Tournament for Rio 2016 Olympic Games
Aguascalientes, Mexico, March 10-11
Asian Qualification Tournament for Rio 2016 Olympic Games
Manila, Philippines, April 16-17