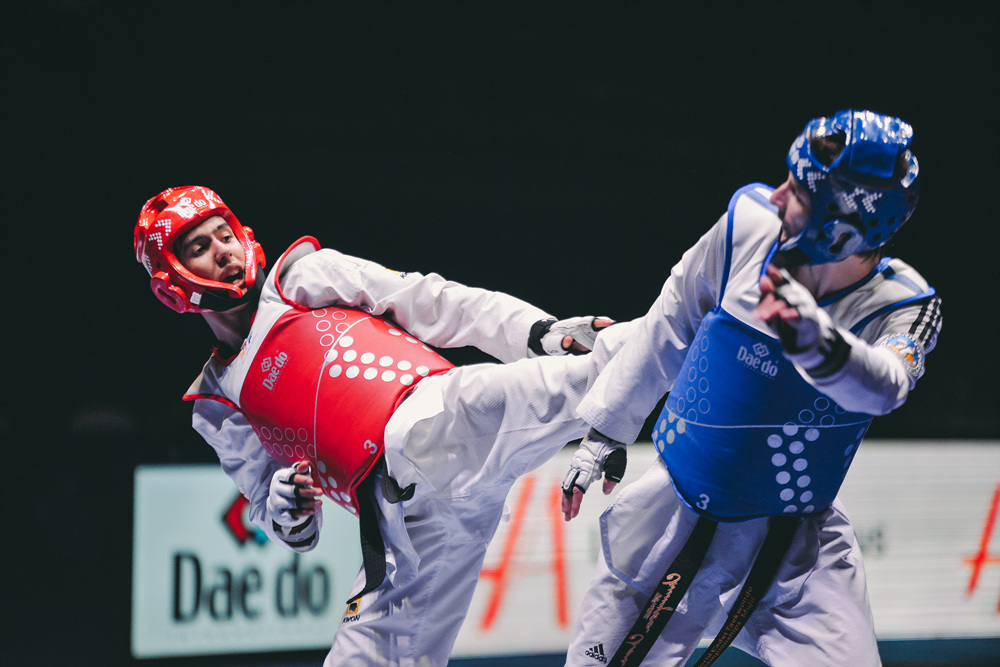 HAMMAMET, Tunisia (April 7, 2018) - The second day of the World Taekwondo Qualification Tournament for the Buenos Aires 2018 Youth Olympic Games (YOG) in Hammamet, Tunisia came to an end today. Competitors representing Russia, Iran, Greece and China claimed the five gold medals on offer.
Junior athletes in the male -55kg, -63kg, -44kg and female -55kg and +63kg weight categories competed in an exhilarating second day of action.
Overall, Iran and Russia have claimed a total of six quota places each, whilst Korea and China have secured five and four places respectively.
The full results of today's competition can be found below:
Category: Juniors Men -55 - Competitors: 67
1st 327 POPOV, GEORGY RUSSIAN NATIONAL TEAM
2nd 164 IOANNOU, GEORGIOS GREECE NATIONAL TEAM
3rd 345 BULAT, BOGDAN SERBIAN NATIONAL TEAM
3rd 210 KAREEM, ZAID JORDAN NATIONAL TEAM
Category: Juniors Men -63 - Competitors: 65
1st 187 ASGHARI MAHIABADI, HAMED IRAN NATIONAL TEAM
2nd 412 DZIUBA, OLEKSANDR UKRAINE NATIONAL TEAM
3rd 199 CAULO, GABRIELE ITALY NATIONAL TEAM
3rd 326 EMELKIN, MAXIM RUSSIAN NATIONAL TEAM
Category: Juniors Women -44 - Competitors: 30
1st 331 SHCHERBAKOVA, POLINA RUSSIAN NATIONAL TEAM
2nd 226 KANG, MI-REU KOREA NATIONAL TEAM
3rd 260 RODRIGUEZ, ALICIA MEXICO NATIONAL TEAM
3rd 100 STOJKOVIC, LENA CROATIA NATIONAL TEAM
Category: Juniors Women -55 - Competitors: 42
1st 166 TZELI, FANI GREECE NATIONAL TEAM
2nd 213 ABO-ALRUB, RAMA JORDAN NATIONAL TEAM
3rd 43 MACEDO, SANDY BRAZIL NATIONAL TEAM
3rd 385 SAENGSIN, KANTHIDA THAILAND NATIONAL TEAM
Category: Juniors Women +63 - Competitors: 23
1st 79 MU, WENZHE CHINA NATIONAL TEAM
2nd 188 HEMMATI, KIMIYA IRAN NATIONAL TEAM
3rd 309 KOSZEL, MARCELINA POLAND NATIONAL TEAM
3rd 329 ADEBAIO, KRISTINA RUSSIAN NATIONAL TEAM
The list of countries earned quotas can be found below:
NOC
Quota
IRI
6
RUS
KOR
5
CHN
4
CRO
3
EGY
GRE
ITA
JOR
SRB
THA
GBR
2
MAR
MEX
POL
TPE
TUN
TUR
USA
AFG
1
ARM
AZE
BEL
BRA
CAN
COL
CZE
ECU
ESP
GEO
GER
KSA
MGL
NOR
SLO
SWE
UKR
UZB
VIE