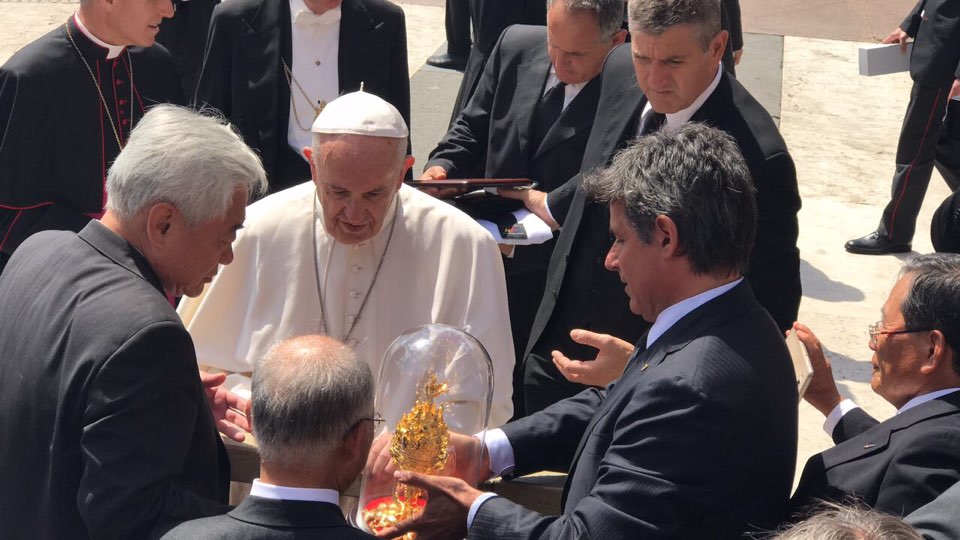 VATICAN CITY (May 11, 2017) - There are moments when you are utterly thrilled: Rejoicing at a result, at the winning of a medal or at some other historic success that will remain forever in your memory. This was a moment like that.
On May 10, WTF President Chungwon Choue, accompanied by President of the Italian Taekwondo Federation Angelo Cito, was received by Pope Francis in the Saint Peter's Square in Vatican City. With them were Ambassador of the Republic of Korea to the Holy See Jong-hyu Jeong and Honorary President of the Italian Taekwondo Federation Young-gil Park.
After a fraternal greeting, Choue awarded the Pope an honorary 10th dan black belt - the highest rank in taekwondo.
The Pope – a sports fan who is known for his passion for the Argentinean football club San Lorenzo - thanked Choue. At the World Conference on Sport and Faith hosted by the Pontiff at the Vatican last October, the Pope had shown great interest in the WTF Demonstration Team's performance during the opening ceremony. The team also performed for victims of the earthquake that took place in Amatrice, Italy, last year.
The Pope expressed his interest in the humanitarian activities of the global taekwondo family, notably the Taekwondo Humanitarian Foundation, or THF. The THF was established in Lausanne, Switzerland last year with the mission of "empowering the powerless" – teaching taekwondo to refugees and displaced persons throughout the world.
The meeting ended with a traditional farewell. "Pray for me," the smiling Pope Francis implored his guests.
"It was a tremendous honor to meet a man who has such immense moral stature worldwide," said Choue after the meeting. "It was a great privilege to brief him on the sport of taekwondo, and on our humanitarian activities across the globe."