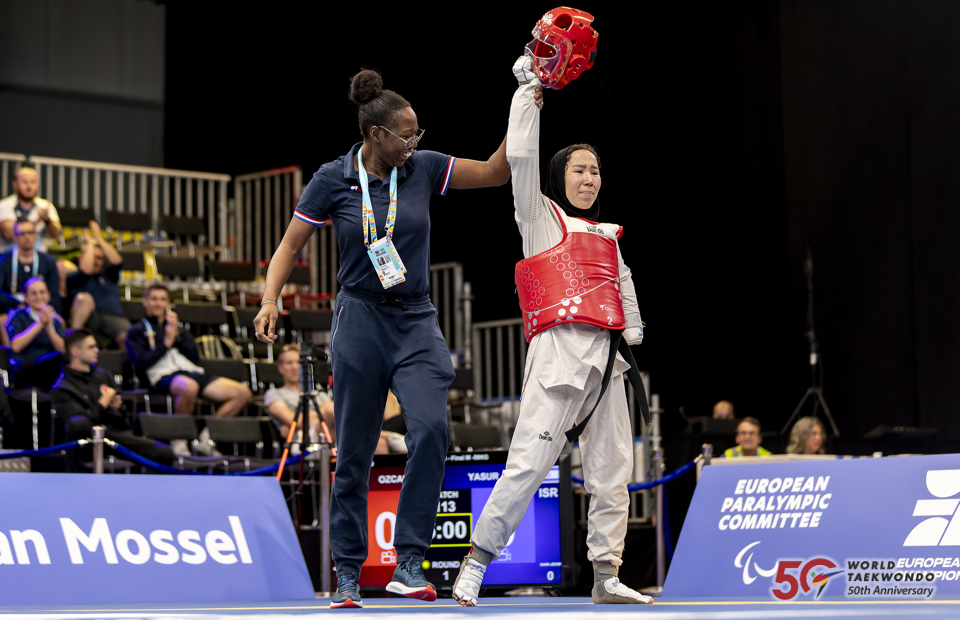 Almost two years after creating history, when she became the first women athlete from Afghanistan to compete at the Paralympics in Tokyo since Athens 2004, Zakia Khudadadi has come a long way.
She has endured a long and difficult journey that included fleeing from Afghanistan to finding a new home in France and now winning her first ever gold medal at the European Para Championships 2023 Rotterdam as a refugee team athlete.
"I'm so happy. For me, the feeling is like a Paralympic medal because it's the first gold medal I've won. My feeling is like a star," said an ecstatic Khudadadi who came from behind to win the gold medal bout against Turkiye's Nurcihan Ekinci during extra time.
Khudadadi, who currently resides and trains in Paris, France, expressed her gratitude to France, the French Taekwondo Federation and especially her coach Hoby Niare for pushing her every day and passing on the positive energy that she is a champion.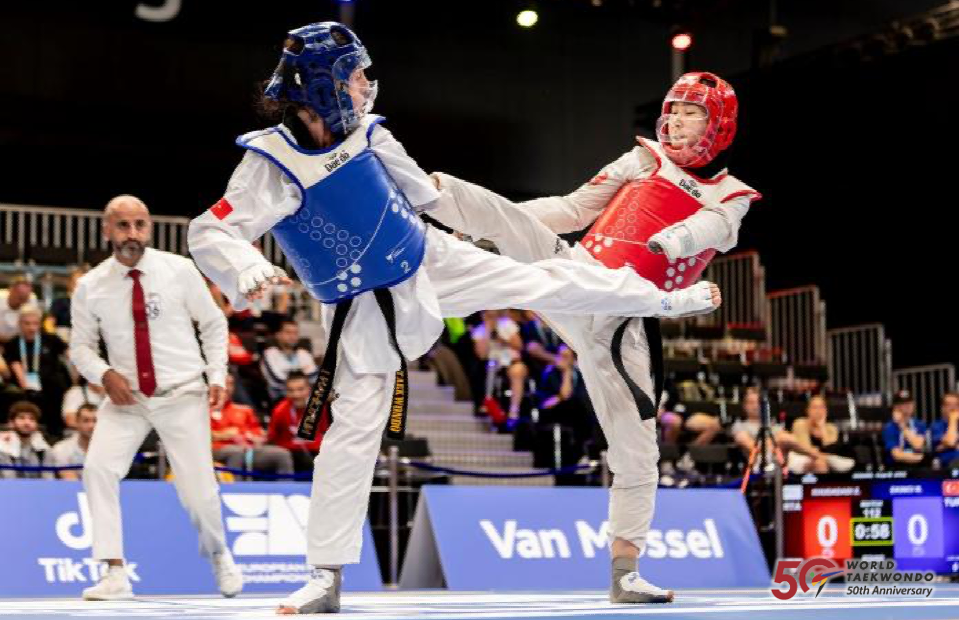 "I will continue to compete for the refugee team in the next competitions, because I don't have a French passport. I'm happy to just continue for a Paralympic medal, because for me it's important. And for my country also, because for women it would be big (if I win a medal), it would be a message for every woman in Afghanistan."
The 24-year-old Para Taekwondo athlete admitted that the memories of Tokyo 2020 Paralympics weren't great, but she is looking forward to happy moments in Paris – the host of next year's Paralympic Games where she will also compete at the Grand Prix on August 31.
"It's a little hard for me to speak about Tokyo. It broke my heart. I left my country, my home… (cries).
"Now, I'm continuing for every competition, more medals. I'm focused on a medal at the Paralympic Games. In Tokyo, I had a chance, but it's finished. Now, I'm going for the gold medal for Afghanistan, for the refugee team. I will continue strong for Paris 2024."
"I am ready for the competitions," she concluded.

Like Khudadadi, there were also several others in the three-day Para Taekwondo event who made the heads turn in Rotterdam.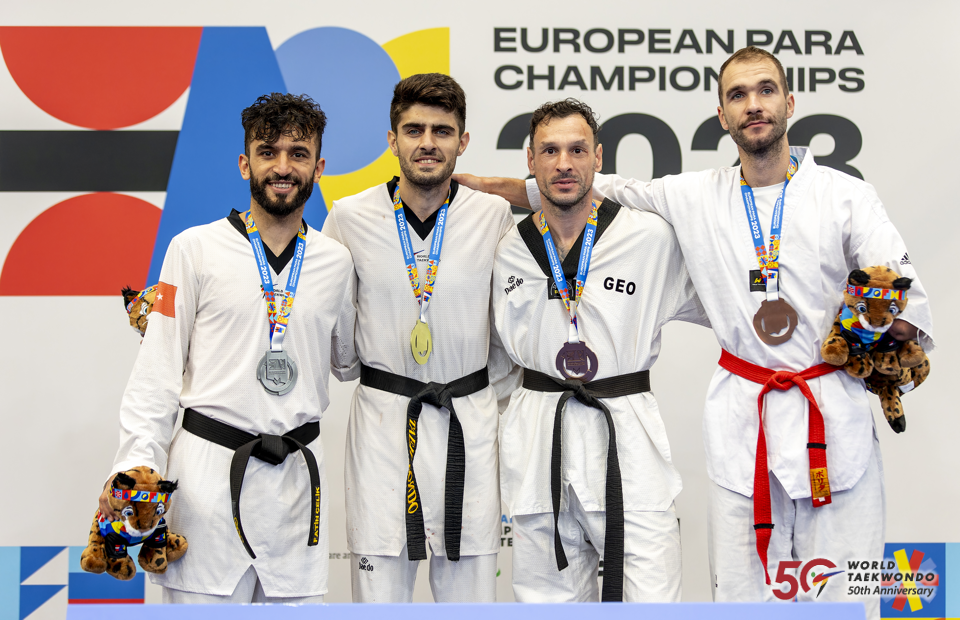 Azerbaijan's Abulfaz Abuzarli pulled off the biggest result of his career when he won three thrilling fights en route the European Championships gold in K44 M-80kg. In the final, Abuzarli overcame a strong challenge from Serbian Nikola Spajic 10-9 with a final second score. This was also Spajic's first major final in his career.
An elated Abuzarli said: "I'm really happy, now I am champion (of Europe). I still can't believe it.
"It wasn't in the last minute, but in the last seconds (laughs). I did my best until the very last second and it's the result of my trainings. Just never give up.
"It's (the European title) a step for me towards the Paris 2024 Paralympic Games."
Abuzarli's fellow fighter Imamaddin Khalilov, world no. 2, ensured another gold for Azerbaijan with a clinical performance K44 M-70kg. Khalilov registered two easy wins before getting the better of Fatih Celik of Turkiye 32-3. Khalilov's domination throughout was clearly an indication of his improved form and technique.

Similarly, Serbian Jelena Rasic won her first ever gold medal by a narrow margin in K44 W+65kg. But the gold will be more meaningful as she shocked Great Britain's Paralympic medallist Amy Truesdale 9-6 in the final match.
"I am still in shock, but this victory means that we worked hard, and that hard work always pays off. I am so proud of myself, my coach, and my team," said Rasic.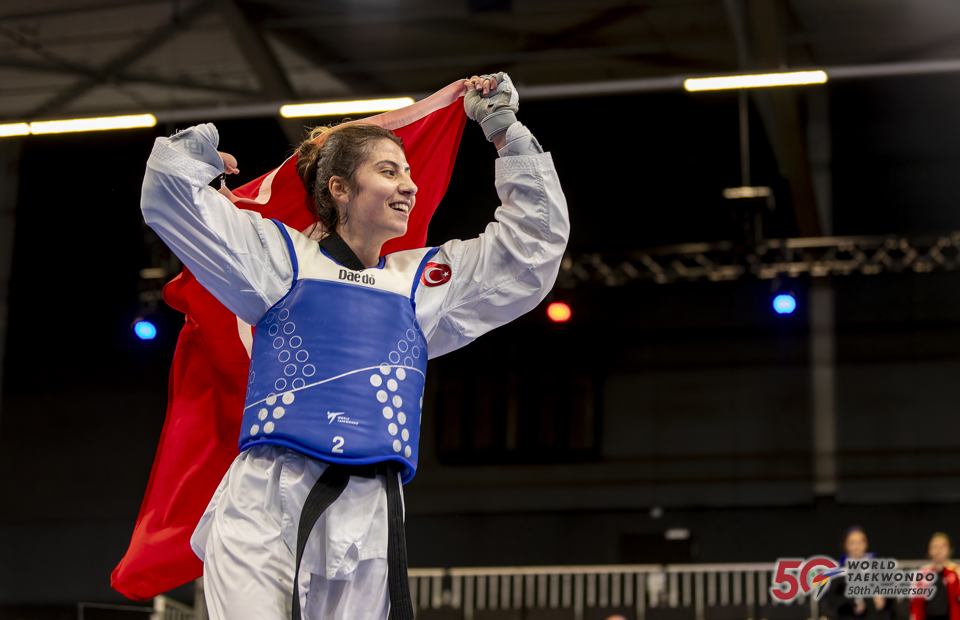 Among the top names, Turkiye's Paralympic and Worlds medallist Mahmut Bozteke (K44 M-63kg), Great Britain's star Beth Munro (K44 W–58kg) and Turkiye's Tokyo 2020 silver medallist Meryem Betul Cavdar (K44 W-52 kg) and world no. 2 Gamze Gurdal (K44 W-57kg) registered convincing wins to take the gold in respective categories.
There were also some others who were on top after a long time that included Croatian Ivan Mikulic in K44 M+80kg.
Overall, the European Para Championships served as a great preparation for the European stars as they get ready for the all -important 10th World Championships in Veracruz, Mexico next month.