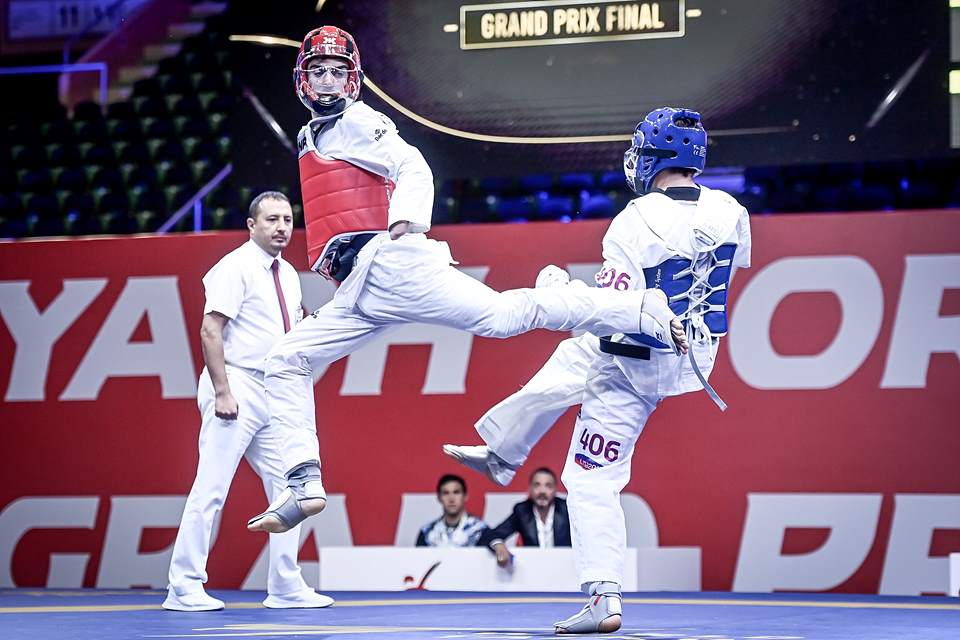 Iran set a record with four gold medals, athletes from Nepal and Israel made history, and Para Taekwondo's best were feted at the Gala Awards at the season-ending Para Grand Prix Finals in Saudi Arabia.
It was a historic day in Riyadh, Saudi Arabia as Para Taekwondo made its Grand Prix Finals debut – and the athletes responded with history-making performances.
Iran set a Para Grand Prix Series record by winning four gold medals; Nepal won its first-ever gold medal at a major international event; and 10 athletes became the inaugural winners of the first Para Grand Prix Finals gold medals.
Para Taekwondo's new wave of stars shone as just three world champions from 2021 – and only a single Paralympic champion – managed to find gold in the Saudi desert.
"2022 was a good year", said Paralympic champion Guljonoy Naimova, who won gold at three of four Para Grands Prix, the Asian Championships, and the President's Cup – Asia this year, "But I'm ready for 2023".
Iranian Domination
Iran marked its return to the Para Grand Prix Series in style with a dominant showing that included five medals, including four gold, in the 10 events.
World champion Hamed Haghshenas led the way for Iran, again beating Croatia's Ivan Mikulic in a rematch of last year's world championship final.

"I think silver is my colour", Mikulic told World Taekwondo after receiving his Para Grand Prix Finals silver medal. Mikulic also won silver at Tokyo 2020, the 2021 World Championships, and both Para Grands Prix he competed in this year. "But it will be a different story at Paris 2024".
Alireza Bakht picked up where he left off by winning the -80 kg gold. He also won gold at his last event – the first Para Grand Prix in Sofia, Bulgaria.
Saeid Sadeghianpour and Maryam Deroei won gold in -63 kg and 47 kg, respectively, while Roza Ebrahimi added a bronze in -57 kg to put the world on notice that Iran plans to pick up multiple medals at Paris 2024 to add to the gold and silver won by Asghar Azizi Aqdam and Mehdi Pourrahnama at the Tokyo 2020 Paralympic Games.
Sadeghianpour savoured his victory, waxing stoic after a disappointing bronze at the Asian championships earlier this year.
"Sometimes it is necessary to embrace the storms of our lives", he said about rebounding from the Asian championships loss to win gold in Riyadh, "Nothing grows without rain. May this always remain as a memory".
Himalayan High
The most stunning result was in the -52 kg weight category, where Nepal's Shrijana Ghising upended the Meryem Cavdar (TUR) / Jessica Garcia (MEX) lock on gold / silver that was seen at the previous three Para Grands Prix this year.
It was the first time in history that an athlete from Nepal won gold at a major international event.
"I am so happy right now", an elated Ghising told World Taekwondo after winning gold, "This achievement goes to my mom, my coach, and the Nepal Taekwondo Association".
In just her third major tournament, the 23-year-old won in style, topping the world's Top 3-ranked fighters, including a convincing 12-0 win over reigning world champion Cavdar in the final.
Despite the loss, Cavdar was named Top Female Para Fighter in the world at World Taekwondo's post-tournament Gala Awards ceremony.

It was the second time Ghising has beaten the world's top female fighter this year, marking her as a serious medal threat for Paris 2024. No Nepalese athlete has ever won a medal at the Olympic or Paralympic Games, meaning Ghising will be fighting for a piece of Nepal's sporting history should she qualify for Paris 2024.
The win in Riyadh will likely move her into the Top 6 in the rankings, which would earn her automatic qualification to Paris 2024 should she maintain the ranking throughout 2023.
Youth is Served
The inaugural Para Grand Prix Finals proved that Para Taekwondo's newest generation of fighters is ready to challenge the sport's biggest stars.

Only three world champions managed to win gold in Riyadh – Iran's Hamed Haghshenas, Brazil's Silvana Cardoso, and Uzbekistan's Guljonoy Naimova – with Naimova being the only Paralympic champion to win a Para Grand Prix Final gold as well.
In fact, Naimova is the only fighter to win gold at the Paralympic Games, World Championships, Asian Championships, and Para Grand Prix Finals – all titles she currently holds.
But it was the up-and-coming stars, like Ghising and Azerbaijan's 17-year-old Sabir Zeynalov that stole the show in Saudi Arabia.
Zeynalov upset Israel's reigning world champion Asaf Yasur in the -58 kg semi-final before winning his first Para Grand Prix Series event in dramatic fashion by taking advantage of an injury to Turkey's Ali Can Ozcan to win the -58 kg gold by golden point.
"May our successes be continuous", Zeynalov said after receiving his medal, "and may our country's three-coloured flag wave at the Paralympic Games".
Yasur claimed a piece of sporting history by becoming the first Israeli athlete to ever win a medal in Saudi Arabia.
Egypt's teen star Salma Ali solidified her status as Africa's greatest Para Taekwondo fighter by winning bronze in the -52 kg.
Other Para Grand Prix Finals champions include Azerbaijan's Imamaddin Khalilov, who benefited from the absence of his top-ranked rival from Mexico, Juan Diego Garcia Lopez, to win his first Para Grand Prix gold in -70 kg; and Brazil's Ana Carolina Silva de Moura, who won her second Para Grand Prix gold of 2022 when Denmark's Paralympic champion Lisa Gjessing was forced to withdraw from the -65 kg final with injury.
Crowning Para Taekwondo's Best
In a year capped by firsts, 2022 ended with Para Taekwondo's inclusion in World Taekwondo's chic year-end Gala Awards for the very first time.

Turkey's pair of Paralympic medalists – Mahmut Bozteke and Meryem Cavdar – were named the Best Male and Top Female Para athletes after winning three Para Grands Prix each in 2022.
Cavdar added a silver at the Para Grand Prix Final, while Bozteke finished fourth after dropping the bronze medal match to Italy's Antonino Bossolo.

Uzbekistan's Bobur Koziyev was named Best Para Coach after guiding Uzbekistan to 13 Para Grand Prix Series medals (5 gold, 3 silver, 5 bronze), including multiple gold medals for Naimova and young superstar Asad Toshtemirov in -80 kg.
Brazil showed it is still Para Taekwondo's gold standard programme by winning the Best Para Member National Association one year after topping the medal table at Tokyo 2020. Brazil coach Rodrigo Ferla, a finalist for Best Para Coach, accepted the award on behalf of the team.

Ukraine was recognised with World Taekwondo's Fighting Spirit Award after three athletes – Vika Marchuk, Yuliya Lypetska, and Vlad Nechai – won Para Grand Prix medals in 2022 after fleeing the war in Ukraine.

Here is the full list of winners from the inaugural Para Grand Prix Series.