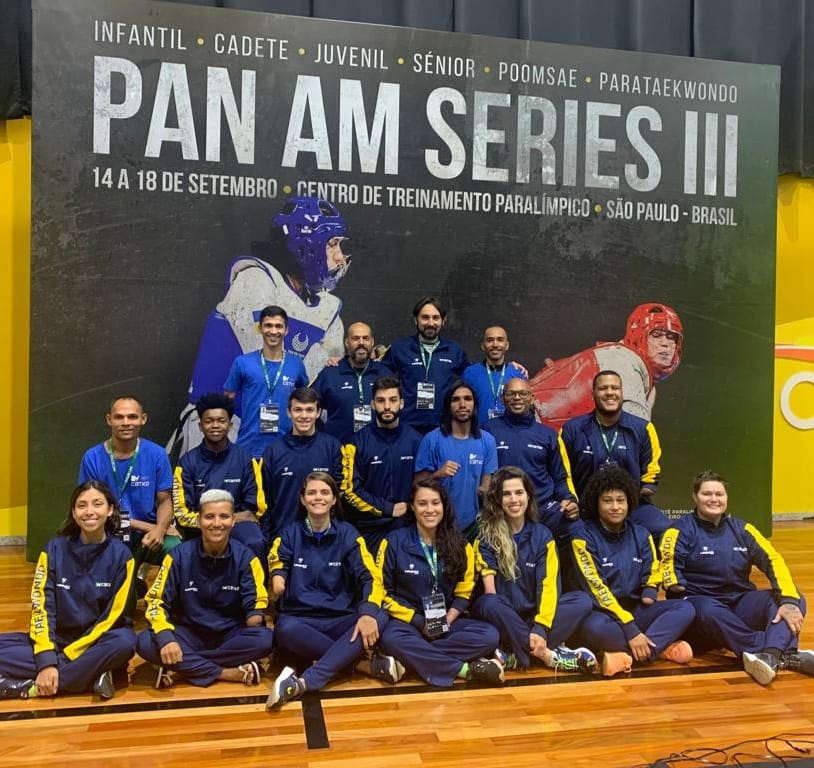 Showing the maturation of the sport, Para Taekwondo's depth was on full display as the sport's elite were pushed
at the Pan Am Series event in Sao Paolo dominated by host Brazil
There was a time – not too long ago – when elite fighters in Para Taekwondo couldn't be beaten.

There was a time – not too long ago – when G2 events were only filled by athletes travelling from all over the world.

Heck, there was even a time – less than five years ago – that Brazil wasn't expected to win medals.
That time is officially over.

Showing the sport's rapid maturity and increasing depth, the sport's elite – Para Taekwondo's Paralympic and World champions – have struggled to maintain form throughout the year, frantically trying to swat aside challenges from talented, young newcomers.

That trend continued at yesterday's Pan Am Series in Sao Paolo, Brazil, where Peru's Paralympic champion Angelica Espinoza – making her return to the mat for the first time since winning gold at Tokyo 2020 – fell in her first fight to Cuba's unranked Lilisbet Rodriguez.
Brazil's Paralympic champion Nathan Torquato, whose giant likeness dominated the backdrop behind the mats in his home facility, required a last-second kick to narrowly edge Argentina's veteran Facundo Novik in another vulnerable performance from one of the sport's best.
Host Brazil dominated the Pan Am Series event, with 20 of 24 fighters hitting the podium, including 7 of the 10 gold medalists. Indeed, several lower-ranked Brazilians upset their more experienced teammates in Sao Paolo, showing just how much depth the Pan Am nation has developed in only a few years.

Brazil didn't have a world champion until Debora Menezes won gold at the 2019 World Championships. Brazil topped the medal table at Tokyo 2020 and, if the results from this week's Pan Am Series are any indicator, the South American country has every intention of retaining that Paralympic title at Paris 2024.
Showcase for Up-and-Coming Stars
This week's Pan Am Series event allowed fighters to test their talents - and put opponents on notice – just one year before the 2023 Parapan Am Games in Santiago, Chile.
You can expect Cuba to compete.
The team saw four of its six athletes leave Brazil with a medal around their necks, with none being quite as impressive as Rodriguez's silver. The 2019 Parapan Am bronze medalist stunned Peru's Espinoza 4-2 in the -52 kg semi-final to hand the Paralympic champion her first loss since 2019.
Brazil's Paralympic champion Torquato nearly suffered a similar fate, before showing his championship mettle by scoring with fewer than five seconds left in the final to slip past Argentina's veteran Novik 3-1 in the -63 kg final.
But it was Brazil's less-heralded fighters that really stole the show in Sao Paolo by putting in performances that could shake up the composition of Brazil's traveling national team.
Unranked Larissa Lopes stunned Kazakhstan's No. 3-ranked Paralympian Kamilya Dosmalova 9-3 in the -57 kg semi-final to showcase the country's depth in quality Para fighters. She has a way to go to catch her Paralympic bronze medalist and No. 1-ranked teammate Silvana Cardoso, who beat her 10-1 in the final.
Brazil's No. 38-ranked Claro Lopes also had a tournament to remember, stopping Mexico's No. 5-ranked Luis Najera by golden point in the tournament's most entertaining fight in the -80 kg final.
Brazil's No. 47-ranked Cicero Do nearly matched the feat against Pan American champion Fabricio Marques, before losing on superiority to his No. 6-ranked teammate.
Hot on the heels of her impressive Para Grand Prix title in Paris, No. 8-ranked Ana Carolina Silva fought comfortably past her No. 5-ranked teammate Leylianne Ramos to win her second straight tournament.
Other surprises included Brazil's No. 6-ranked Maria Machado topping teammate Christiane Nascimento in -52 kg semi-final, and No. 19-ranked Carlos Coehlo beating No. 15-ranked Bruno Rodriguez in -70 kg semi-final.
Paralympians Shine
While it might have been tough slogging for Espinoza and Torquato, the pair of Paralympic champions were among the half dozen Paralympians to medal in Sao Paolo.

Torquato was one of four Tokyo 2020 medalists to win gold in Brazil. Teammates Menezes (Tokyo 2020 silver) and Cardoso (Tokyo 2020 bronze) both added titles for the host nation, while Argentina's Juan Samorano (Tokyo 2020 bronze) won gold in the -70 kg group.
In addition to Espinoza's bronze for Peru, Kazakhstan's Paralympian Dosmalova won bronze in the -57 kg division.
In a latter-career revival, Mexico's veterans Jessica Garcia and Claudia Romero both won gold at the Pan Am Series, leading Mexico to a second-place overall finish and cementing their statuses as favourites to qualify for the Paris 2024 Paralympic Games.
Menezes and Marques were named the Top Female and Male fighters of the tournament.