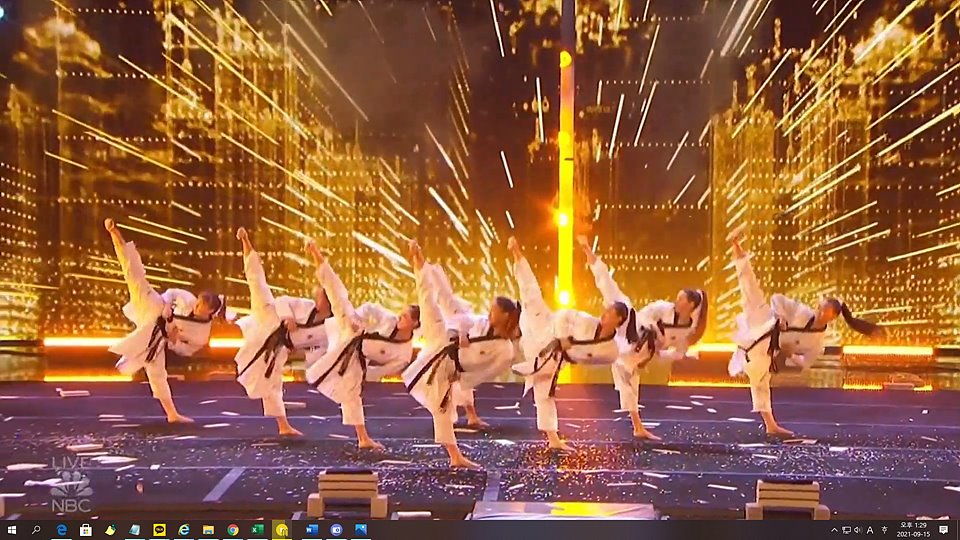 [Captured a picture on NBC #AGT YouTube]
HOLLYWOOD, USA (14 September, 2021) - The World Taekwondo Demonstration Team tonight produced a spectacular performance in the America's Got Talent final as they competed to win the show's ultimate prize.
As with all their previous performances, the Demonstration Team combined gravity-defying acrobatics and seamless choreography with an important and inspiring message. The theme of their final performance was recognizing, respecting, and harmonizing with each other in the reality of confrontation and antagonism.
The Demonstration Team have received widespread acclaim from the judges throughout the show and the final was no different. Following a standing ovation from the judges, Judge Howie Mandel exclaimed, "This is a show! If you see this live, I don't care if you're five or 95 bring your whole family. I could watch a two hour show just of this!" Judge Heidi Klum said, "If you go to Las Vegas, you want something exciting, and your act has exciting written all over it!" Judge Simon Cowell deemed the Demonstration Team "The ones to beat."
Host Terry Crews had no shortage of excitement for his Golden Buzzer Act, after the performance a team member told Crews that winning America's Got Talent would "Complete our mission."
Voting to crown the winner of this season of America's Got Talent opened at 20:00 Eastern time and closes at 07:00 Eastern time on 15 September. The winner will be revealed live during tomorrow's results show on 15 September. Those eligible to vote can vote on the following link: https://agt.vote.nbc.com or through the America's Got Talent app (download here: https://www.nbc.com/apps?brand=nbc).
Prior to their performance, a member of the World Taekwondo Demonstration Team said in a video message, "This journey has given us an unbreakable bond and has absolutely made us stronger."