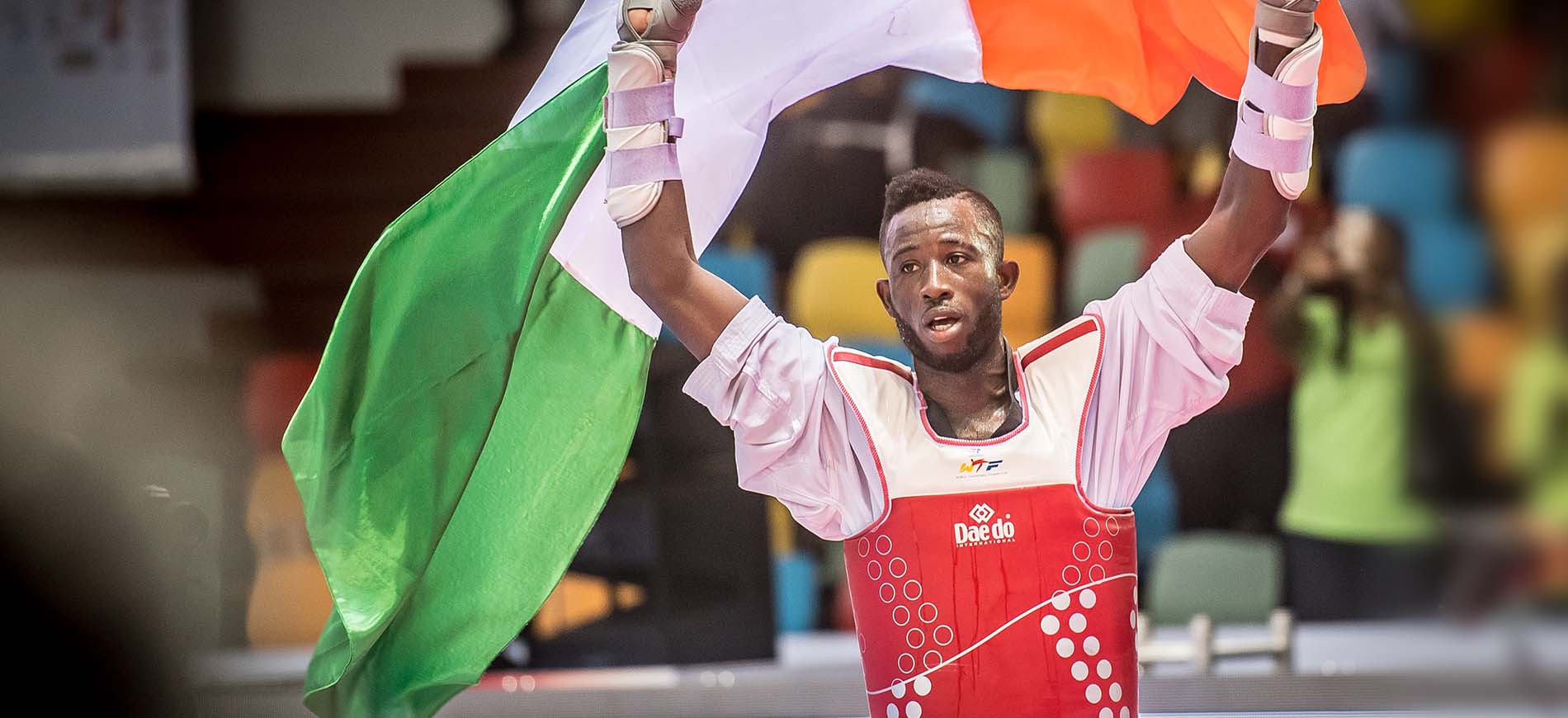 ABIDJAN, Cote d'Ivoire (Dec. 5, 2017) – The last match of the male -80kg category of the 2017 World Taekwondo Grand Prix Final at Abidjan's Palais de Sports de Treichville had everything: noise, spectacle and drama. It helped that it also featured a local hero: Cheick Sallah Cisse.
In oppressive evening heat, to the roar of the crowd, backed by local drummers, the 24-year-old from Bouake, Cote d'Ivoire, loped onto the mats to take on Russian master technician Maksim Khramtcov. What followed will be remembered in taekwondo's collective memory as one of the sport's greatest fights, an epic clash.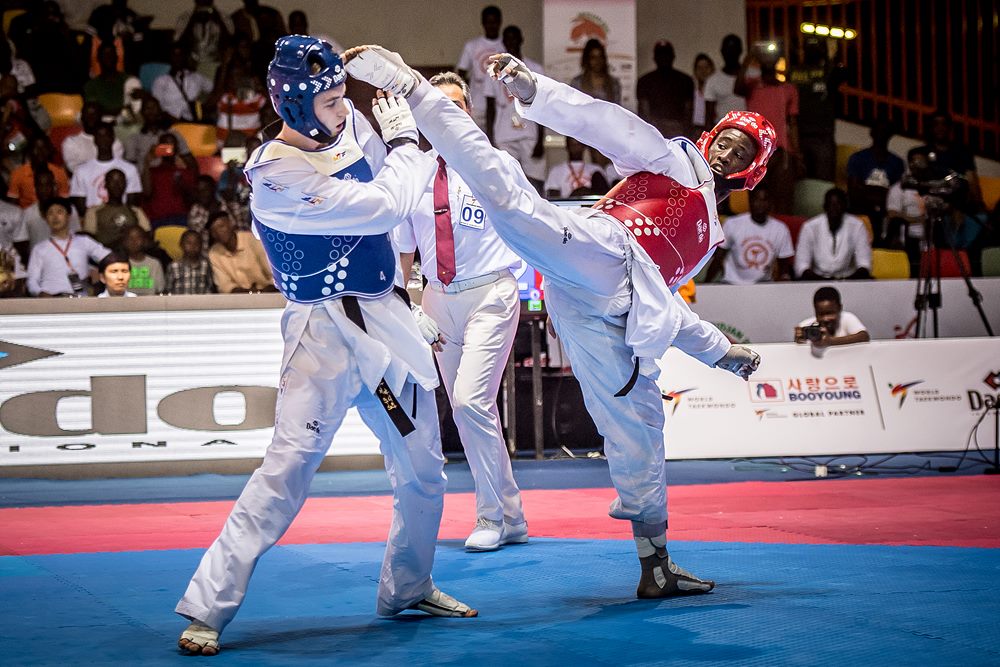 Cisse attacked. The Russian stood off, stayed cool and seized a three-point lead, before shaking the local lad with a molar-rattling head kick. Round 1 ended 8-3 to Khramtcov. The drama rose in the second. Cisse drew first blood, but action halted as both coaches furiously appealed points scored in a torrid clash. The board was reset: 9-6 to the Russian. Some fine play followed, with Khramtcov visiting the mats and the board going 9-9, then 10-9 to Cisse and the crowd exploding – before the Russian briefly equalized. This was "game on" with a vengeance. Cisse landed a round kick to the head, then darted away from Khramtcov's leaping ax kick. The drama rose another notch with yet more coach appeals. The round ended 16-12 to Cisse, with the crowd roaring manically, stamping feet and sounding horns.
Round 3 was war: Russian finesse versus Cote d'Ivorian intensity. The score soared to 21-21, but the Russian - finally - seemed to be tiring while Cisse, buoyed by the crowd, seemed hyper energized, showcasing an awesome kick rate. He went 27-21 up, sending the Russian flying with a side kick, then buffeting him with a back kick. The two coaches were as animated as the fighters as the scoreboard rung up hits like a pinball machine: battle royale. It ended 33-28 with a gold for Cisse, a deserved silver for Khramtcov - and with the referee probably deserving a bonus. "The most exciting game!" enthused WT President Chungwon Choue, shaking his head.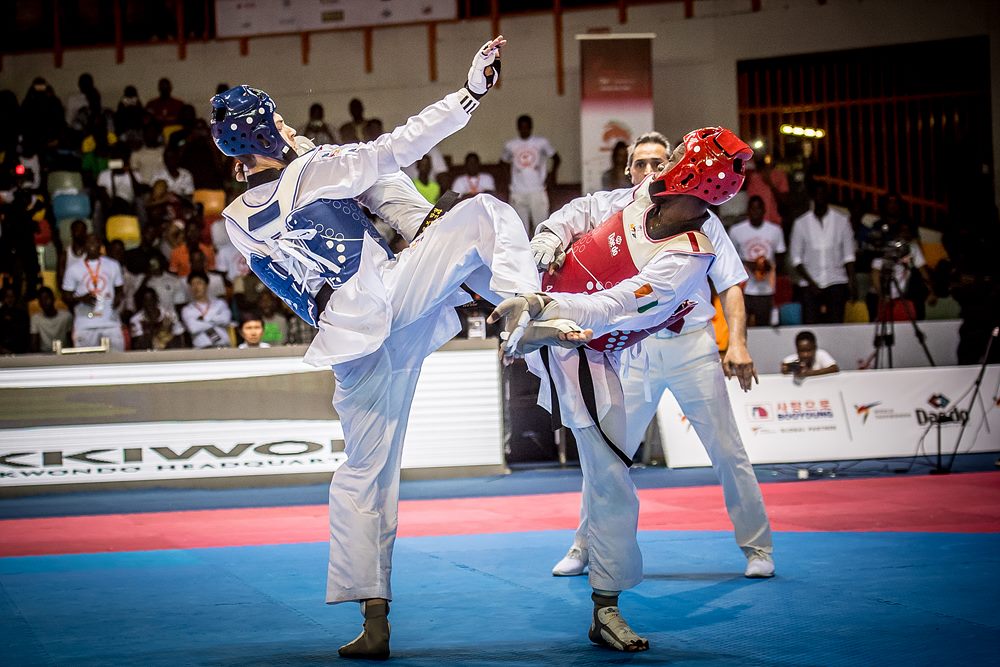 What happened next was unscripted: The tournament was delayed, as Cisse, national flag in hand, grabbed his first master and invaded the VIP stand to pay respects to the assembled WT executives and local politicians. "I am really happy and really proud that this fight went this way," Cisse said the day following. "If I had won 7-0, people would say, "Oh, he is Olympic champ, it is normal to win.'"
Yet it was not the most important match of Cisse's career. That honor goes to the final bout of his category at the 2016 Rio Olympics. "When you go to the Olympics, you don't go for you, you go for your country, for your continent," said Cisse. "I wanted Africa to be proud of me."
In the final, Great Britain's Lutalo Muhammad was ahead for the entire game. A single second remained before full time. In that critical moment – perhaps the most critical of his life - Cisse lashed out with a spinning heel kick. His foot brushed the Briton's face. Score! The from-behind victory won Cisse Oympic gold, sportive glory and TV immortality.
"I realized that, in one second, everything can change," he said. "I was so happy, because I had achieved my dream."
He returned home a hero. As the recipient of the first Olympic gold medal ever won by a Cote d'Ivoirian, he and teammate Ruth Gbagbi (who won bronze) were greeted by the president, and toured the country to spread the joy. Subsequently, the two upgraded their training environment, relocating from steamy West Africa to the dojang of Spanish master coach Juan Antonio Ramos on the idyllic Mediterranean island of Majorca.
It would have been easy, after Rio, for Cisse to have kicked back, gotten lazy and fallen off the taekwondo radar. "It is very difficult for Olympic champions to get motivated," said WT Technical Committee Vice Chairman Philippe Bouedo. "After the Olympics, you get media interest and sponsor interest, but then you have to come back to the venues, back to the training."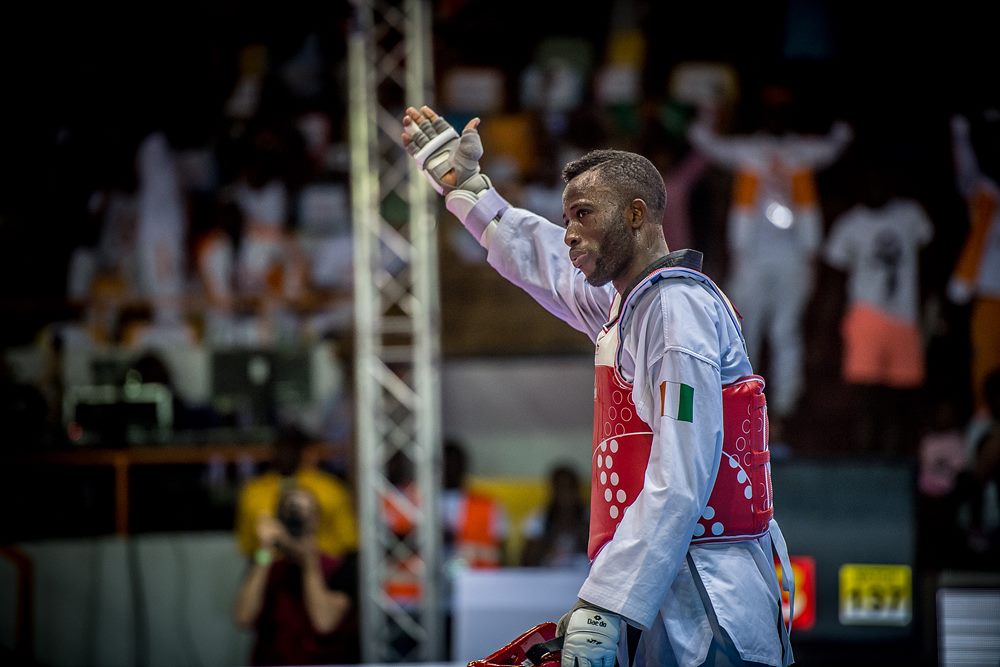 At the first major post-Rio event, the 2017 World Championships in Muju, Korea, Cisse won nothing. In the first Grand Prix of the season in Moscow, Russia, he managed bronze. Then he shifted gear and since Moscow, he has blasted through the opposition. He took gold in Rabat, Morocco, gold in London, Great Britain, and finished the season with gold number three in Abidjan.
Today, he looks better and bolder than ever. In taekwondo, there are, broadly speaking, two types of athletes: "players" and "fighters." Cisse stands prominently in the latter category. On the mats in 2017, he has been fighting like the devil himself: Fearlessly attacking forward, wielding a full battery of kicks, and running on high-octane fuel, he looks unstoppable.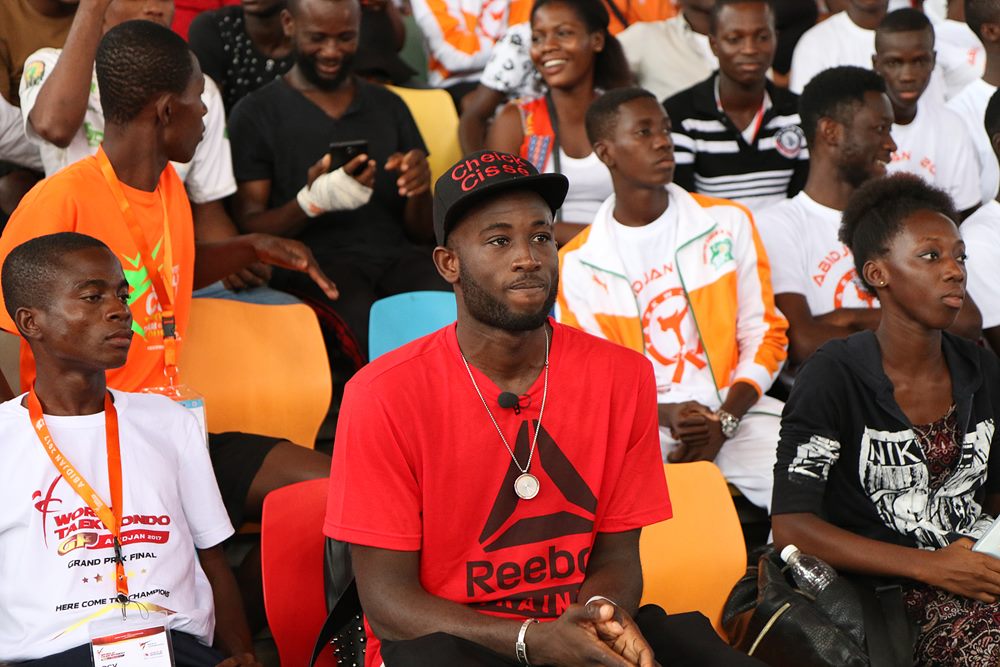 He also has an inner metronome. "He is a rhythmical fighter," said WT Technical Director Jin-bang Yang. "He fights with rhythm and that gives him no limits on technical structure, so he gets unusual kicks, timings and strategies." But Yang adds: "And he is tough!"
The Cote d'Ivorian has as much character off the mats as on. He dresses with attitude, stalking stadia wearing designer sportswear and a "Cheick Cisse" branded baseball cap. He also has the gift of the flamboyant gesture. In the 2015 Grand Prix in Samsun, Turkey, he entered the field of play, then, dramatically, fell flat on his back, declaring "No, Mas." (He had flown into Turkey from the African championships the day prior, he later explained, and was played out.) And in Abidjan, his storming of the VIP box was unprecedented in modern taekwondo – but classic Cisse.
"Before coming here I already had it in my mind to give homage to my master if I won," he admitted. "Lucien Christian Kragbe was my first master - and was not only my master, he helped me very much. He is like my father."
Asked to describe himself, Cisse says, "I am a warrior! My physical style is strong, and I am a 360-degree fighter." And where does his inexhaustible energy come from? "I am African, so I eat peppers!" he said, laughing.
Perhaps surprisingly, given his bravado and his style, Cisse has a thoughtful side. "I am now well known in my country and in Africa, and maybe the world," he mused. "I am like an ambassador of Africa, so I set an example." This can be challenging, he confesses. "I am only 24, and I cannot do all the things that people of my age do…I have to try and think and act like a great personality."
His coach would agree with. For all the physical gifts of this demon fighter, Cisse's real strength is inside. "Physically he is very good, but it is more of the mind," said Ramos. "He has a formidable mentality."
Cheick Sallah Cisse: At a Glance
Hobby? "Going to restaurants with my friends"
Favorite song? "Any songs by Soum-bell, an African singer."
Why do you do taekwondo? "I did not choose taekwondo. Taekwondo chose me!"
Motto: "Never give up"