ABIDJAN, Cote d'Ivoire (Dec. 6, 2017) –In a day of lighting substitutions, spectacular offensive play and some very, veryclose matches at Abidjan's Palais de Sports de Treichville, Irangrabbed one and China seized two of the three gold medals offered in taekwondo's"Battle of the Nations" – the 2017 World Taekwondo Team Championships.
In the male category, gold was won by Iran and silver by an unlucky Russia, while bronzes went to Cote d'Ivoire – a highly entertaining team – and Korea. In the female category, defending champions China retained their title for the third consecutive year;silver went to a game Korea for the second consecutive yea; and bronzes were won by Cote d'Ivoire and Morocco. In the nascent mixed-gender category, China won gold, while Russia – unlucky again – took silver, and bronzes went to Korea and Mexico.
Iran's Mahdi "The Terminator" Khodabakhshi – marking a triumphant return to premier-league taekwondo after a long, post-Rio layoff – was named Male MVP. Female MVP was China's Pan Gao - a lynchpin on the Chinese female and mixed teams. Best Male Coach was Iran's SeyedNemat Khalifeh. Best Female Coach was China's Jianmin Guan. Daniel Robert Khorassanbdjian of Lebanon, AmelyMoras of USA and Jeng Yen Lee of Malaysia were named Best Referees of the tournament.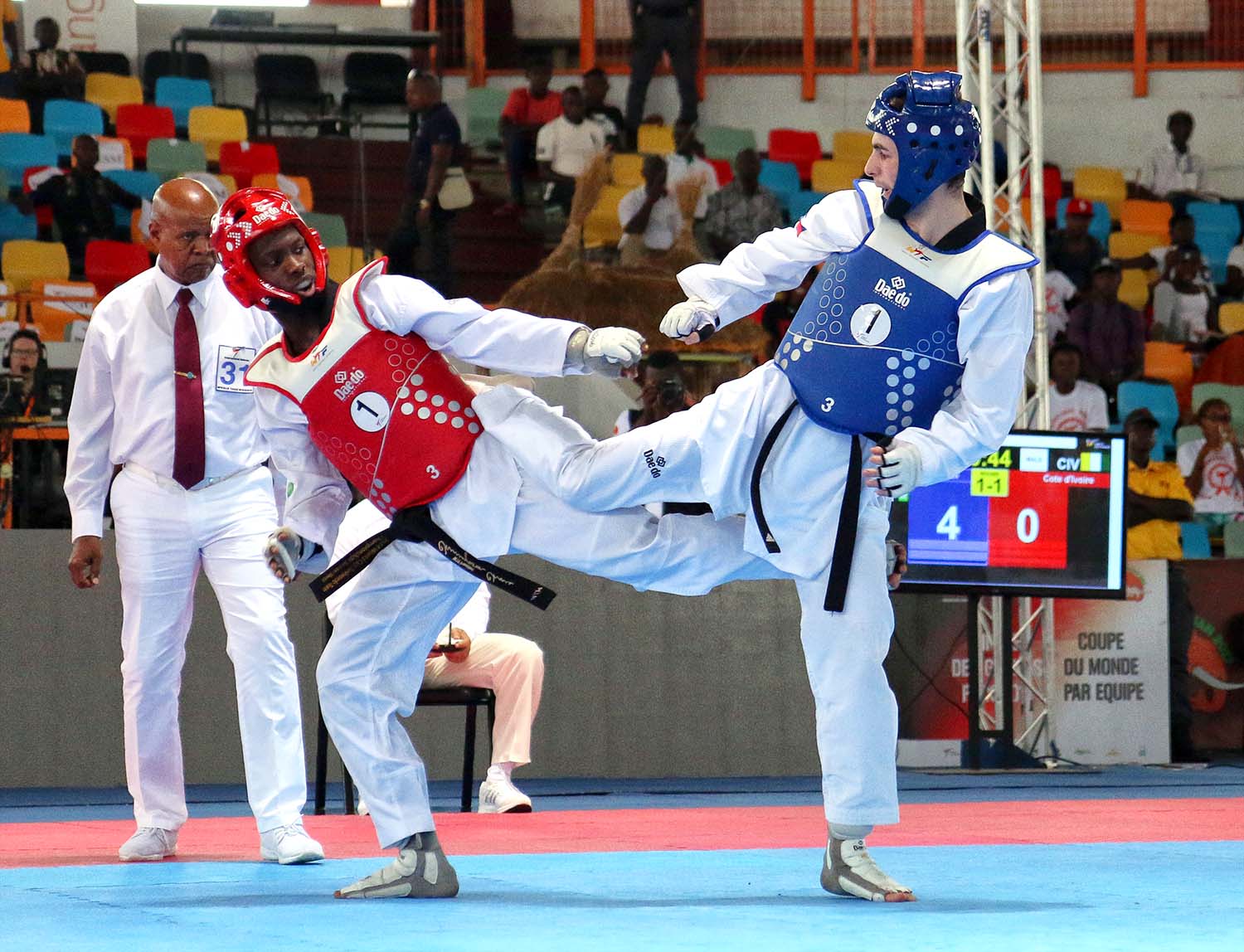 ▲ Male Semi-finals Match 1: Cote d'Ivoire vs Russia
The first semi-final pitted the home-team heroes against Team Russia, which had a clear height advantage. While the Africans were fighting with force and passion, the Russians played a clinical game, fought by some of the top guns from their National Team. End result: 73-44 to the boys from Moscow.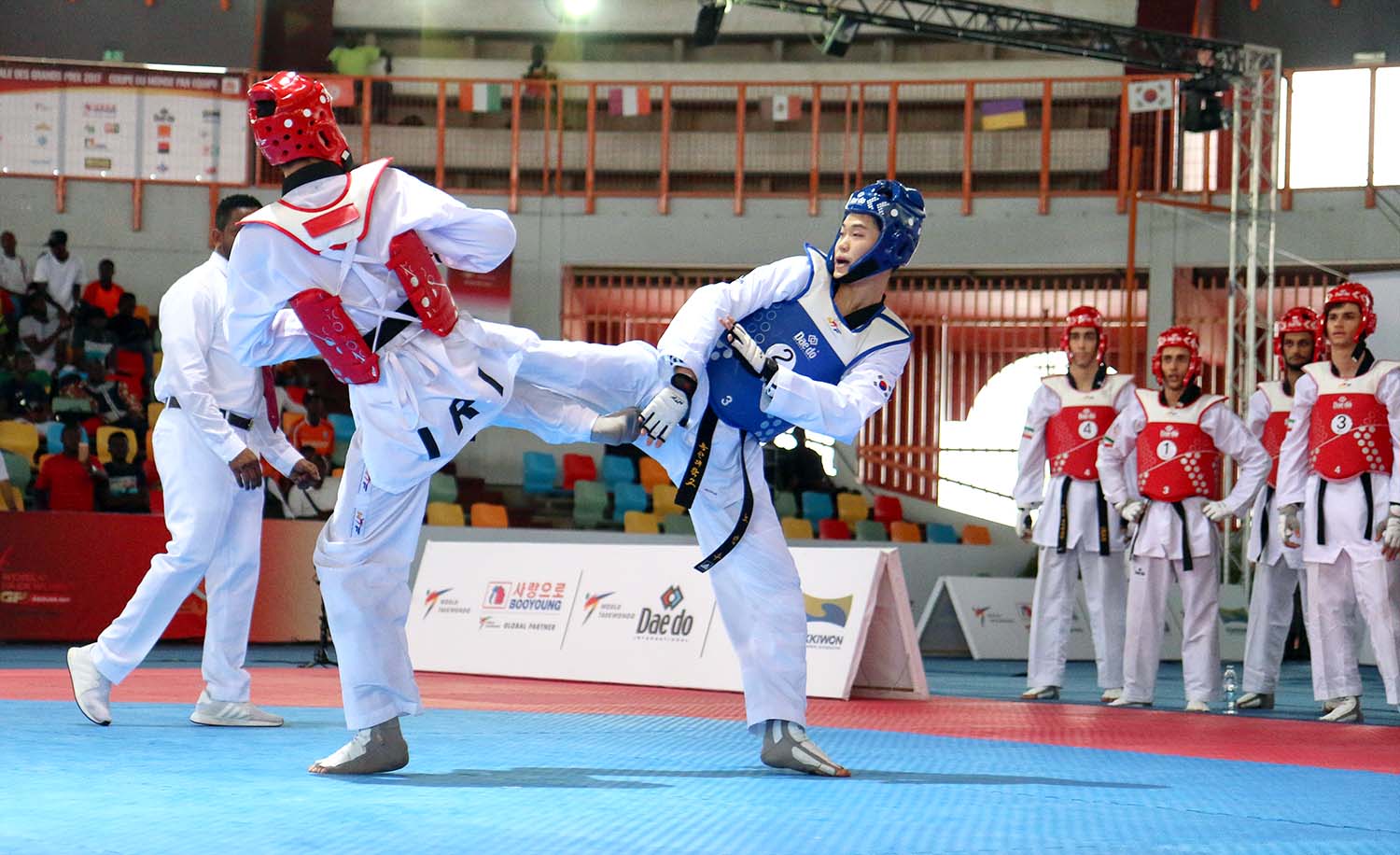 ▲ Male Semi-finals Match 2: Iran vs Korea
The semi-finalists are two of the most technical teams in the sport. They looked well matched in terms of height – leg length being a critical issue in taekwondo. A pundit might have anticipated a win for Team Korea, given that Iran is noted for crafty, tactical play rather than high-scoring techniques. But in the event, it proved the opposite: The Iranians took an early lead, and extended it in every round, ending with a convincing 39-55 victory.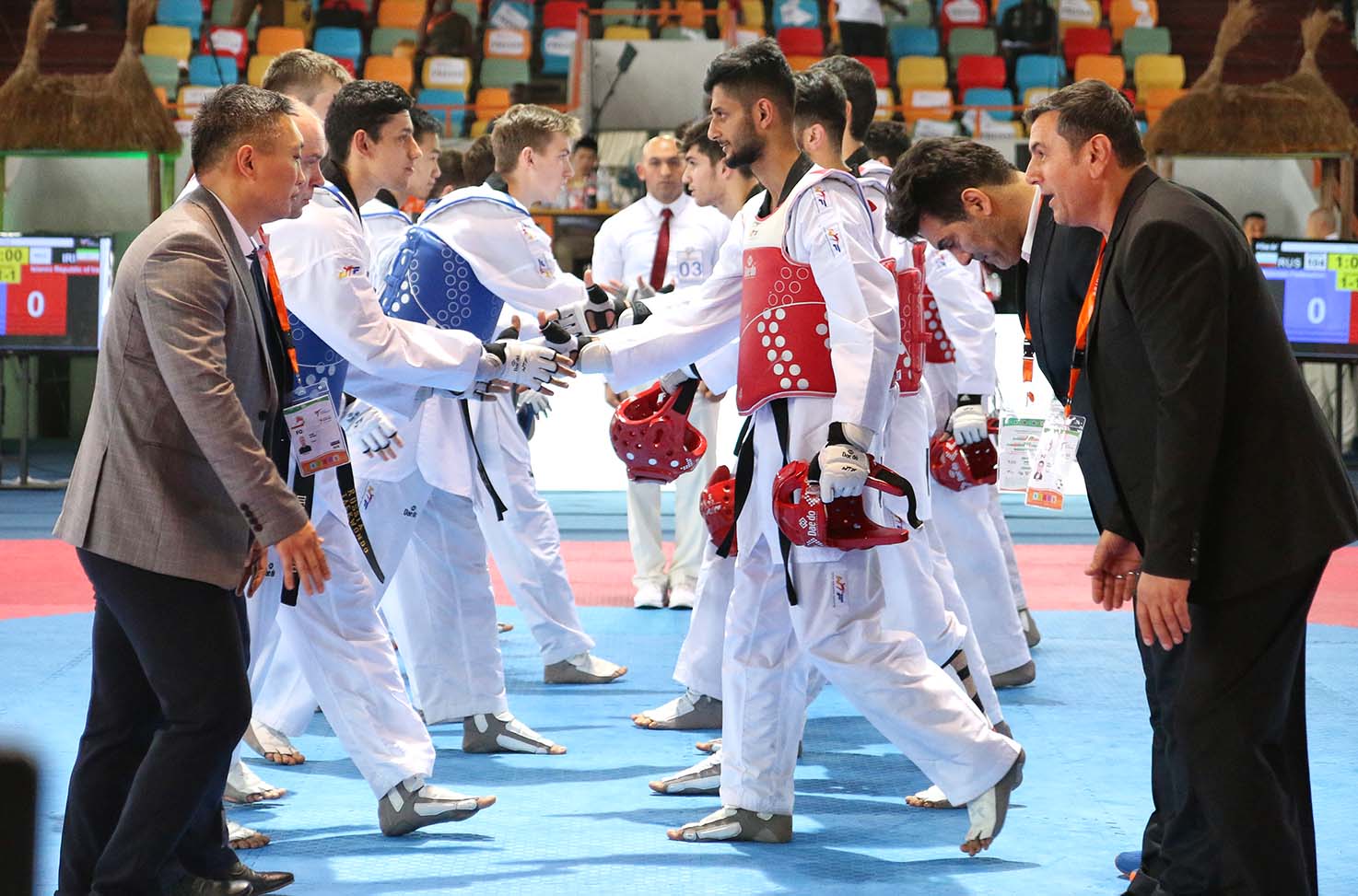 ▲ Male Finals: Iran vs Russia
In the finals, both teams looked well matched in height terms, and both are equally well respected in the sport, noted for professionalism and technical proficiency. Scoring started simultaneously at 2-2, then Russia went 3-2 up, and extended the lead, ending Round 1 13-4 up. In the second, the Russians were the aggressors, scoring consistently and showcasing a higher work-rate, but as the seconds counted down, the Iranians showed their quality and clawed back points; the second ended 20-19, meaning there was everything to fight for in the third. Fighting was immediately fiercer as the last round got underway, with both coaches making swift substitutions, matching player for player and the intensity rising, with all athletes kicking with real venom. In mid-round it was 25-25. Iran seized a lead, 27-25, before a jumping ax kick to the head put Russia back on top, 28-27. Then, remarkably, it went the other way, with Iran leading 29-28. Then it was Russia on top at 30-29–the substitutions and reversals of fortune coming in rapid succession as the scoreboard rang up the points. It could have gone to either team, right down to the wire - but at the final buzzer, it was Iran who won it by a razor-thin margin: 34 points to 33.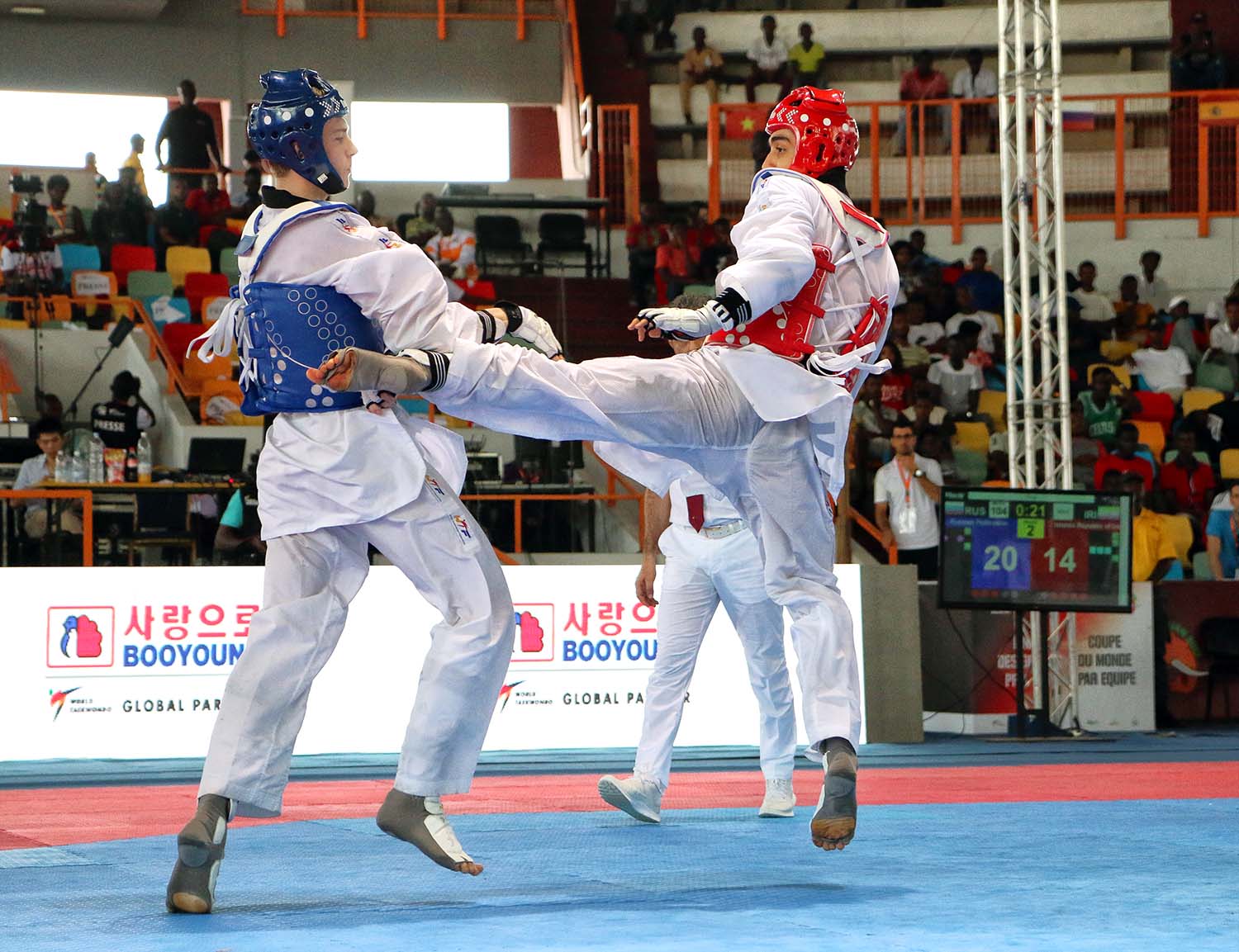 A fine result demonstrating that Team Iran is truly back at the top of the game a year after their shock wipe-out in Rio 2016. "Finally, we have something to take back home," said a happy (and relieved) team official. "Otherwise, the media would crucify us!"
▲ Female Final Match: China vs Korea
China are the defending champions in this category, having beaten Korea into second place in last year's finals in Baku, Azerbaijan. Would history repeat itself? As the teams shook hands before battle commenced, it was clear that Team China had the height advantage in every single fighter, granting them superior head kick opportunities. They grabbed an early lead and maintained in, ending Round 1, 15-4. But at the end of the second, Team Korea had narrowed the gap: The board stood at just 26-22 to China. In the third, play continued with China ahead until, with just over a minute to go, Team Korea briefly seized the lead. Then the board went to 40-40, and suddenly it was anyone's. Korea went up 42-40 - then China evened it to 42-42. The final minute was marked by a series of fast substitutions and fluid action, but it was China who was scoring when it was needed, and the contest ended with the board49-42. It had been dramatic finale marked by a bold challenge from Korea - but ultimately, it had been a successful title defense by the 2016 champions.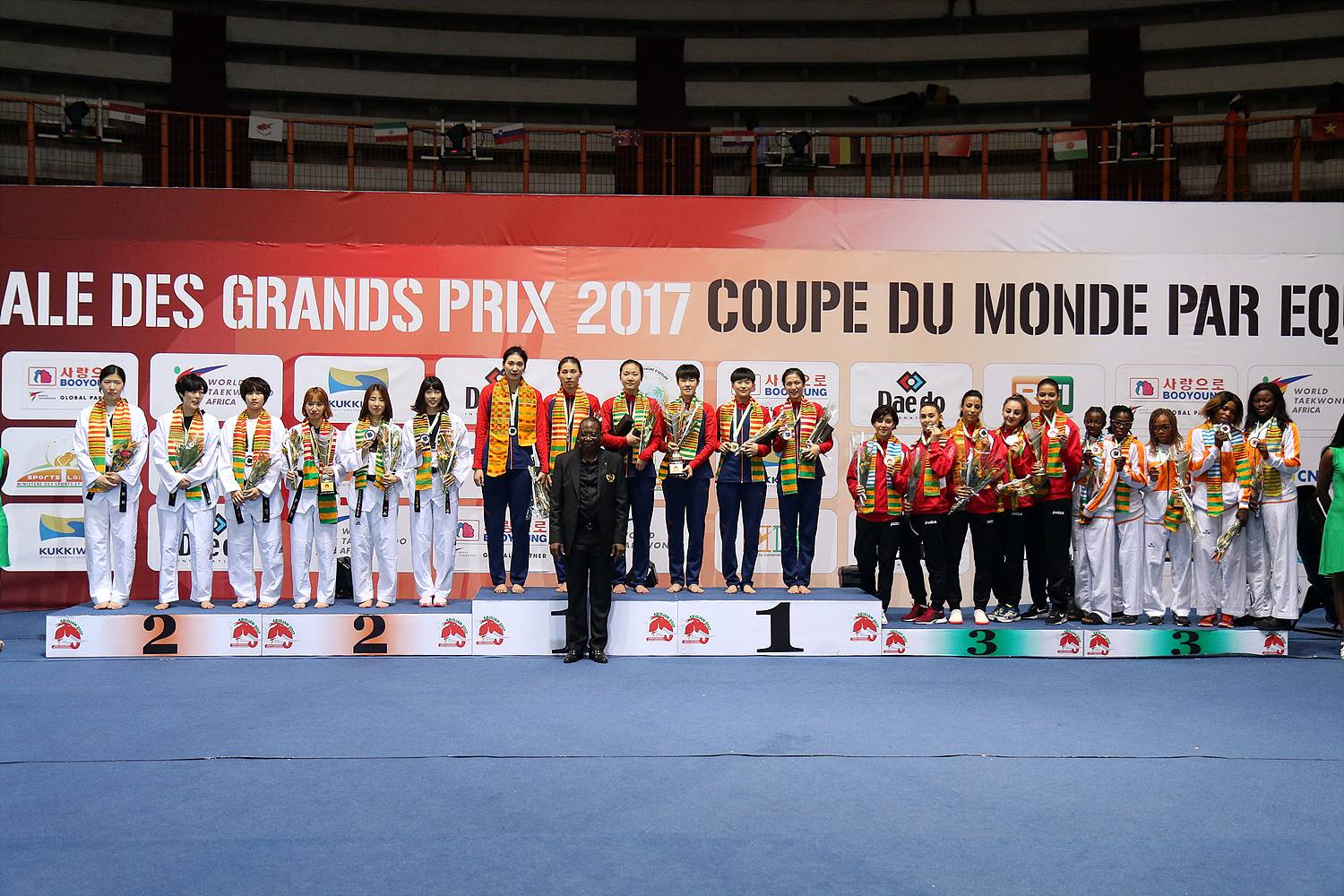 Bronzes in the female category – which had a smaller number of entries than the men's category, obviating the need for semi-finals - went to Cote d"Ivoire and Morocco.
Mixed Gender Semi-finals Match 1: China vs Morocco
The first semis of this new format – pioneered in Baku last year, and featuring two male and two female fighters, through the actual combats are only male-male/female-female – pitted China against Morocco.Morocco took an early lead, 4-0, and did not relinquish it in the first, ending Round 1 11-9 up. Play got faster and fiercer in the succeeding rounds, with both teams employing high kicks to good effect, and the board favoring first one team, then the other, but Round 3 ended with a draw - 22-22. That took the match to Golden Kicks overtime: The first team to score four points.It was China which struck first, taking points and match, 6-0.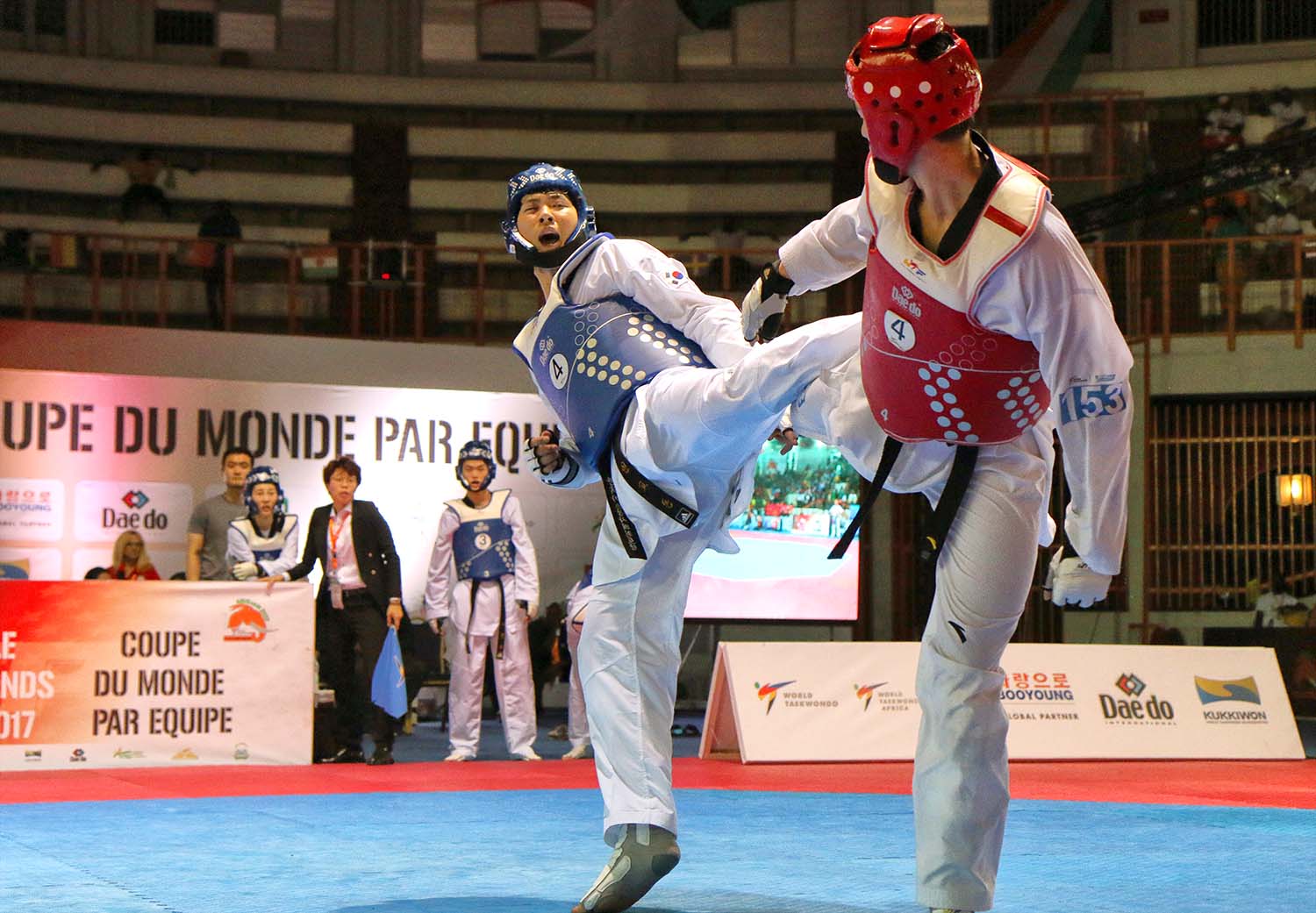 ▲ Mixed Gender Semi-finals Match 2: China vs Korea
Defending champions Team Korea, who had benefitted from a by in the first round, took on Team China. Korea had the edge in stamina, given that Team China had already fought, but the Chinese had a slight edge in height. A high-scoring first round ended 15-11 to Korea. In the second Korea drew steadily ahead, ending the round 34-23.The third round featured the fastest series of substitutions the tourney had yet seen and China drew ahead 44-43. Korea mounted a desperate, last-seconds counter attack, but it ended 54-43 to China.
▲ Mixed Gender Semi-Finals Match 2: Mexico vs Russia
The Russians opened the scoring, going 10-0 before Mexico found the range; the round ended 14-6 to Russia. In the second, the Russian point storm continued; The Mexicans were trying spectacular techniques, but not landing. In the second, it was Mexican fire against Russian precision: Russian professionalism won out as the board rose 46-16 in their favor. In the third, Mexico continued to fight bravely, but were clearly outgunned. Russia won a place in the finals with a massive 67-27 win.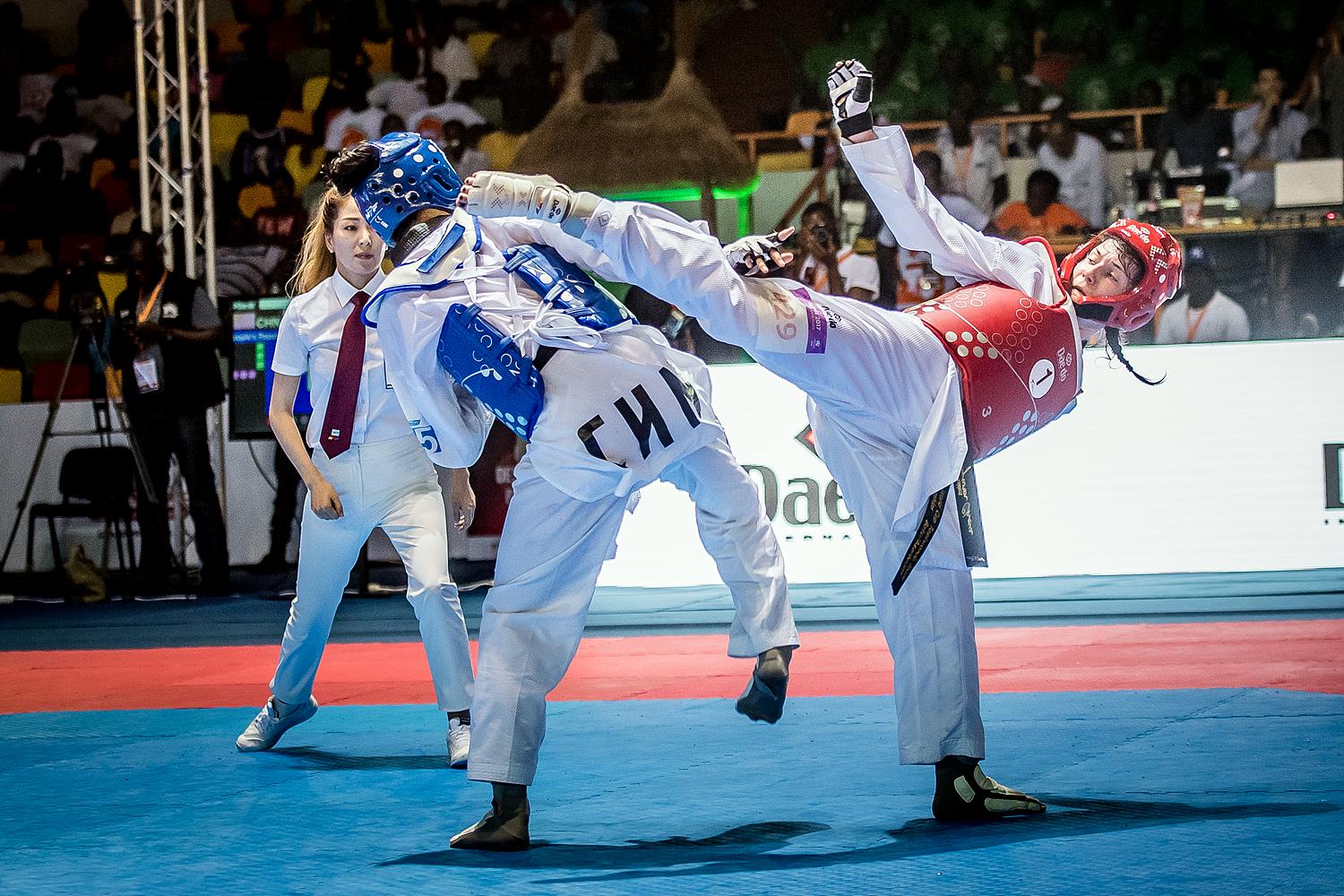 ▲ Mixed Gender Finals: China vs Russia
China had a height advantage, but as the first got underway, Russia drew first blood, going 4-0 up before China started to connect and draw ahead – but only briefly. Russia settled down and went to work, ending the round 14-8 up. The second saw see-sawing scores and multiple tactical substitutions with China narrowing the point gap then seizing a convincing lead, ending the round 32-20 – a nightmare for Team Russia, who had looked so assured earlier. Round 3 saw the Chinese maintaining their momentum making multiple fast, tactical substitutions. The Russians were fighting like hell but the Chinese were not to be denied, fighting and changing players fast, to the apparent frustration of the Russians. With two minutes left, it was 45-40 to China, but with Russia looking more dangerous. A superb combination attack by Russia bought the score up to 44-45 - then Russia drew ahead. But when the buzzer went, the board read 53-53. The Golden Kicks round got straight down to business: In a center-of-ring kicking clash, China took gold with a score of 4-2.
Taekwondo's elite next meet at the brand new Grand Slam Champions tournament in Wuxi, China. The five-match, big-money series kicks off on Dec. 30.